The Izu Peninsula (伊豆半島) is a place I would not have visited or even crossed my mind if it weren't for my co-worker who's a big fan of the Japanese anime and is quite knowledgeable in places around Japan. Given its close proximity to Tokyo, about an hour an a half on express train, the Izu Peninsula is a popular holiday getaway famous for its hot springs (onsen) and beautiful coastlines.
Travelling around Japan during the public holidays can be expensive, often involving traffic congestion and huge crowds. Travelling during the New Year is no exception where guesthouses and hotels jack up their prices to double the usual. But all these did not deter me from making the full use of the holidays to travel and explore the country.
Getting to Yugawara from Tokyo is actually pretty easy. We set off from Tokyo on a JR express train bound for Odawara and then switched to a local train going to Atami and finally got off at Yugawara, which is only a station away from Atami.
Atami definitely enjoys a far better reputation over Yugawara in terms of the facilities and the hot springs. Unfortunately beggars can't be choosers, almost all of the guesthouses in Atami were already fully booked several months in advance. Although Yugawara lacks the seaside/hot spring resort vibes given off by Atami, it is a quaint little, atmospheric onsen town with considerably less tourists and crowd than Atami.
A tiny stream runs through the town proper of Yugawara with guesthouses perched onto the gentle slopes along the river banks. The peaceful and tranquil sound of the flowing stream worked its magic, calming and soothing all our troubles and worries away as we slept soundly in our cosy futons and quilts. After a full eight-hour sleep the night before, I was awoken by the soft golden sunlight shining through the translucent curtains at the break of the dawn. I took a peek through the curtains and there were absolutely no cars and no tourists. Delighted by this rare sight, I immediately dashed to grab my camera and snapped away.
​
The beautiful morning view outside my room
Absolutely no cars!
The day before coming to Yugawara, posters advertising about "Jukkoku Pass Cable Car"(十国峠ケーブルカー) with a beautiful picture of Mt. Fuji in the setting piqued our interest. As we had no concrete plans on where to go next, we decided to give it a try. We took a local train from Yugawara back to Atami in order to get on the bus going to the cable car station. The bus stops at Atami station were a little bit confusing for those who are unfamiliar with the system, but thankfully a helpful bus driver quickly directed us to the correct bus stop, otherwise we would have missed the bus and had to wait for another hour.
The bus ride took about 40 minutes going uphill and through some winding mountain roads before arriving at the cable car station. For the uninitiated, "Jukkoku" literally means "10 states or countries" in the context of the ancient warring period (as pictured below). This mountain pass is known for its strategic viewing point overlooking its neighbouring towns and prefectures. The weather Gods were on our side on that day as the sky was superbly clear and cloudless and we could see mountains and seas stretching miles and miles away into the horizon. Not only were we rewarded with an impeccably beautiful panoramic view of the Mt. Fuji but also the surrounding coves of the Izu Peninsula and as far as where the snowy peaks of the Nagano Alps are!
As we were queuing up to get a spot in front of the landmark signpost with Mt. Fuji in the background, the old lady in front of us was clearly struggling to operate a smartphone camera. She was supposed to take a picture for her son but instead she was holding the phone facing herself. Trying to suppress my laughter, I went up to offer my help with taking the picture instead. And in return, the son kindly returned the favour by offering to take a picture of me and my co-worker.
We spent another hour walking around the observatory point and enjoying the scenic views while trying to find out which city or town we were looking at. Wished we could have stayed on for the sunset but we had to catch the bus heading back to Atami before getting onto the Shinkansen bidding farewell to this beautiful place.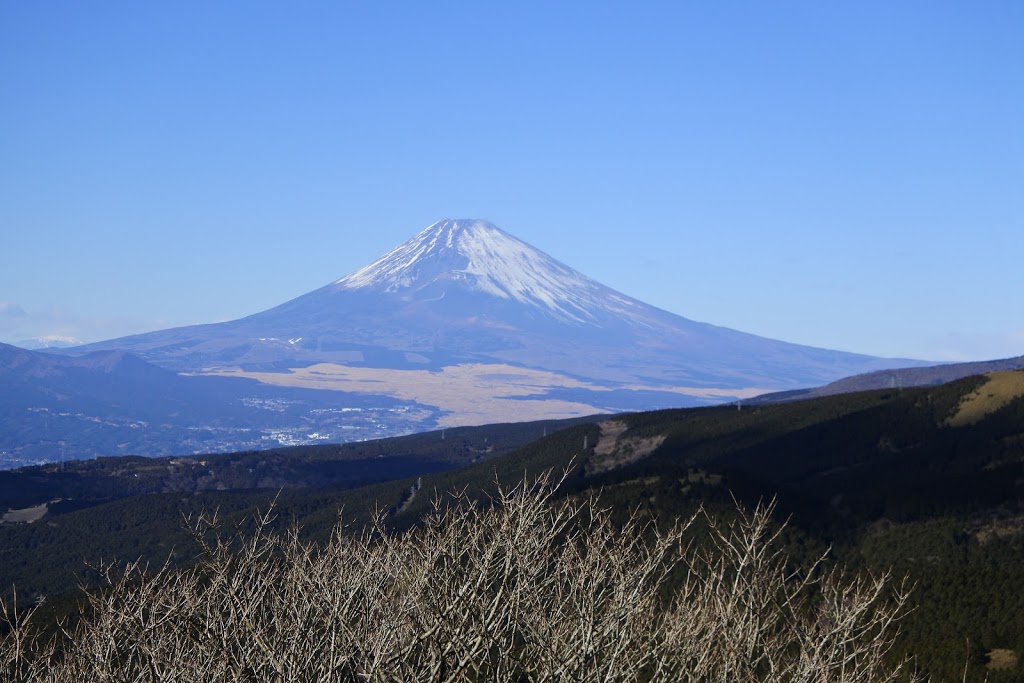 Mt. Fuji
Interesting landscapes with flat terrains stretching miles and miles away and out of nowhere towering jagged mountain ranges appear right next to the sea!
How to get to the viewing point?
Take a bus from bus stop No. 2 just outside of Atami JR station (

伊豆箱根バス). If in doubt, just ask around for directions going to "Jikkoku Toge Noboriguchi".