Osaka is not known as Japan's kitchen for nothing. Being the third largest city in Japan and a city steeped in history, business and trade, it is natural that Osaka has become the confluence and melting pot of food and cultural influences.
From my personal experiences, eating out in Japan is generally a very pleasant experience. You receive excellent customer service the moment you step inside a restaurant. You will be greeted and shown the table which you will be seated at. Then, you will be served a warm wet towel and a glass of icy cold water. That's a typical exemplary Japanese hospitality which one would get in most dine-in restaurants.
It's not difficult to find eateries and restaurants to have a meal in Japan. In fact, you can find them in pretty much every corner of the street, train stations, shopping malls, underground malls and shopping streets. Basically, you will be spoilt for choices.
The usual food and travel guides typically mention touristy places such as Dotonbori, Kuromon Ichiba, etc. Here I'm going to share with you a few off-the-beaten track, lesser-known eateries in Osaka, which in my opinion, offer some of the best dining experiences in terms of food quality and pricing.
Ginpei (Gimpei) Kitashinchiten
Address: Japan, 〒530-0003 Osaka, Kita Ward, Dojima, 1 Chome−5−4 はつ根ビル 1F
If you are looking for a local eatery to enjoy fresh seafood, you won't want to miss this restaurant. Tucked away in one of the many thousands of buildings around Dojima, Kitashinchi area, Ginpei may be hard to locate for most first-time travellers if you are not familiar with the neighbourhood. But with the help from Google Maps navigation, you should be able to locate the "Hatsune" building (はつ根ビル) and Ginpei is just located on the first floor of the building.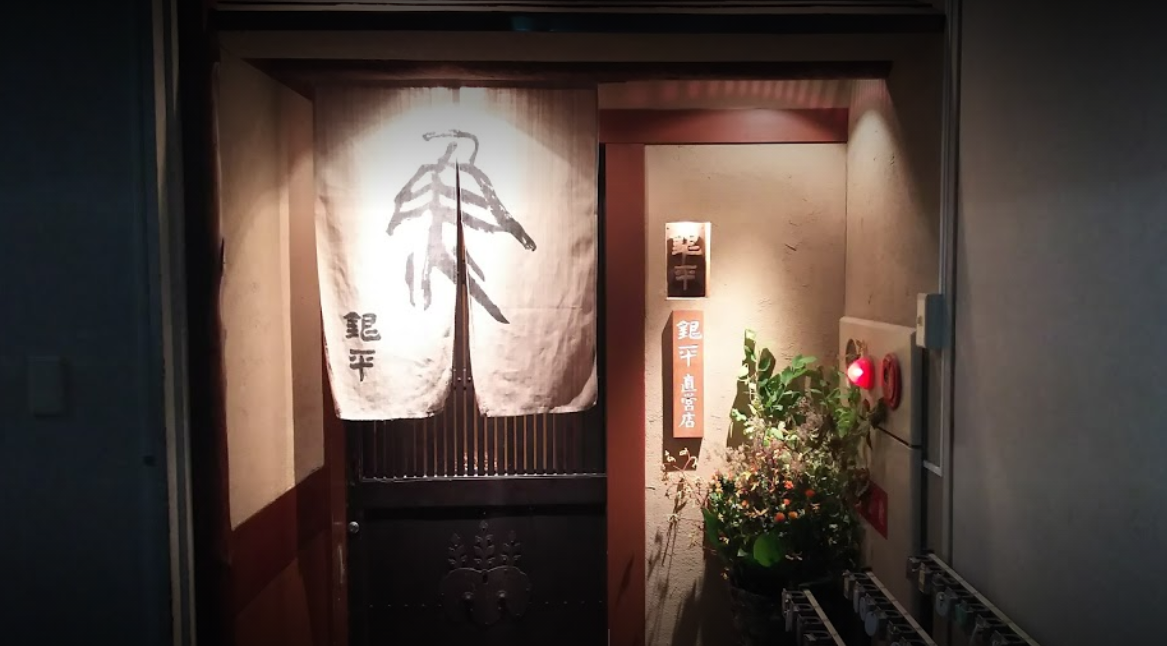 Especially during lunch hours on regular weekdays, Ginpei is usually packed with office workers and businessmen. It's not hard to see the allure of this restaurant, for a mere 1,000 yen, you will get a big bowl of seafood rice bowl, type of fish depends on the catch of the day freshly delivered from Wakayama. You will also get an unlimited, refillable supply of rice, miso soup and raw eggs along with pickled Chinese cabbage.
Don't be surprised if you see local Japanese breaking a raw egg onto their rice, raw Japanese eggs are sterile free from bacteria (they go through stringent testing and regulations) and safe to consume together with warm rice.
Overall, you will definitely get the best bang for the buck from Ginpei. The seafood is fresh and comes in generous portions, you get to load up on the pickled cabbage, miso soup is delicious and you get to ask for refills! Please also note that the 1,000 yen seafood bowl (kaisen-don) is only available during lunch time, prices are different for dinners (5,000 yen or more)!
Kiroku 喜禄
Address: Japan, 〒530-0002 Osaka, Kita Ward, Sonezakishinchi, 1 Chome−5−7, Mori Bldg, 3階
If you have tried a Kaiseki (懐石料理) course meal before, you would know this doesn't come cheap even in Japan. What if I tell you that you could have a traditional multi-course Kaiseki course meal in the middle of Osaka city for a mere 1,000 Yen?!!!
Yes, that's right 1,000 yen, you didn't read that wrongly!
Relatively well-known among the locals especially the office workers around the Kitashinchi neighbourhood, "Kiroku" is usually packed with customers with crowds making a bee line in front of the tiny restaurant during lunch hours on weekdays. It is closed on Sundays and public holidays, so you have no choice but to be there early!
"Kiroku" opens from 11.30am until the food is sold out. I recommend going there before the opening hours to beat the crowd, because if you are there too late, there might not be anything left for you (I'm not kidding)!
All lunch set meals are the same and come with a bowl of white rice, sashimi platter, salad, miso soup, grilled saba, tempura, some vegetables, picked kombu (seaweed), deep fried sweet and sour fish as appetizers and of course tea.
NB: At the time of writing, the lunch set is now priced at 1,100 yen (an increase of 100 yen). Nevertheless, it's still very cheap for a Kaiseki course meal!
For more information, please visit the link below (in Japanese only):
https://tabelog.com/osaka/A2701/A270101/27074984/dtlrvwlst/B369785999/?use_type=0&smp=1
Ka-you 花様阪急梅田 近江自家栽培ファーム直営店
Address: Japan, 〒530-0012 Osaka, Kita Ward, Shibata, 1 Chome−7−2 阪急かっぱ横丁 2F
This restaurant "Ka-you" embodies the epitome of the "farm-to-table" concept. It sources fresh vegetables and meat products from their own farm located in the Shiga Prefecture and transforms bland vegetables into wholesome, creative, delectable and visually mind-blowing dishes.
Here are some of the eye-opening and interesting dishes that we had ordered:
Potato and egg salad with pickled cucumber and Alfafa sprouts (農家さんのポテトサラダ; 650 yen). I was given a "Suribachi" which is a Japanese grinding bowl or mortar and pestle where I had to mash and mix all the ingredients and dressing together. It was fun and interesting to see what ingredients were in the dish and how the end product came about!
I guess some of you must have noticed what in the world is a flower pot filled with black soil doing on a dining table? I bet you couldn't guess what's in it!
Introducing "Omi pork miso flowerpot with pate bucket" (近江豚味噌の植木鉢パテ; 580 yen). In other words, it's miso-flavoured pork pâté (meat paste) in a flower pot! While it didn't look like a pâté, but it definitely tasted like one and it goes very well with toast or baguette.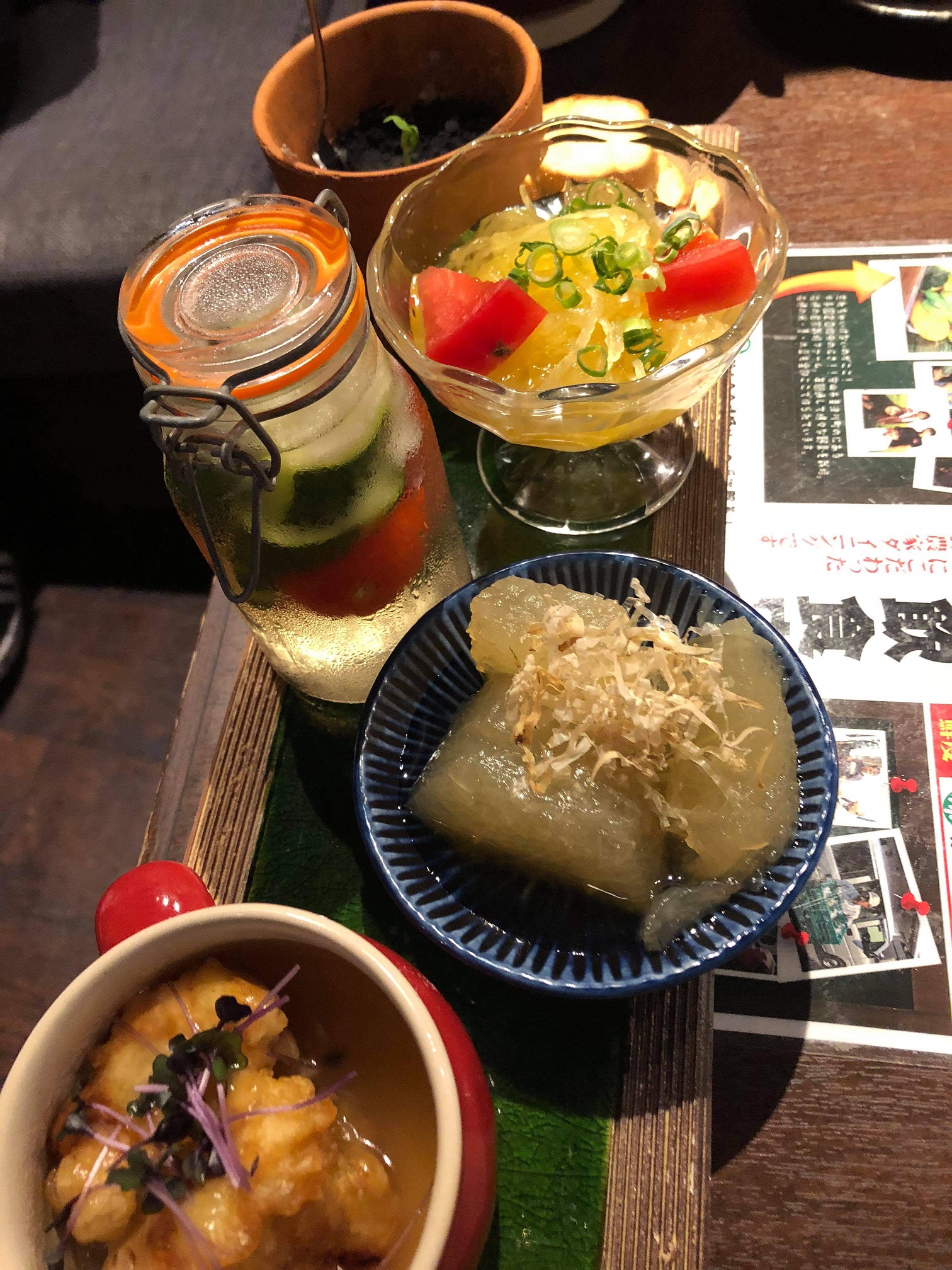 We also ordered "seasonal vegetable platter in a pickled jar" (旬の近江野菜盛り合わせ瓶詰ピクルス; 450 yen) where they sourced freshly harvested vegetables, especially juicy cherry tomatoes, straight from their Shiga vegetable farm
Roast eggplants wrapped in bacon/ham dressed in some delectable, herby tomato-based sauce and garnished with some Parmesan cheese powder.
Ka-you's rendition of "drooling chicken" (花様ka-youのよだれ鶏; 680 yen) was scrumptious, light and refreshing. Chicken meat was cooked using "sous vide" technique (under vacuum condition and in a water bath) to maintain the tenderness and juiciness of the meat. The chicken slices were then served on top of a bed of vegetable salad and dressed with a concoction made of vinegar, chicken stock, garlic and sesame (just my guess).
Silky smooth Chawanmushi (Japanese egg custard) served in egg shells. Why use bowls and plates and any sort of cutlery when egg shells do the job just wonderfully and much more environmentally friendly as well!
Just a word of caution, it may be difficult for foreigners to understand the menu here as it is entirely in Japanese with very limited pictures of the dishes. It's best to bring a Japanese friend along or you could be adventurous in trying out random dishes for the sake of novelty (with some help from online translation tools XD).
They are open during lunch and dinner time. If you are on a tight budget, do go for their lunch set meals as they are only priced at 1,000 yen where you would get a complete meal of rice, side dishes, soup, salad and meat of your choice.
Dinners could be pricey depending on what and how much you order. My friend and I ordered about 9-10 side dishes (pictured above) and the total was close to 4,000 yen, with each dish costing about 4-500 yen.
For more information, please visit the link below (in Japanese only):
https://tabelog.com/osaka/A2701/A270101/27049246/dtlmenu/
What do you think of my list? Have you tried any other interesting restaurants in Osaka? Let me know some of your favourite restaurants!