After coming to Germany, I realized the Germans have their own version of Asian food, also known as Germanized Asian food. One of the classic examples of Germanized Asian food is deep fried crispy duck in some sweet curry sauce or sweet and sour sauce. Yep, you read it right, deep fried duck not roast duck! You find this dish in every Asian restaurant in Germany, until today I still don't understand the fascination with crispy duck in some gooey sauce XD
In the beginning, one may find it difficult to find authentic Asian food in Germany. With patience, persistence and through word of mouth, I present to you a list of restaurants that serve, in my humble opinion, authentic Asian food in Munich:
1. Kaito
I'm a big fan of Japanese food. Freshness and simple seasonings bring the best of flavours out of each ingredient.
Every dish brought about a new climatic experience and magical sensations to my taste buds. The Otoro (fatty tuna belly) was fresh and creamy. It literally melted in my mouth. The marbling on the Otoro was so beautiful, that it almost resembled Wagyu beef (Japanese beef). The rice was moist and the portion size was just right for one mouthful.
The Agedashi Nasu (aubergine) was bursting of juices and flavours. The sashimi and sushi were exquisitely hand made in perfect bite sizes. Rice is an extremely important element in sushi, there were many occasions where the rice was too dry in sushi. But the sushi rice had the right moisture and seasoning, complementing really well with the fresh seafood.
Overall, hands down, Kaito brought me back to Japan. From the food, hospitality and the interior design. They were simple yet exquisite. Overall a 5-star dining experience, keeping true to their Japanese roots and traditions. In my opinion, Kaito is the best Japanese restaurant in Munich, given its well-rounded performance in a variety of dishes.
https://de.kaito-restaurant.com/menu
2. Yumira
Yumira may be the only restaurant that specializes in Korean BBQ in Munich.
What I like about Yumira is the variety and quality of the side dishes. Best of all, you could ask for a refill when you run out of the side dishes. Side dishes vary from time to time: sometimes they may include fried dumplings, sweet corn in sweet mayonnaise, kimchi, edamame (green soy beans), Korean savoury pancakes, etc.
The meat quality is superb, the amount of fat and lean meat is perfect, leaving the meat tender and juicy.
For an authentic Korean BBQ experience, I highly recommend Yumira!
3. Shaxian Delicacies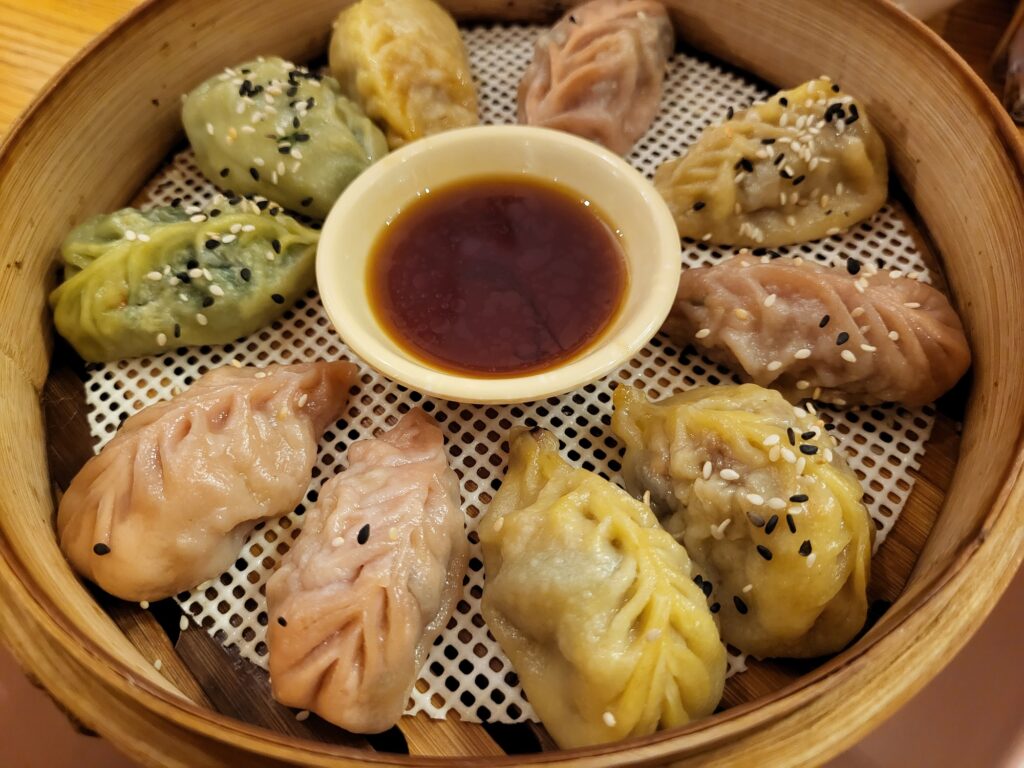 The restaurant may look like an "Imbiss" (fast food store) from the outside that serves Germanized Chinese food, but in actuality they serve really good authentic Chinese food!
There is another catch. If you are a Westerner, most likely they will give you the menu for Westerners, which offer mostly Germanized Asian food such as crispy duck in sweet sour sauce, fried noodles, etc. If you want to experience the real deal, go ask for the Chinese menu instead, it contains totally different dishes than the Western menu!
The wantons and dumplings are to die for. In Fuzhou region of the Fujian province in China, the wantons are called "Bian rou", which literally means "flat meat". Distinctive from its Cantonese cousin, the wrappers are thinner, the meat filings are more finely ground, juicy and flavourful. They are exactly what you expect from a typical Chinese restaurant in China, especially in the Fuzhou region. I also recommend ordering their ginseng chicken soup. Serving these homey tasting, nutritional soups in a restaurant is definitely a rare find in Munich! These soups remind me of home-cooked Cantonese soups back home.
It is not only an Imbiss. For me, when it comes to judging the quality of a restaurant, good food triumphs fancy decoration and interior design. They serve good authentic food at an affordable price! 5 stars from me!
https://restaurantguru.com/Shaxian-Delicacies-%E6%B2%99%E5%8E%BF%E5%B0%8F%E5%90%83-Munich
4. Saravanaa Bhavan 
Most Indian restaurants in Munich lean towards westernized versions of Indian cuisine which comprises mostly of sweet and creamy curries, which do not resemble authentic Indian food. Most Indians who live in Munich have difficulty finding an Indian restaurant that serves good, authentic Indian cuisine.
Coming from Malaysia, I'm used to South Indian cuisine. When I found out that a famous restaurant chain from South India is coming to Munich, I was beyond happy! South Indian cuisine is distinctive from their Northern counterpart in terms of its abundant use of fresh coconut, coconut milk, fermented rice flour and tamarind! Go for their Vadas and Dosas! Those are rare in Munich. The food is served piping hot and tasted fresh. The restaurant definitely does not tone down the spiciness for their Western customers. Some of the dishes could be really spicy. So, make sure you order a cup of lassi to quench the fiery spicy sensations in your stomach!
I highly recommend anyone to try this restaurant if you are looking for authentic South Indian cuisine!
https://saravanaabhavan-munich.de/
5. Xiang
Green peppers, dried tofu and cured meat stir-fry
If you like spicy Chinese food, Xiang is the restaurant for you! Specializing in Hunanese and Sichuanese cuisines, Xiang serves authentic Chinese dishes from these regions which are known for their fiery flavours! These regions are known for their generous use of chilies and Sichuanese peppercorns, a special kind of peppercorn that leaves a tingling sensation on your tongue.
Definitely try the "Zizi Fish" dish, which comes with a whole grilled/roasted sea bass, served with various vegetables, garnished peanuts and dried chilies. I also like their aubergine dishes, deep fried first and then cooked in spicy and savoury sauces at high heat. The end result? Juicy and succulent aubergine that absorbs all the delicious sauces.
http://www.xiang-restaurant.com/