The food mecca, the food paradise – Penang, Malaysia. After 5 long years, I finally had the chance to return to the food paradise! Here's the link to my previous Penang food hunting trip: https://foodieadie.com/food-hunting-in-georgetown-penang/
This trip was extra special as I travelled with my fiancé to Malaysia for the very first time and it was his first trip to Malaysia. As a hardcore foodie, I went well-prepared with long lists of Google map pins of various eateries and restaurants all over Penang.
Before I dive into details about my recent Penang trip, for those who are not familiar with the Malaysian food and culture, let me introduce to you our unique food culture.
Guide For The Uninitiated 
What is the Malaysian hawker food culture?
Malaysians are obsessed about food and there is no dispute about it. You could easily strike up a conversation with strangers about food. Friends always debate and discuss among themselves about their favourite eateries and where to get a particular dish or street food. I even encountered a friendly taxi driver in Ipoh who proudly talked to me for half an hour about where to get the best foods in town.
Another unique point about Malaysian food is the hawker food culture. Food stalls often sell one or two food items only which they have spent multiple generations perfecting their "secret" recipes, passing down the well-guarded recipes from generation to generation. A hawker center is usually made up of few or multiple food stalls, enabling customers to have a huge variety of food to choose from. If you have a group of people with you, each person could order one food item and so everyone could try a bit of everything.
You may find hawker stalls either on the streets or in a sheltered food court. Stainless steel pushcart with one or two gas or even charcoal stoves, a few foldable tables and plastic stools – these are the basic set-up for a hawker stall.
How to order?
I have observed that some foreign tourists are clueless on what to eat in Malaysia. They are daunted and overwhelmed by the huge varieties and the unfamiliar tastes and smells. I often see tourists walk into a local hawker center looking confused before walking out again.
Most hawker stalls only sell one or two items. If you are lucky, sometimes they might have pictures of the food that they are selling and you could just point and order. Sometimes, the stalls do not come with picture menu, instead they only have written menu or signboard. In this case, you could just type in the name of the dish on Google and most of the time you will be able to find out what the dish consists of. If not, don't be afraid to ask the stall vendors or even some of the local customers. Most Malaysians can speak and understand basic English.
If you go there with your friend(s), I recommend that you or your friend(s) to first look for an empty table, and then one of you sit down to sort of "reserve" (in other words, occupy) the table. Otherwise, during peak hours, the eateries are usually packed and people are aggressive when it comes to fighting for tables and seats. Unlike restaurants in Western countries, it is not possible to make reservations at hawker stalls or food courts. First come, first served! But fret not, food is usually served fast and people eat fast. So, the turnover rate is high and waiting times tend to be short.
Once you have your table "reserved", you can walk around the vicinity of the night market or food court to understand and survey what you would like to order. Then, once you have identified what you like to eat, just tell the staff or vendor what you want and the quantity. For instance, "wanton noodles, 1". Sometimes the staff might ask you back, whether you want your noodles "dry or wet (with sauce)". If you are unsure how spicy a dish could be, then specify that you do not want chili (sauce), or just a little chili or you could even ask them to serve chilli on a separate sauce dish.
After ordering, you can now return to your "reserved" table, sit back and relax. Your food would be served to you at your table, and this is the time for you to pay. Most of the time, street vendors only accept cash. However, there is an increasing trend nowadays that they accept e-wallet payment, but this only works with Malaysian banks.
Another point to note is that drinks are usually sold by separate vendors. So, if you would like a drink, you would have to order it separately from your food. Usually, the drink vendor would come to your table to take your order.
Last but not least, there is no tipping culture in Malaysia.
My food recommendations in Penang
Now that we have covered the basics, let's talk about food!
1. Chulia Street Char Kuey Teow
Every Malaysian or Penangite has his/her favourite stall when it comes to Char Kuey Teow (there are few variations in terms of spelling). This is definitely one of my favourites in Penang!
Stir fried over intense high heat on charcoal wood fire, these rice noodles which often come with prawns, Chinese pork sausages, bean sprouts, chives, eggs and cockles, packed a huge punch of flavours. Smoky, aromatic, slightly charred, savoury from the aromas of the sausages and umami of the prawns and cockles, Char Kuey Teow tops my list of Penang foods.
2. Chulia Street "Mother and Son" Wanton Mee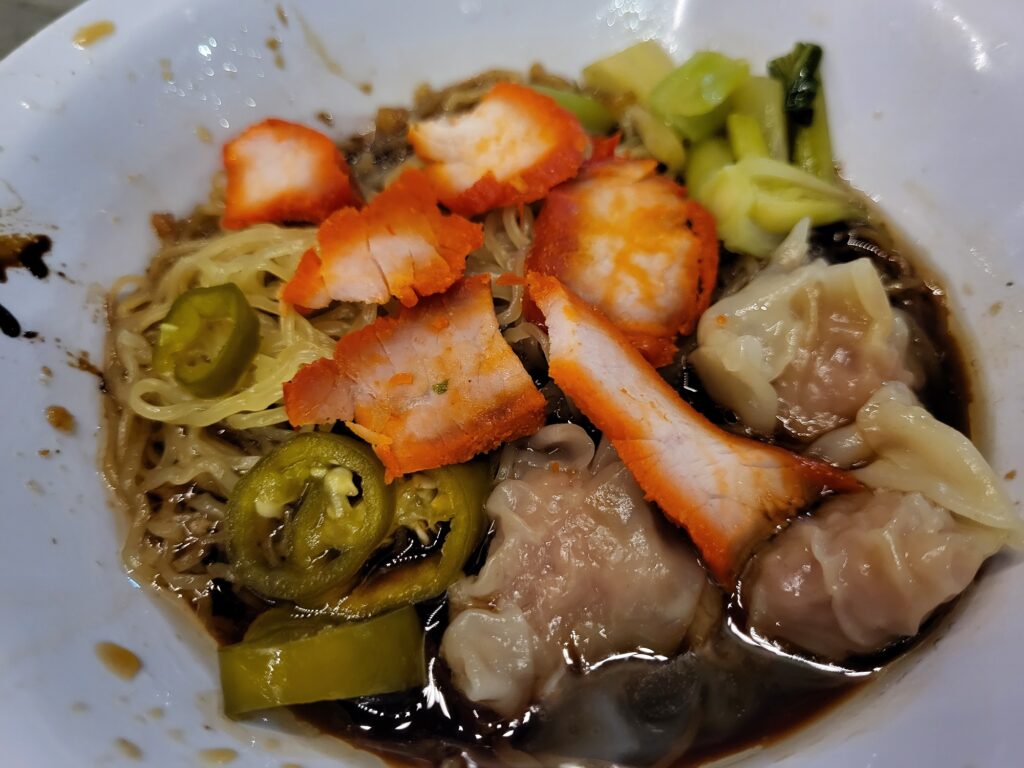 Egg noodles doused in sesame oil, pork lard, light and dark sweet soy sauce, topped with pickled green chillies, Char Siew (Chinese honey BBQ pork), Chinese greens and wanton dumplings. The end result is the marriage of different tastes and textures: the pickled green chillies – sweet and tangy which cut through the meatiness of the dish, the wantons – savoury and delicate in flavours, the egg noodles – springy and slightly sweet and savoury from the sauces.
Also, the Penang version of wanton mee is different from the version in Kuala Lumpur (KL). Particularly, the noodles and the condiments are all contained in a single serving bowl/plate in the Penang version; whereas, in the KL version, the noodles and the Char Siew may be served in the same serving plate, the wantons are served in a separate small bowl together with its broth and the pickled green chillies are served in another separate sauce dish. If you ask me which version I like better? I would say, to each its own.
3. Lor Mee (Braised Noodles), Seng Thor Coffeeshop
Don't be intimidated by the dark, starchy-looking sauce! The noodle dish came with a dark, starchy, savoury broth which is usually made from a bone broth (pig's or chicken's bones) that has been boiled for long hours. The dish was also topped with pork slices, hard boiled eggs, bean sprouts and deep fried shallots.
Many mistaken the noodle dish to be very salty due to the dark-coloured sauce. In fact, the sauce stemmed from the generous use of the Malaysian dark, caramel soy sauce which is sweet! So, don't worry about the dish being too salty! The dish had a well-balanced taste of sweetness and savouriness. The dish could be eaten with a dollop of house-made chilli sauce and minced raw garlic.
4. Eel fish ball Kuey Teow Theng (flat rice noodles), Pitt Street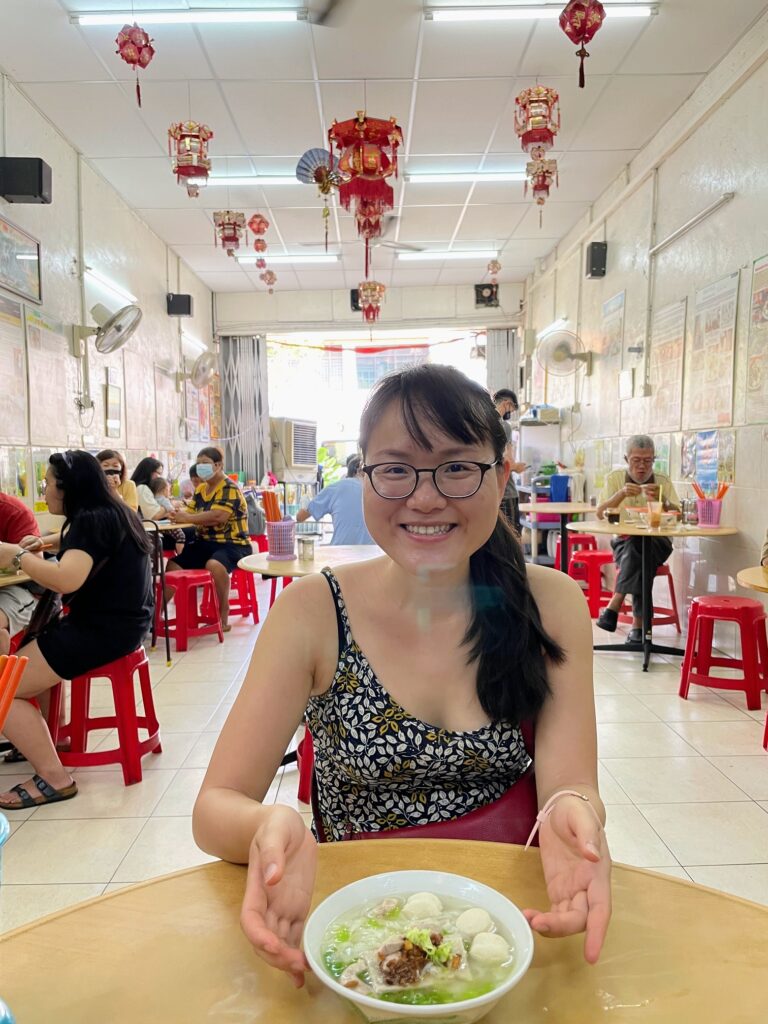 This ranks quite high on my Penang food list. Good hand-made fish balls are hard to come by, let alone eel fish balls, which are super rare (I've never seen it elsewhere). The eel fish balls are not your usual smooth, springy fish balls which are mostly factory manufactured. I could really taste that the shop owners use real eel fish only and little to no flour in the process of making the eel fish balls.
The soup may look light or even bland but it packed a punch! It was so flavourful that we finished the entire bowl of soup! The noodle dish was served with the eel fish balls, shredded chicken pieces, pits and pieces of pig's intestines, some flattened meat patty presumably made from a combination of pork and fish(?) and lastly garnished with spring onions and deep fried pork lard. This dish is the epitome of balance – full-bodied flavours but light on the palate and doesn't leave diners feeling too heavy afterwards.
The shop owners rented the whole shop lot and sell only one dish! And it was packed with customers on a weekday morning when we were there. This says a lot about how good the food is
5. Penang Nyonya food, Richard Rivalee Nyonya Cuisine Restaurant
https://richard-rivalee-nyonya-cuisine-restaurant.business.site/
The word "Nyonya" refers to the females of the Peranakans, which are the descendants of the Chinese men who migrated in the past from Mainland China  to Malaya in the 1600s to 1900s, marrying local Malay women. The end result is a marriage of two widely contrasting cultures and traditions, you could say a new fusion culture was born. The Peranakans adopt certain aspects of the Malay culture while preserving certain aspects of the Chinese culture. For instance, they would wear the traditional Malay costumes and eat with their hands and even speak among themselves in Malay with a few Chinese dialect words thrown into the sentences. However, most of them were not converted into Islam since the local women in the past often followed the religious beliefs of the husbands they married to.
The Nyonya food culture in Penang and Malacca have slight variations in terms of taste due to the geographical influences. The Penang Nyonya food is heavily influenced by the Thai food culture, and thus the food is often more tangy and spicy and less coconutty compared to their Malaccan Nyonya food counterpart.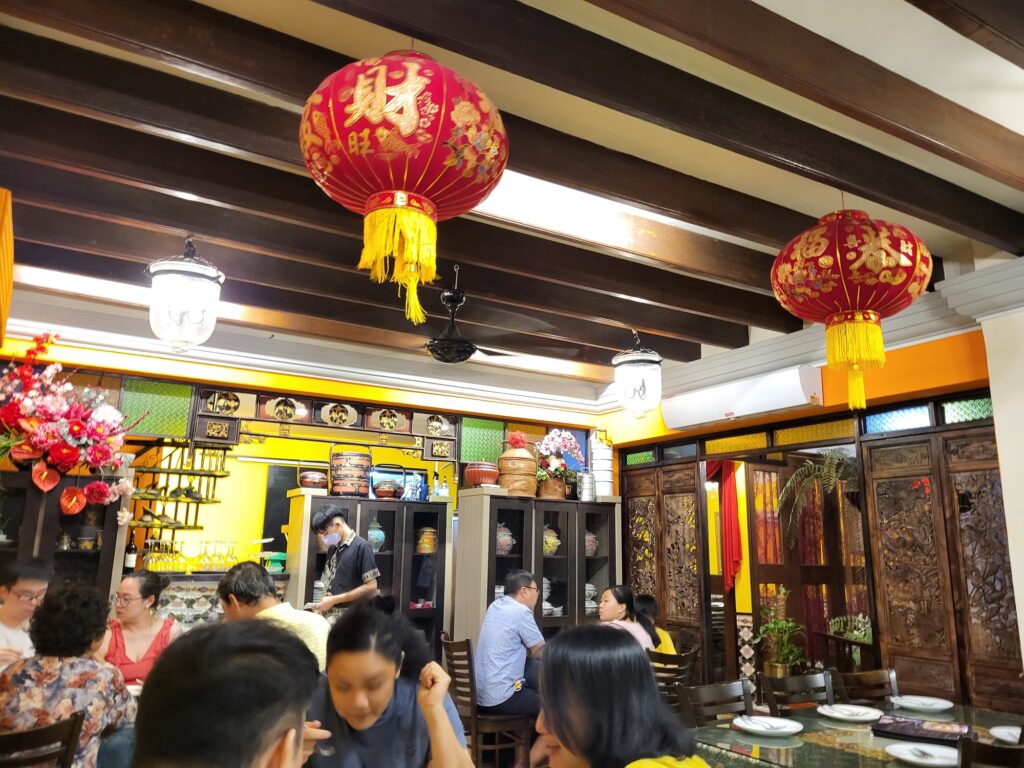 Otak-Otak is a Malaysian dish that come with several different versions depending on the region you are in. The word "Otak-Otak" literally means brains. However, do not be put off by the name itself, there is absolutely no brains involved in the making of the dish. The name just refers to the soft and mushy texture. Otal-Otak is usually made from a complex concoction of fish, coconut milk, lemongrass, kaffir lime leaves, chillies, shallots, garlic, dried shrimp, turmeric, galangal, belacan (sun-dried, fermented shrimp paste) all wrapped up in banana leaves and grilled over charcoal fire.
The Nyonya-style Otak-Otak looks and tastes quite different from say the Otak-Otak from the East Coast of Malaysia. The former is usually steamed, wrapped in wild bettel leaves and is much bigger in size, while the latter tends to be sweeter and more intense in flavour, is usually grilled, elongated in shape and wrapped in banana leaves. If you ask me which is better? Given that I grew up on the East Coast, I still prefer the East Coast version xD
We have also tried the stir-fried stinky beans, winged beans, ladies finger and prawns fried in sambal belacan (a blend of spicy chili paste mixed with roasted fermented shrimp paste, shallots, ginger, onions, etc). Sometimes, we call this dish "The Four Heavenly Kings" which refer to the four vegetable items used in this recipe. The rendition of the dish by Rivalee was absolutely delectable, the sauce was really savoury and flavourful which binds the dish really well, yet each of the vegetable items imparts its own unique flavour to the dish.
Last but not least, we had Chicken Ponteh. To be honest, it was my first time trying this dish and I was pleasantly surprised by how savoury and peppery the dish was! The dish is unique due to the use of fermented soy bean paste which is a prominent seasoning in this dish. The saltiness of the fermented soy bean paste combines well with the sweetness from the shallots and coconut palm sugar used in the dish. The gravy and the chicken meat itself were bursting with rich and robust flavours as a result of slow cooking for many hours.
Of course, the Nyonyas are also famous for their desserts! I often thought to myself Nyonya Kuehs are so varied and intricate, I wish they could be more well-known on the global stage similar to the French patisserie!
The dessert depicted in the photo above is a Nyonya dessert made from glutinous rice flour, grated coconut and served with molten palm sugar on the side as a dipping. The blue colour is derived from the blue pea flowers which are often used as a food dye in South East Asia.
***
Speaking of Nyonya desserts, I would like to introduce you all to another great place specifically for Nyonya desserts! They have specialized in making these intricate Nyonya desserts for generations! https://www.facebook.com/penangnyonyakuih/
I have previously been to "Moh Teng Peow Nyonya Kueh", you can read up about my experience there in my previous article here: https://foodieadie.com/food-hunting-in-georgetown-penang/
In our recent trip, we have returned to "Moh Teng Peow" to sample more Nyonya kuehs! See photo below: from left – savoury glutinous rice filled with spicy shrimp floss seasoned with lemongrass among other ingredients, wrapped in banana leaves. Seri Muka – consists of 2 layers, the top green layer is made of pandan-flavoured glutinous rice flour (pandan is a kind of fragrant leaves known as screwpine in English) which is sweet, the bottom layer is made from steamed glutinous rice grains cooked in coconut milk which is slightly savoury. Last but not least, steamed glutinous rice flour dyed with blue pea flowers served with a dollop of kaya (Malaysian coconut jam).
6. Braised Duck Kuey Chap, Kimberly Street
https://www.tripadvisor.com/ShowUserReviews-g298303-d802817-r274339047-Kimberly_Street_Koay_Chiap-George_Town_Penang_Island_Penang.html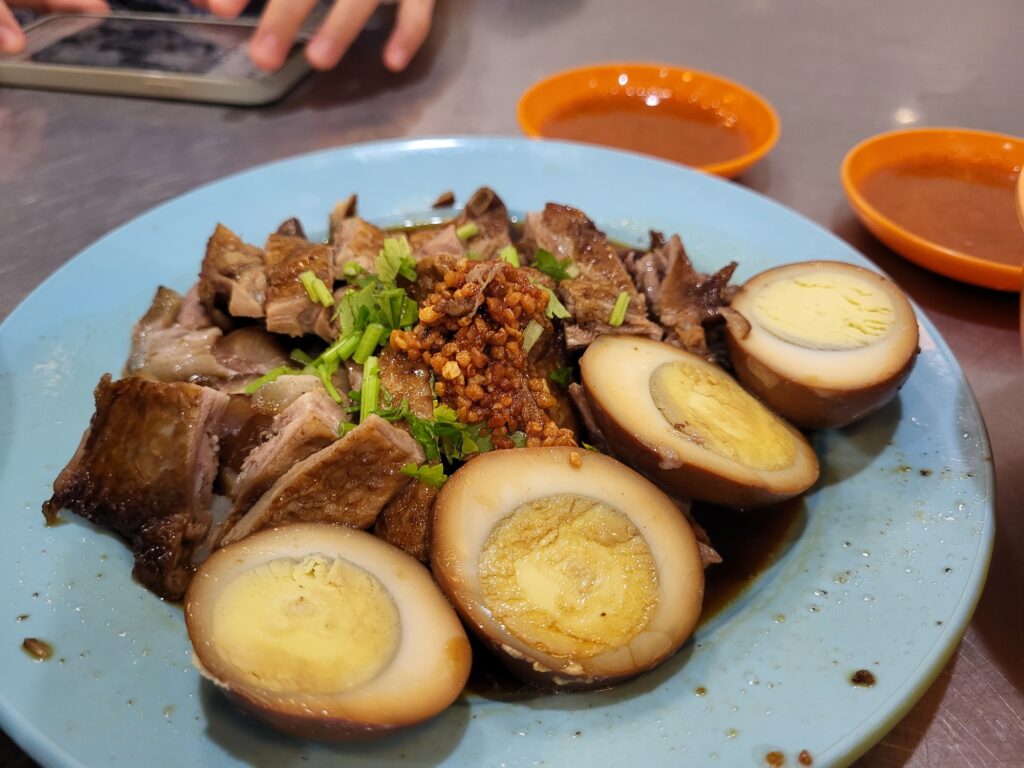 This legendary place has been featured by many well-known food bloggers such as Mark Wiens and is no stranger in the street food scene. And for a reason. I was so mind-blown on my first visit here: https://foodieadie.com/food-hunting-in-georgetown-penang/
Kuey Chap is a kind or form of rice noodles but in a rolled-up triangular or elongated shape. Infused with deep, herbal taste, this braised duck dish from Kimberly Street is one of the best in Penang! Due to the complexity and tedious long process of making the dish, this kind of braised Kuey Chap dishes are becoming rare and more difficult to find.
If you are afraid of the gamey taste of duck, fret not, you would not taste a hint of gaminess with this dish. Seasoned and braised for long hours in Chinese five-spiced broth (star anise, cloves, cinnamon, white pepper and occasionally Sichuan peppercorn), the end result is fall-off-the-bone tender duck drenched in rich and savoury broth. A 10/10 from me!
7. Air Itam Asam Laksa
https://www.tripadvisor.com/Restaurant_Review-g660694-d3296239-Reviews-Ayer_Itam_Penang_Assam_Laksa-Penang_Island_Penang.html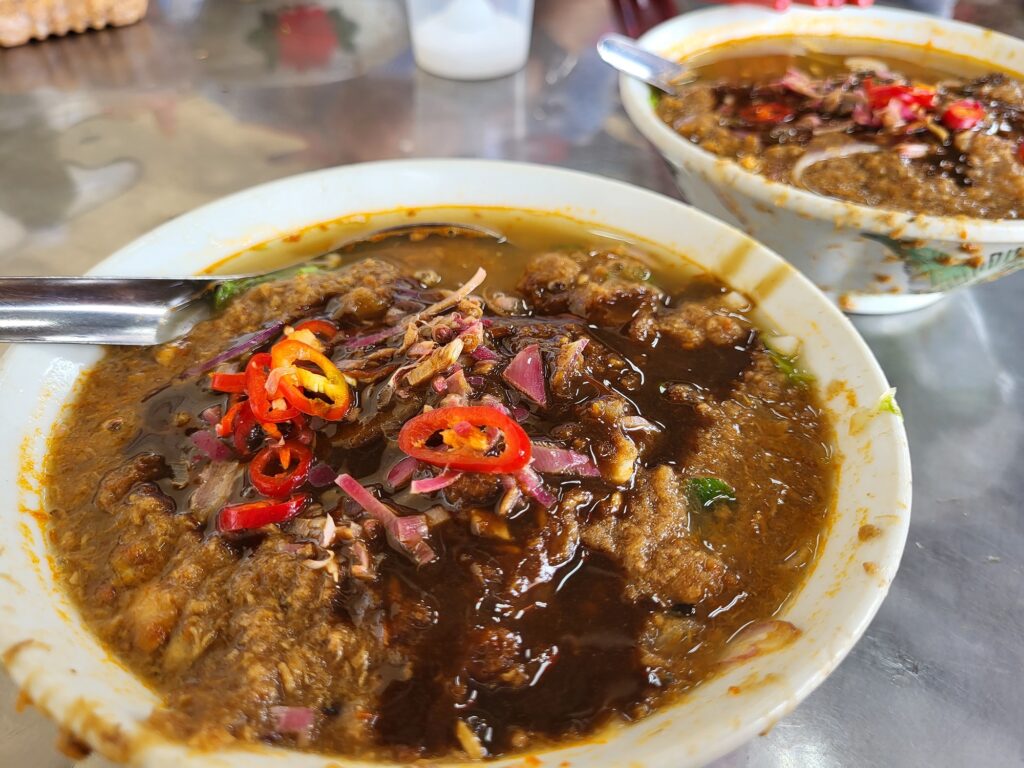 Voted as one of the top 10 best foods to eat in the World by CNN, this is the most iconic food in Penang. It truly reflects the diversity of the cultures and influences we have in Malaysia.
The Air Itam Asam Laksa was once on the brink of closing for good during the Corona lockdown, to the horror of most foodies and avid fans. Very fortunately, the owner decided to push through and the business still remains open till today!
This unique dish has all the flavours one could imagine: sweet, savoury, salty, spicy, tangy and even slight hint of bitterness! The broth is made from mackerel, tamarind juice, ground chilies, galangal, shallots, torched ginger flower, pineapples, lemongrass, topped with fermented shrimp paste and mint leaves. The flavours are so complicated and often conflicting, they could be overwhelming for first timers! Once you get the hang of it, you may be hooked to it forever!
8. Air Itam Sisters Curry Laksa Noodles
https://www.facebook.com/currymeesister/
The sisters are now in their 80s and they have been cooking these delicious curry noodles since they were teenagers. That means they have been running the business for over 70 years!
Whether they serve the best curry noodles in Penang is highly debatable, but their taste is very unique for sure. The Penang curry laksa is slightly different from their southern counterpart, especially the curry laksa in Kuala Lumpur. The Penang-style curry laksa is often milder and lighter in taste and colour. It is often served with braised cuttlefish, ground chili paste and pig's blood pudding (you may ask them to be removed). I particularly liked their braised cuttlefish – tender and super savoury. The broth was light yet appropriately spicy and coconutty and packed a lot of seafood umami flavours!
If you wish to visit their stall, make sure to come earlier than the stated closing time, as they are often sold out even before the closing time (12.30pm).
9. Penang Prawn/Hokkien Noodles, 888 Hokkien Mee, Presgrave Street
https://www.tripadvisor.com/ShowUserReviews-g298303-d10413607-r478726856-Three_Road_888_Hokkien_Mee-George_Town_Penang_Island_Penang.html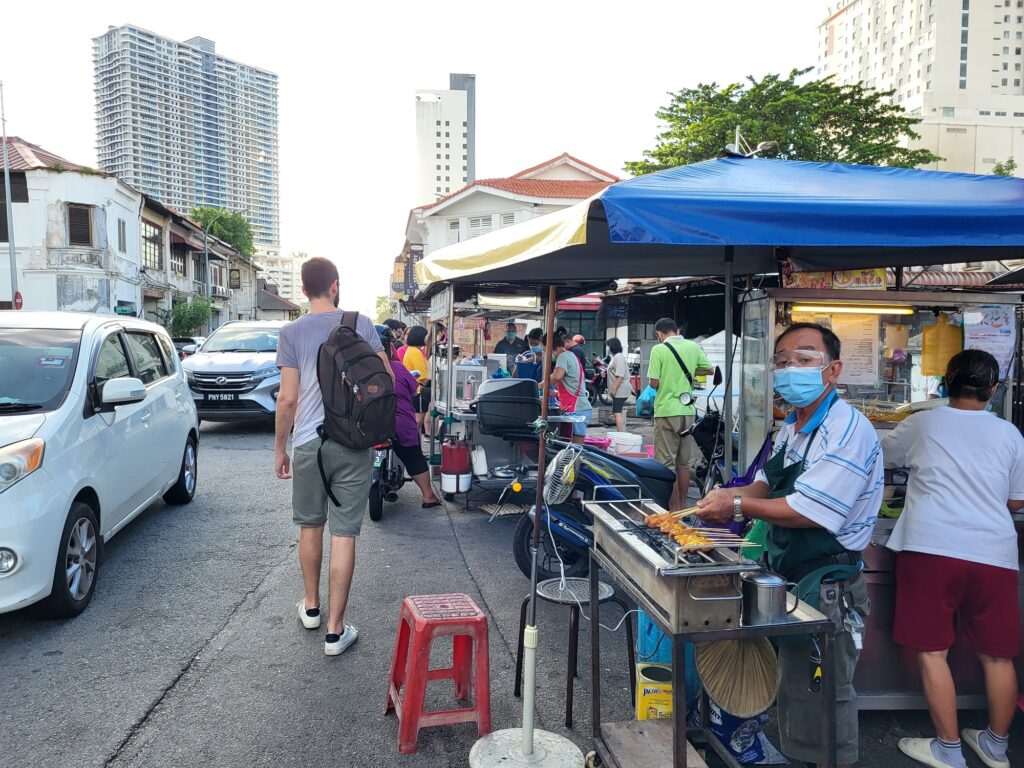 The Penangites call this dish "Hokkien mee" as it was invented and cooked by the Hokkien people (originated from the province of Fujian in China) in Penang. Don't be confused by the several versions of "Hokkien Mee" we have in Malaysia and Singapore because they mean completely different dishes, they are named so just because they are cooked by the Hokkien people! We, non-Penangites, simply call it "Prawn Mee" or "Prawn Noodles".
The Penang Mee at Presgrave Street is one of the better versions that I've had in my life. The broth was super rich and thick, cooked by boiling pork bones and prawn shells for many numerous hours. Topped with crispy roast pork, fried shallots and ground chili paste, this dish combines the best of both worlds of meat and seafood. The Penang version of Surf and Turf!
***
Are you tempted to try all these amazing street food in Penang? Come visit Penang and you will discover tantalizing tastes and textures that you never knew before!