Sapa, located deep within the mountain ranges bordering China and Vietnam, has always been on my list of must-go places. So, when I finally had the opportunity to travel to Vietnam I made sure Sapa is on my itinerary.While most people would prefer the comfortable way of sightseeing for example joining a tour group or staying in fancy hotels or resorts, I was looking for a way to travel mindfully, interact with the local people and actually learn their way of life and culture.
I stumbled upon Sapa O'Chau Travel Social Enterprise on the Internet. What struck me the most is the fact that this not-for-profit enterprise was founded by a young lady – Shu Tan who herself hails from one of the minority tribes in Sapa with the ultimate aim and objective of contributing to her own community in terms of education and development. Another interesting aspect of this enterprise is that they offer various types of packages to cater for individuals with different needs, fitness levels and interests; ranging from a one-day trek to authentic home stay experiences.
In the end, my friends and I decided on the Red Dao homestay trek which is a two-day trek covering over 25km of trekking plus one night stay with a local family of the Red Dao tribe, which is famous for their traditional herbal bath.
On the day of the trek, our guide May, met us at the O'Chau office at Sapa town, we then set off for our journey. May first guided us across Sapa town, walking past the Sapa lake (which kinda reminded me of Europe) before we made our way away from the tarred roads onto a mudded path into some forested areas of the hills. Although we were high up in the mountains, the weather was actually warm and humid as we were there in the middle of the summer. Half an hour into the trek, we were already drenched in sweat while May still looked fresh and upbeat.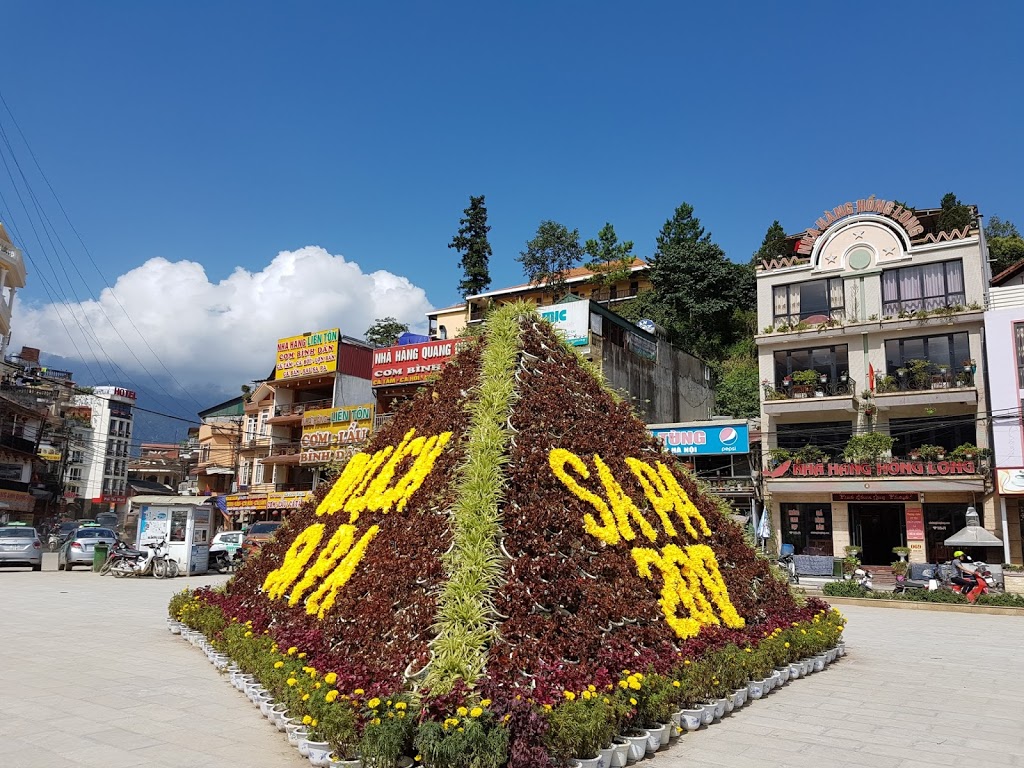 Sapa Lake
Our guide, May, trying to get some spring water
After about an hour of trekking under the blazing hot sun, we arrived at a village belonging to the Black Hmong people, which can be distinguished from the other tribes from the colour of their fabric, which is of course blue (dark indigo blue, to be precise) and their blue-stained nails from the frequent use of the blue dye extracted from natural plants to dye their fabric made of hemp.
Along the way, we were rewarded with breathtaking and otherworldly views of the rice terraces and the lush greenery of the surrounding mountains. The terraces have been carved and constructed out of the natural contours of the hills and mountains which function to hold flooded ponds for cultivating rice. This is truly a sustainable agricultural technique which not only preserves the environment but also enhances the natural beauty of the mountainous terrains.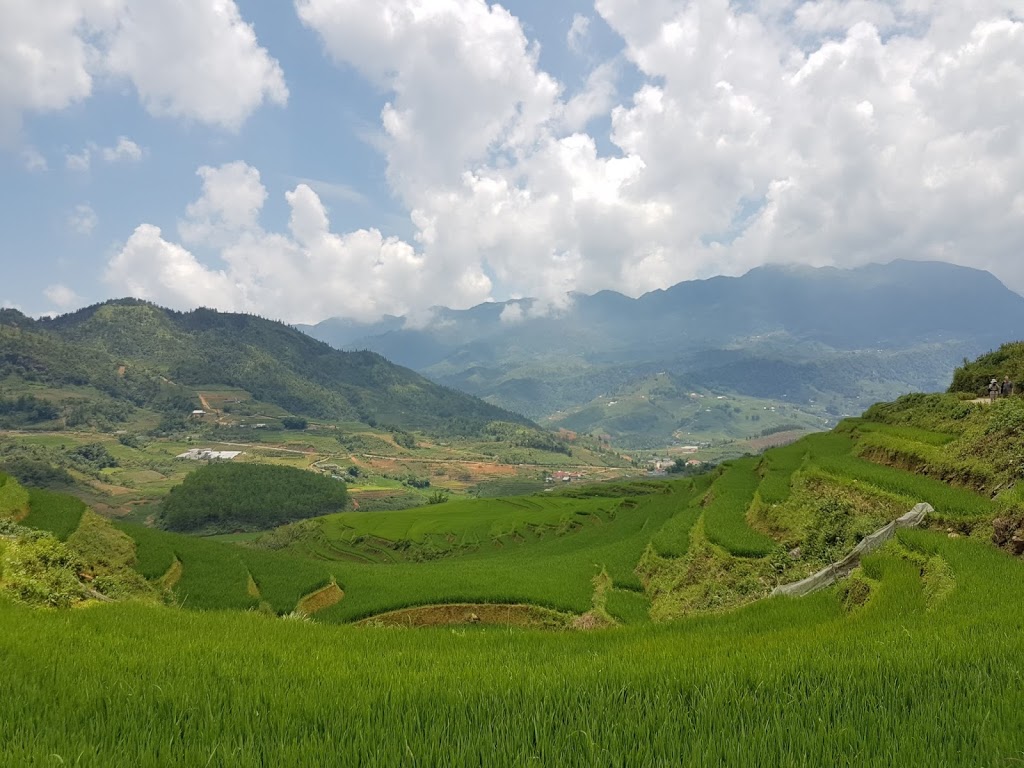 Paradise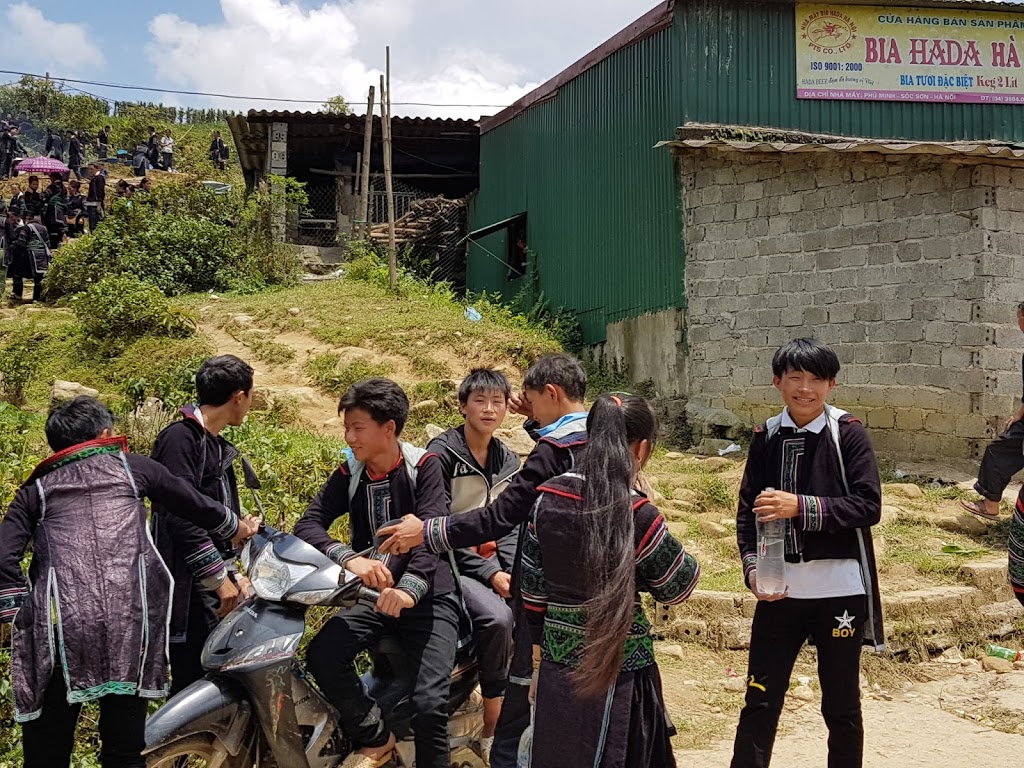 Black Hmong kids gathering at a funeral
Three hours into the trek, we stopped at a restaurant for a much-needed lunch break.We were treated to some simple yet delicious home-cooked dishes such as omelette, deep fried spring rolls, stir fried cabbage and some pretty rubbery wild boar's meat. The dishes were cooked using simple cooking techniques such as stir frying akin to the Chinese-style stir frying in woks, and seasoned with salt and/or MSG. 
After what seemed like an eternity of trekking and walking under the intense afternoon sun, we finally arrived at the homestay guesthouse at which we would spend the night. But wait, we are not there yet! It's another 700m-uphill walk on a narrow single-lane path, which we had to give way to passing motorcycles. Stopped for a 5-minute breather, before braving the steep inclinations.
The homestay guesthouse has fairly basic amenities such as electricity, running tap water, western-style toilets, beds with mosquito nets and so on. However, there is neither stove nor gas in the kitchen. Cooking is done the primitive way – over the good-old wood fire on the ground.
To our horror, as well, we found out we did not have 4G/3G reception on our phones, which means NO internet until the next day when we get back to civilisation. Oh well, I guess it's a good place for social media detoxification or unplugging ourselves from our electronic devices and the internet.
The host and the kids started to prepare our herbal bath by boiling up herbal leaves over wood fire for hours in order to extract the essence, which would then be mixed with water and poured into big wooden bathtubs for us to soak in before dinner time. These herbal baths have existed within the Red Dao community and have been passed down from generation to generation, and are believed to confer great medicinal purposes such as improving skin complexion, curing the cold, rheumatism, relieving pain and tiredness and so on.
When the herbal bath was ready, we soaked our bodies in the wooden bathtubs and let every inch our skin and pores absorb the nutrition and the benefits of the herbal water. After soaking in the herbal water for a good, long 20 to 30 minutes or so, the soreness of my legs was relieved and I felt refreshed and invigorated. I wished they had the herbal concoctions crushed into powders and sold in packages (something like bath salts), I would totally buy them home.
Wooden bathtubs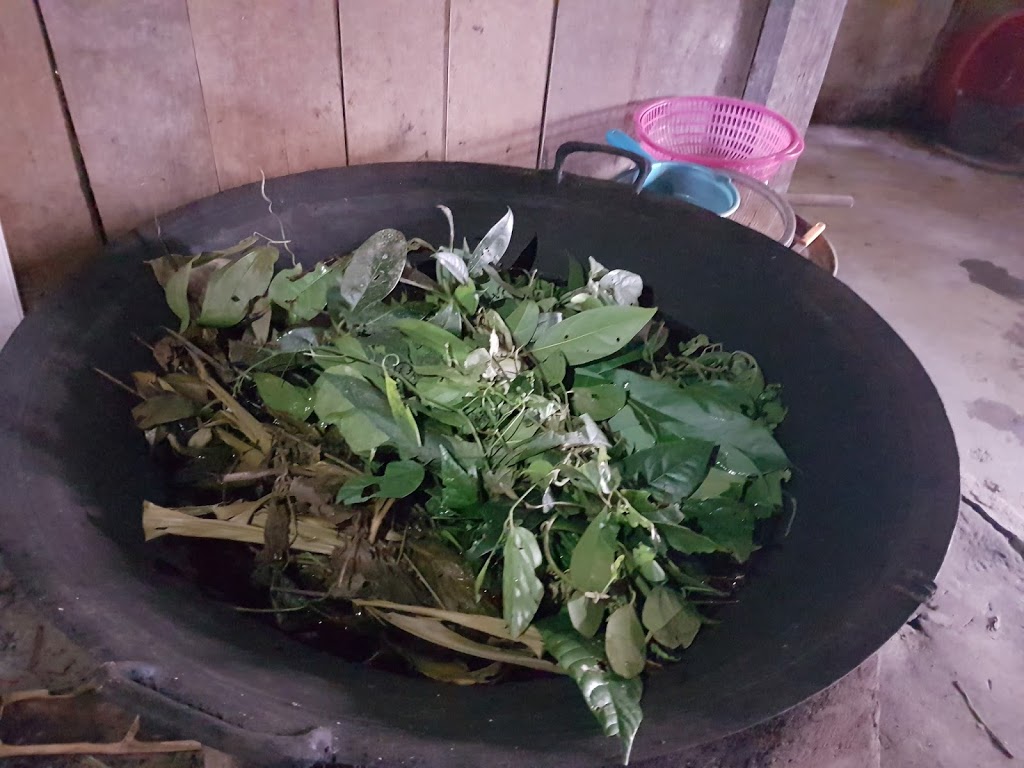 Boiling the herbs to extract the essence
Showcasing her beautiful masterpiece which she had been working on for the past 10 months and is still unfinished.
Then came dinner time. The host and his kids generously whipped up a few dishes: grilled pork, ginger chicken, "susu" which is some kind of melon or gourd to be eaten as vegetables, stir fried bamboo shoots and deep fried spring rolls. As guests, we were also served with some homemade spirits which contain unknown amounts of alcohol, but I can tell they were pretty strong.
After dinner, the kids went to search for a place with 4G/3G reception or wifi connection. While us being dead tired after a long day, chose to retreat to our beds and called it a day.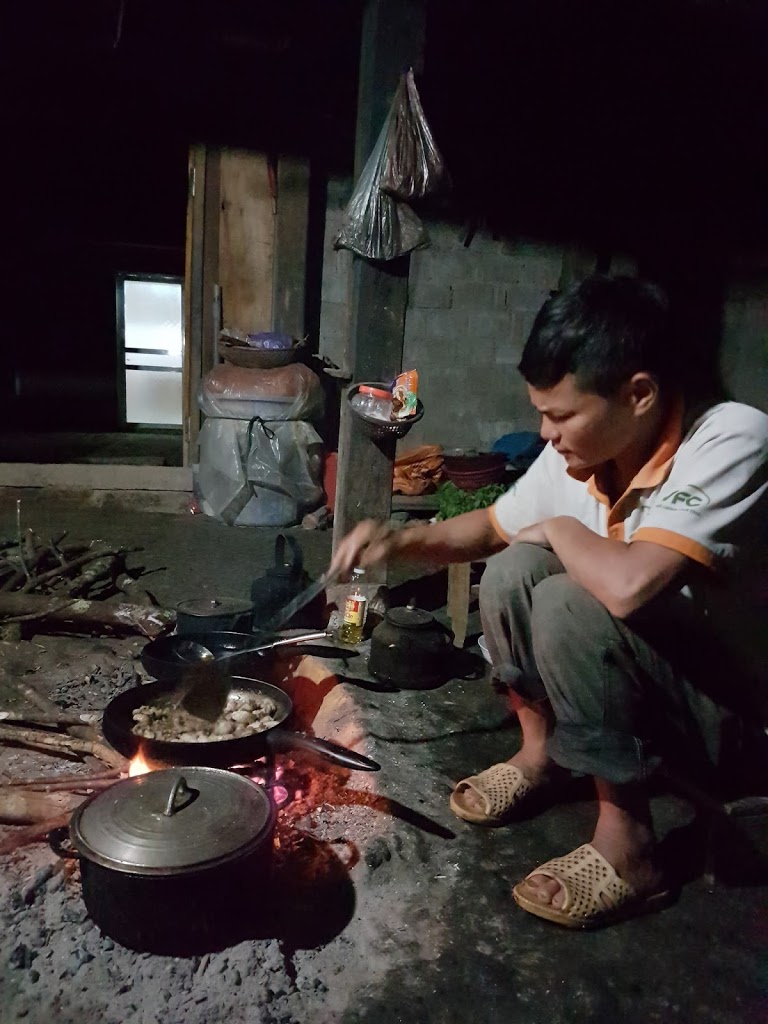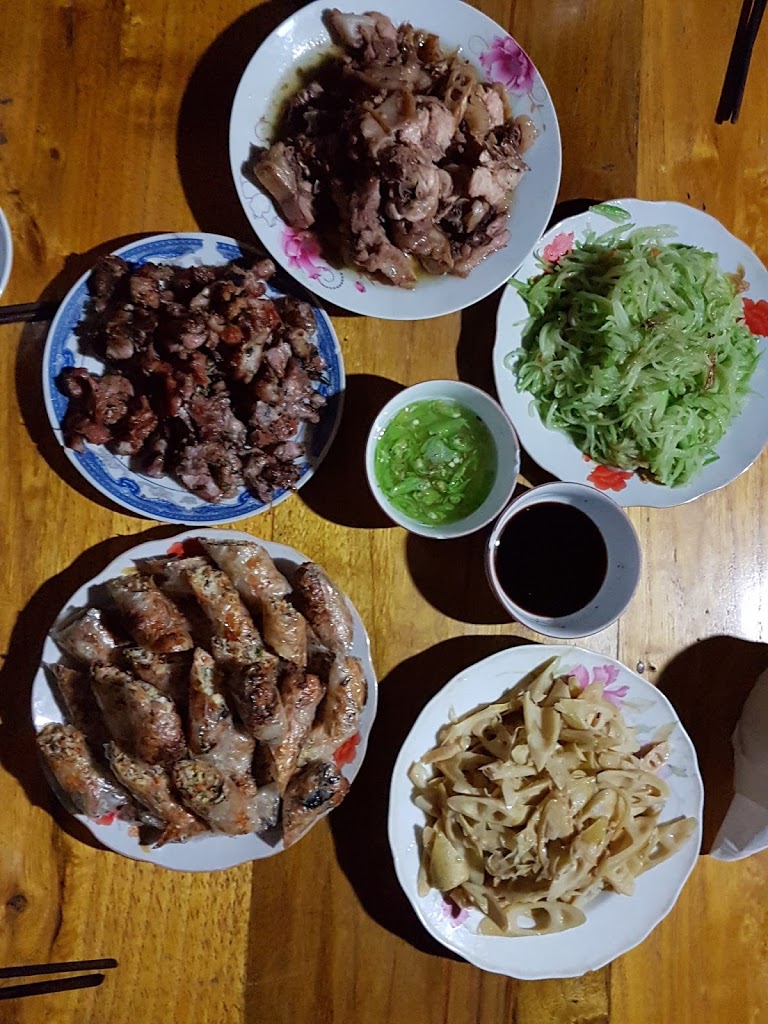 The next day, we woke to the crowing of the roosters and the chirping of the birds. It does feel good to have a good night's sleep unplugged from our electronic devices and be close to nature. After a hearty breakfast, we made our way back to Sapa town which took us to some pretty steep slopes and terrains. The journey back was shorter (around 10km) as we would be picked up by a vehicle somewhere along the highway. We came across some village animals like black pigs, buffaloes, etc as we made our way down the dusty path which we had to share with big trucks and motorcycles. The views did not cease to amaze us as the rolling hills and mountains were more dramatic and more majestic than the first day as we were trekking up at a higher altitude.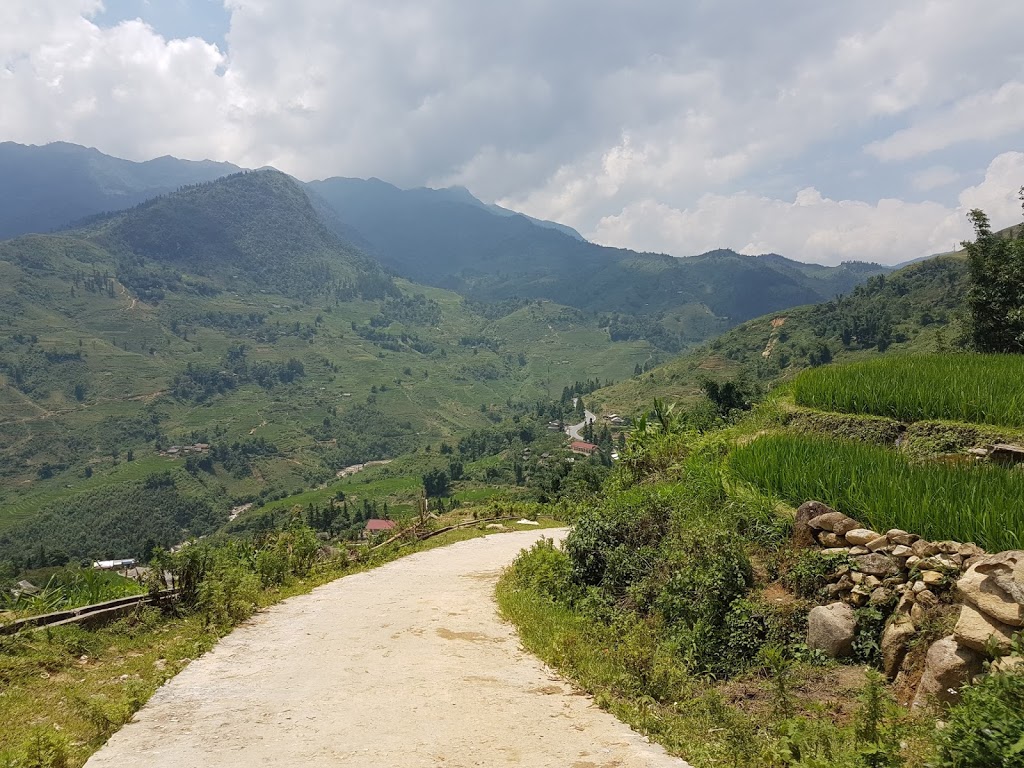 It had been a wonderful trek having witnessed some of the most majestic rolling hills I've seen, exposed to eye-opening sights and smells, and learnt interesting cultures of the hill tribes, all thanks to May our guide and our very hospitable host – May Sinh.
Interestingly, we were told by our guide May that we were the first Asian (and Vietnamese, as my friend and her sister are Vietnamese) tourists that she had guided on a trek, which she found surprising because most Asian tourists would not choose to trek for over 25km under the hot sun. This may be generalisation, but to a certain extent, it may be quite true as well, as we did not stumble upon any Asian faces throughout our trek; we were the only midgets amongst the tall, gigantic European trekkers xD
In short, I would highly recommend this trek and Sapa O'Chau to anyone who is looking for an award-winning, ethical and responsible enterprise which organises some pretty unique treks with homestay options. I was glad that the money I paid for the trek was well-spent on a meaningful cause supporting and funding education for the under-privileged kids.