When we talk about Kumamoto, first thing comes to mind is the "Kumamon" – a cartoon character of the rosy-cheeked, stoned-looking black bear mascot with a which is seen plastered and advertised everywhere from billboards to merchandises. And then there is the Kumamoto Castle which suffered some moderately severe damages during the earthquake last year. Read more about the earthquake here 
http://www.japantimes.co.jp/tag/2016-kumamoto-earthquake/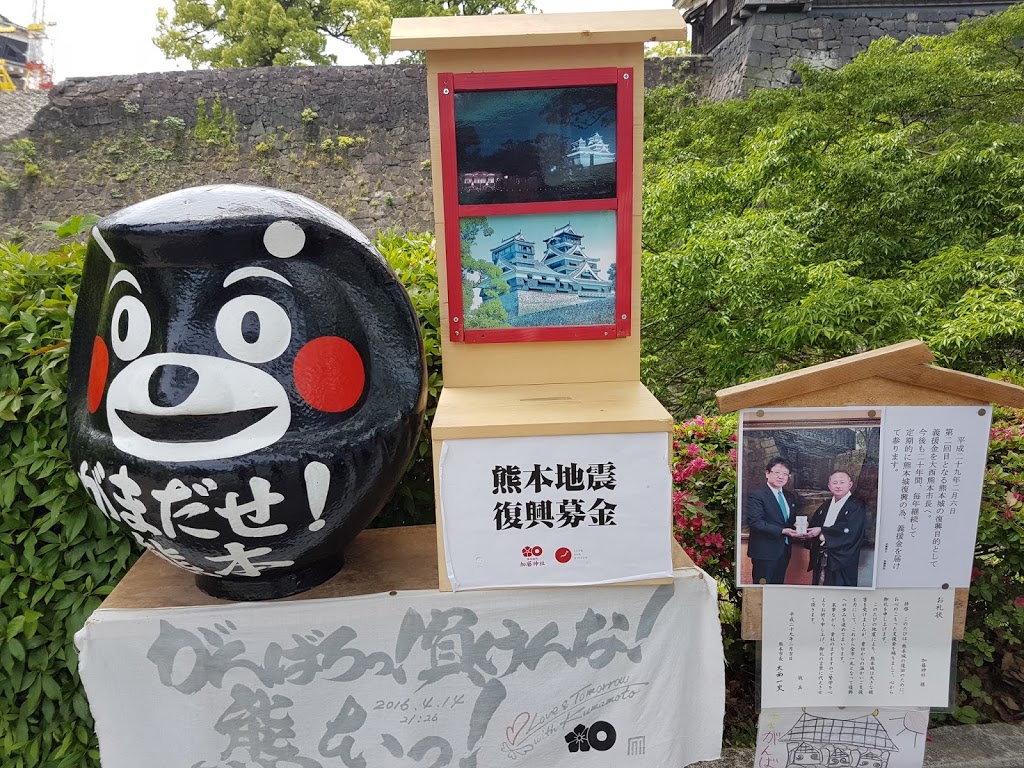 Kumamon-daruma hybrid donation box for the earthquake (Daruma dolls are perceived by many Japanese to bring good luck and is often a symbol of fortune and perseverance)
But I digress.
Unbeknown to many, Kumamoto offers some of the unusual foods that may be perceived by many, even the local Japanese, as bizarre or peculiar, a stark contrast to the mainstream Japanese cuisine.
As I ate my way through the land of Kumamon, here are some of the foods I personally found interesting.
1. Uni Croquette
As I was walking around the compounds of the Kumamoto Castle, I came across "Ninomaru" a compound which houses shops, restaurants, souvenir stores and a performance stage, obviously this place was built for the tourists. It was a Sunday that day, and the place was full of loud, hungry Chinese tourists who were all too eager to fill up their tummies that they all flocked to a ramen restaurant that was supposed to open for business half an hour later. The Japanese staff didn't know what to do, but to frown helplessly.
I was also amused by a few Chinese aunties who were busy poking their noses into what I was eating.
"What are you eating?"
"Is it delicious?"
Before I took my second bite, one of the Chinese aunties asked me in their thick Mainland Chinese accent. They seemed very confident to assume that I would understand Mandarin too. This had happened to me when I was in Santorini, Greece, many years ago. Haha. Maybe this a common trait shared among the Chinese aunties, or maybe I look like a foodie (more like a glutton) that they have so much trust in my taste buds .
"Yes, it's delicious. You should try it too!" I replied out of courtesy.
"Is it horse meat?"
Apparently, they were all looking for horse meat. So were the horde of tourists who flocked to the ramen restaurant waiting to be served horse meat ramen.
"No, it's uni (sea urchin)".
Without a word, she walked away in disappointment and probably continued to hunt for the elusive horse meat.
Anyway back to the uni croquette, on the outside it may appear like an ordinary potato croquette. But it came with a surprise (yummy) centre filled with lusciously thick, creamy and juicy "uni" goodness. The exterior breadcrumb coating gives the croquette a nice contrasting texture to the smooth mashed potato and the creamy "uni" filling in the middle. For 390 yen per croquette, it came with a generous serving portion of "uni" finely chopped together with its juices to give it an extra "umami" edge to the croquette.
If you have the chance to visit the Kumamoto castle, I recommend giving the uni croquette a try as I've not seen it sold elsewhere.
Uni Croquette – the packaging
How it looks on the outside. Looks ordinary right?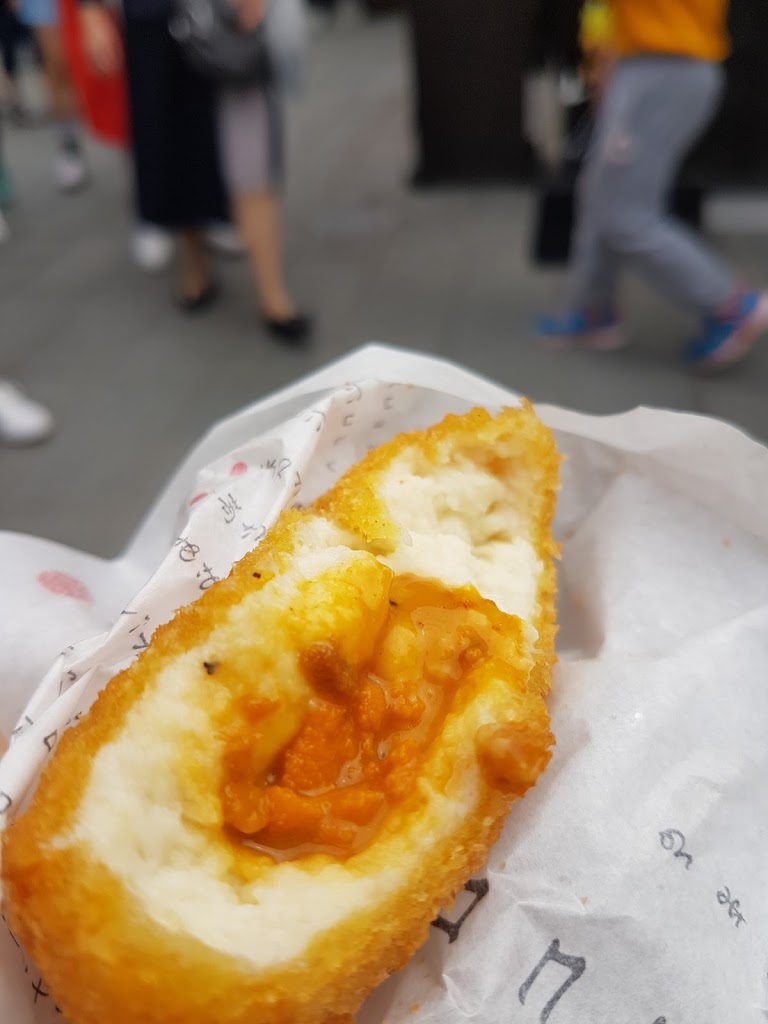 Take a bite (or two) and be surprised!
2. Mustard Stuffed Lotus Root (Karashi Renkon)
Mustard lovers, you would love this!
This is definitely not for the faint-hearted. Literally known as the "spicy lotus root", the lotus roots are first boiled and then stuffed with a paste made of a combination of yellow mustard and Japanese miso (Japanese fermented soy bean paste, mostly used in soups and sauces), and lastly deep fried to golden perfection.
This is truly strange and bizarre to me as I've never seen lotus roots being served and cooked this way. I bought the karashi renkon (pictured below) at one of the stores on the compounds of Ninomaru near the Kumamoto Castle. This time around, the same Chinese auntie approached me without any sign or greeting. She went straight to the point.
"Is it good? What is it?"
"It's alright, mustard stuffed lotus root"
"Is it spicy? I'm looking for food for my mother-in-law. She can't eat food that is too spicy. Maybe she won't like this."
Then, she walked away again.
Unfazed by her constant interrogation, I continued to dig in. The lotus roots were crunchy and the combination of mustard and miso paste was surprisingly pleasant to taste, not as spicy and pungent as I'd expected. However, it could get a tiny bit of cloying after a few bites, perhaps it's best eaten as a snack together with alcohol.
This cost about 400yen for 3 pieces.
Generous amount of mustard and miso paste lurking in every inch of the lotus root.
Hello, you cuteness is too overbearing! Help!!!!
 3. Dagojiru (Rice Cake Soup)
This hearty soup would sooth and warm your heart and soul on any day. The soup is made of doughy rice cakes stewed with clear dashi broth along with many seasonal Japanese vegetables such as burdock root, radish, carrots and so on, which make it a wholesome and nutritious meal, best eaten on a cold and rainy day.
This dish is mostly served in izakayas and restaurants. I had mine at Minesushi Restaurant which specializes in fresh sashimi and sushi, but also does traditional, regional Kumamoto dishes.
4. Horse meat (Basashi)
As controversial as it is, Basashi is a symbol of Kumamoto cuisines and have been enjoyed by the local Japanese for centuries.  Basashi is often served fresh and raw i.e. sashimi style and it's to be eaten with spring onion and grated ginger dipped in soy sauce. It was delicious, the meat was marbled with even fat distribution and thus the soft and tender texture; it tasted like beef, a little sweeter and more gamey than beef.
As I've mentioned above, this exquisite lunch set consists of all the essential Kumamoto regional specialty. It came with basashi, mustard stuffed lotus roots, blanched green onion served with mentaiko mayonnaise, grilled river fish served with grated radish, rice cake soup, and a bowl of rice cooked with mixed veges and sweetened braised beef. Although a tad expensive, overall I found the dishes were of high quality, except for the red bean steamed buns (upper right corner in the picture below) which went hard and cold after I was done eating the mains, it should have been served last.
Of special note, the restaurant's rendition of the mustard stuffed lotus root was VERY spicy, I was choked by the eye-watering spiciness of the mustard in every bite. In the end, it was too sufferable for me to finish the entire dish, so I ended up eating the lotus roots while scrapping off the mustard as much as I could.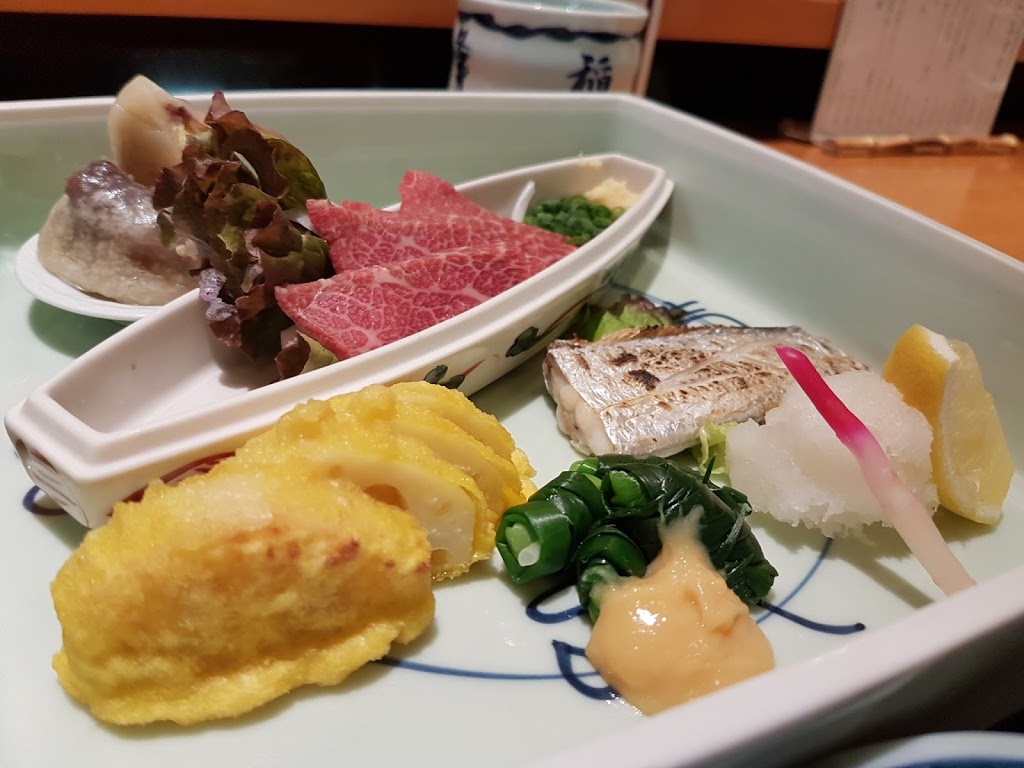 I ordered the Kumamoto regional specialty for 2700 yen.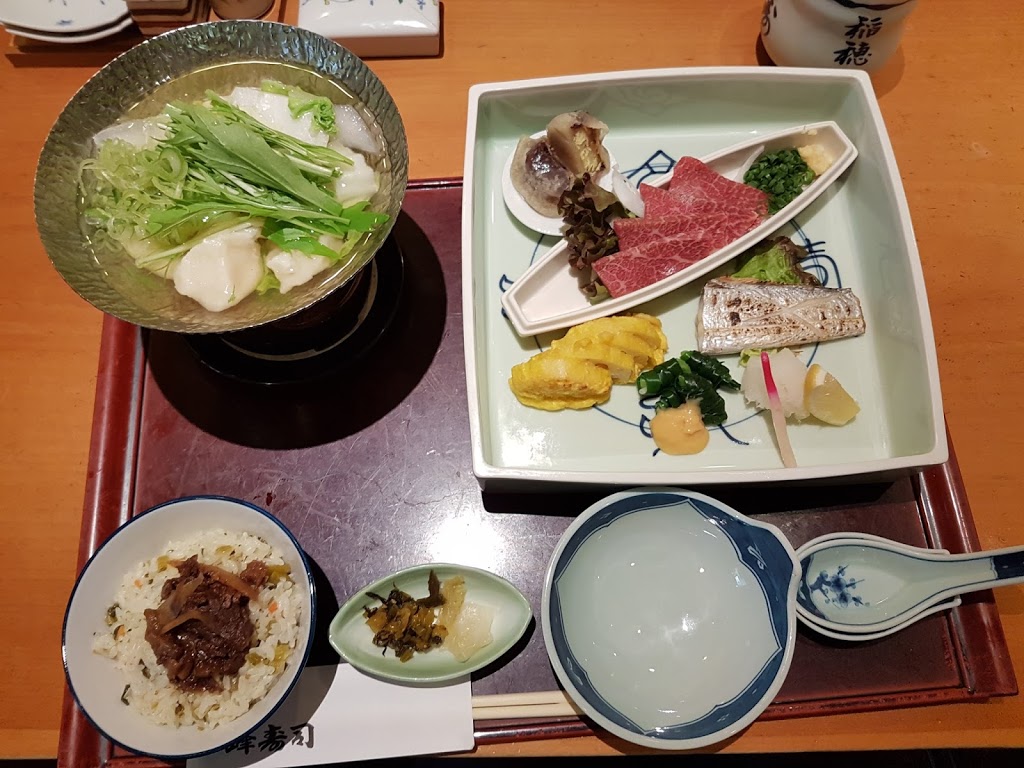 The entire lunch set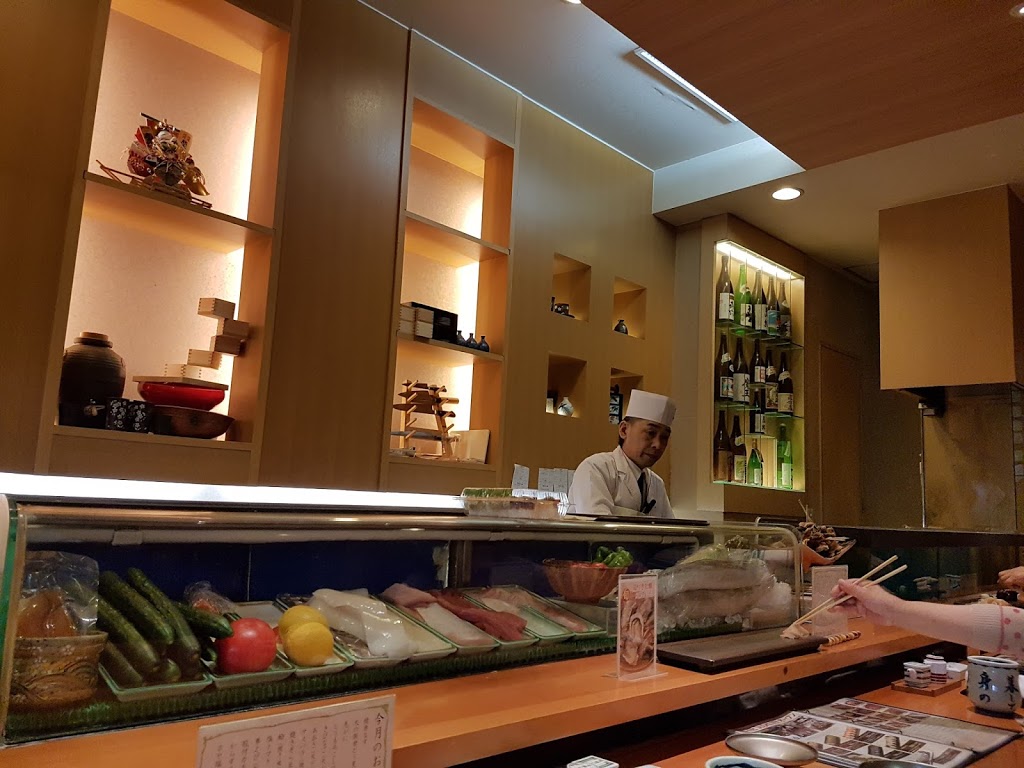 The interior setting of Minesushi Restaurant
The Verdict
Of all the dishes I tried above, my favourite was the "Uni Croquette" simply because I was "wowed" and utterly surprised when I bit into the centre. Every single bite was bursting with juices and flavours and the creaminess of the uni goes very well with the silky smooth mashed potato and the breadcrumb coating gave it an extra crunchy edge. All in all, an ingenious interpretation of the sea urchin, kicking the whole "umami" experience up a notch.