If you are on a holiday in Osaka and you are growing tired of Japanese food after eating it for a few days in a row. And if you are looking for alternatives, why not try "ethnic food"?
Ethnic food has been on the rise and is growing more and more popular in recent years due to the influx of foreigners and tourists into Japan, and it's not surprising to see Osaka is slowly catching up and joining in the ethnic food trend.
So, in this food guide blog, unlike other Osaka food guides, I'm going to share with you my absolute favourite ethnic foods in Osaka and restaurants where you can try them.
Disclaimer: I'm not endorsing for any of the restaurants, the recommendations below are based on my personal dining experiences.
1. Vietnamese food
Known for its use of fresh and simple ingredients and abundant use of fresh herbs and greens, Vietnamese food offers a refreshing break from the greasy Tonkotsu or Kushikatsu that you've been having for the past few days.
Most notable Vietnamese dish that comes to mind for most people is of course Pho, it's hard to go wrong with that big hearty bowl of meat broth and silky smooth rice noodles.
Bia Ho'i (ベトナム酒場 ビアホイ ) Chengkou Building B1, 2-15, Kakudacho, Kita-ku, Osaka-shi, Osaka 530-0017 (a stone's throw away from the building Hep5 with a big ferris wheel on top of it)
This has to be one of the most popular places for Osakans as it's always packed regardless of lunch or dinner time. It's hard not to see why. This place offers a huge variety of Vietnamese food, ranging from Pho to the dessert Che. They offer really affordable lunch sets. for example, a lunch set consisting of Beef Pho and a small bowl of pork belly stew rice would set you back for less than 1000 yen (it's considered pretty cheap looking at the amount of meat!). And if you are up for some Vietnamese dessert, just add-on a dessert all-you-can-eat for merely a few hundred yen!
I personally think I've had better Phos elsewhere but it's a great place where you can try wide variety of Vietnamese dishes (lesser known) which are usually not available in other restaurants. My personal favourite is Banh Beo (picture below) – little steamed rice cakes with dried shrimps garnished with coriander and served with sweet savoury fish sauce, every bite explodes with the sweetness of the dried shrimp and fish sauce combined with the smooth, chewy steamed rice cakes.
Another thing I like about this restaurant is that it's got great ambience and atmosphere, with tiny wooden tables and stools, and Vietnamese oldies playing in the background, you do feel like you are transported to the bustling street of Vietnamese for a minute. So, if you happen to be around Umeda area (which you are likely to be) and craving for some Vietnamese food, why not pop by this cute lil' restaurant (located in the basement of a building)?
Lunch set of Beef Pho and pork rice
Vietnamese dessert Che all-you-can-eat, you could add anything you like!
Banh Beo – steamed rice cakes with dried shrimp
These are great as canapes I think!
Vietnamese hot pot – tastes kind of like Tom Yum
2. Tibetan Food
Tibet is a land far away from me, from the first time I heard or know about it from watching TV or from the Internet, it became one of my dream destinations.
So, imagine I was bursting with excitement when I found out that there is a Tibetan restaurant in Osaka. Yeah sure Osaka is full of Indian restaurants, but I believe this is the one and only Tibetan restaurant in the entire Kansai! Of course I wouldn't miss this opportunity of paying a visit to this restaurant for an exotic culinary adventure.
Snow Lion Tibet restaurant and cafe gallery (https://www.facebook.com/snowlion88/)
This restaurant is a real treasure trove which houses authentic Tibetan Buddha statues, antique furniture, archives of Buddhism books and precious Buddhist paintings, which gave me a real taste of Tibet on my first visit. I was already looking forward to taste the food.
We ordered a number of dishes: Stir-fried mutton, Lamb Momos, garlic and cheese naans, Tibetan butter tea, and Tibetan soupy curry.
I wished the meat filling of their Momos was more moist as it was a little too dry to my liking, otherwise the seasoning was pretty decent. I have to say the chilli dipping sauce was really good, fragrant and well-balanced on heat and flavour, really enhances the flavour of the Momos.
Moving on, we tried the Cheese naan and garlic naan (these are two separate naans). The cheese naan is definitely one of the best that I've had in my life! The naan is cut into well-sized triangles and is thick and fluffy giving it a great texture. They are very generous on the cheese which oozes out with every single bite and combined with its crispy outer crust, it's a very addicting naan. We ended up ordering another serving. Aside from eating the naan on its own, we also ordered two curries to go with the naans: the Tibetan curry and Indian spinach curry (Saag Aloo). While my friends preferred the much creamier spinach curry, I personally like the Tibetan curry better. It's very watery almost like a curry soup, with potatos, spinach and chunks of lamb in it, I find its mild flavours very refreshing from the usual creamy Indian curries.
Overall, I would recommend this restaurant to anyone who is interested to try Tibetan food and want to understand more about its food culture. Atmosphere is excellent with authentic, intricate interior designs and furnishings.
Stir-fried mutton – Very chewy and tough (wouldn't recommend)
Lamb Momos with the delicious chilli dipping sauce
Garlic naan with two types of curries on the side
Tibetan butter tea in beautiful Tibetan ceramic cups
Fried chicken – nothing special
Cheesy naan (highly recommended) and Tibetan curry
Momos
3. Mexican Food
Mexican is one of the most popular ethnic foods in Japan, probably thanks to the huge American military bases here and huge cultural influence from the US. There are quite a number of Mexican restaurants which offer affordable and scrumptious meals sprawling all over Osaka.
Bokkoku Kaiten Tori Ryori (墨国回転鶏料理) – franchise chain store which could be found throughout Osaka – there is one in Lucua B2F in Osaka Station

Literally means rotating grilled chicken cuisine (or rotisserie chicken), this place specialises in grilled chicken dishes along with the usual Mexican Tacos and quesadillas. I recommend dining here during lunch time as they offer really cheap and affordable lunch set options for under 900 yen! If you have a few friends, I highly recommend getting a whole chicken set meal (pictured below) which would only set you back for about 2300 yen! The whole chicken set meal comes with a whole grilled chicken topped with sour cream, slices of ham, cheese sticks, avocados (I wish they gave us more), cilantro, tomato salsa sauce, pickled cactus (tastes like any other pickled vegetables), pickled jalapenos, and tacos for sharing (choose from plain or corn).
It's messy, sloppy but finger-licking good. You gotta use your hands to pick any ingredients that you like and assemble them on your taco, wrap it up and pop it in your mouth. Sauces and juices would be dripping all over and some ingredients would even fall from your taco wrapper, if you were being too greedy trying to squeeze too much in the wrapper. 

Nonetheless, it is an utterly gratifying meal, biting into the juicy tender chicken, tasting the heat from the pickled jalapenos, the butteriness of the avocados and the sweet, tangy salsa sauce, all in one bite, resulting in an explosion and marriage of contrasting flavours and one can only conclude that it's delicious.

To be honest, don't bother trying other dishes, because they are quite plain and mediocre at best.
Whole chicken set
Beef Taco Rice (nothing special)
Next up, introducing….

El Pancho (1 Chome-10-1 Shinsaibashisuji, Chuo Ward, Osaka, Osaka Prefecture 542-0085)
https://www.facebook.com/pages/El-Pancho/151422704889015
Truth to be told, this place is literally a hole in a wall, with dingy interior, graffiti-filled walls and mariachi music, it's like a scene from downtown Mexico City. If you come during weekend nights and if you are lucky, there are live performances on a tiny corner of the restaurant where you can enjoy yourself to some oldies while dining. 

While I'm not an expert in Mexican cuisines, according to some of my American friends, it's the closest thing to Mexican food that you could find in Osaka. So, that coming from people who have tasted American Mexican food, I've gotta take their word for it (with a pinch of salt, I mean).  

So we ended up ordering the cheese quesadillas (sorry, forgot to take picture), burrito with beef mince drenched in salsa sauce, and some "traditional" chicken dish, which I believe it's grilled chicken in chocolate mole sauce.

First up, I've gotta say the cheese quesadillas is one of the best I've tried ever (I've eaten in quite a few Mexican restaurants abroad). Its thin crispy crust compliments the cheesy filling really well and it comes with some mashed chickpeas (or some beans) on the side. Crispy on the outside, soft and gooey on the inside, mindbogglingly delicious is all I can say.

Next up, we moved on to the "suspicious-looking" chicken dish. I couldn't remember the name of the dish but it's described in the menu as a "traditional" Mexican dish made from cocoa and Mexican spices. Sounds interesting.  

So, the dish comes with a huge serving of grilled chicken covered in dark-coloured sauce made from dark chocolate and Mexican spices including chillies), and garnished with roast almond chips and chickpeas. 

I remember watching a short documentary about the origin of chocolates and it mentioned about how the ancient Mayans utilised cocoa and chillies to brew up a concoction. Perhaps, this sauce is indeed one of the ancient recipes coming from the Mayan civilisations (who knows?). 

I tried the dark sauce first, it doesn't really taste like anything I had before, pretty interesting or I should say bizarre. It's savoury, slight heat coming through from the spices but not too strong, and lastly I could taste a hint of bitterness towards the end of my tongue. The roast almond chips and chickpeas add a bit of crunch and texture to it; and the baked/roast banana is just plain weird, to me at least. 

Would I try it again? No. But it's a good experience for me to taste something that I'm not accustomed to.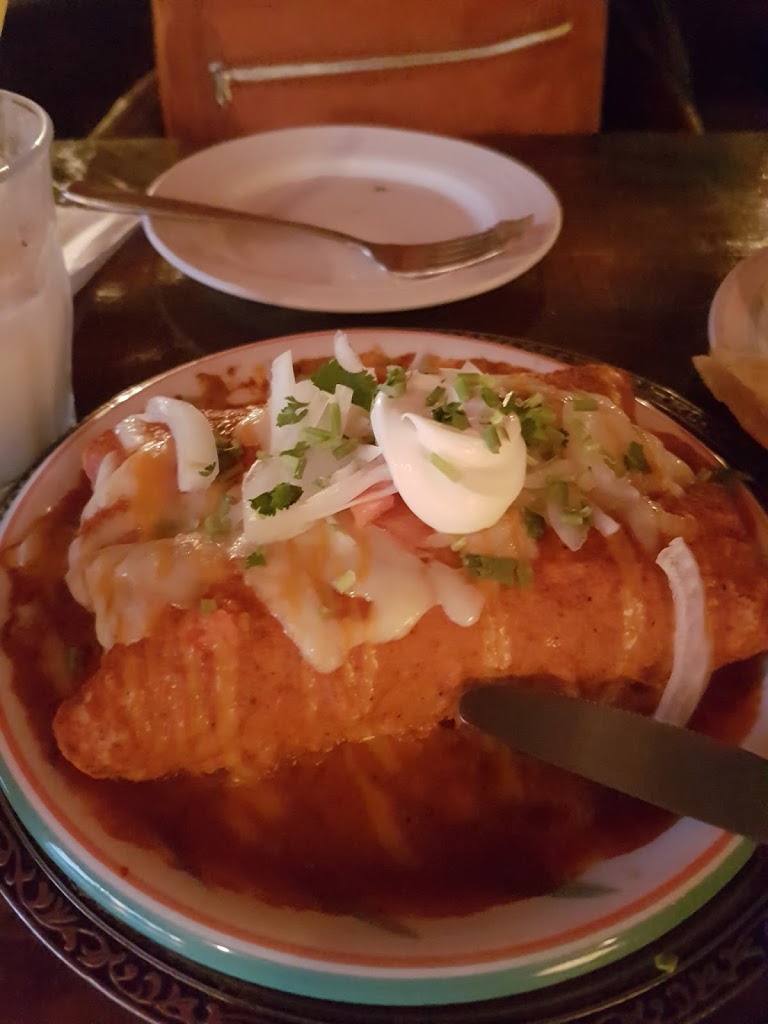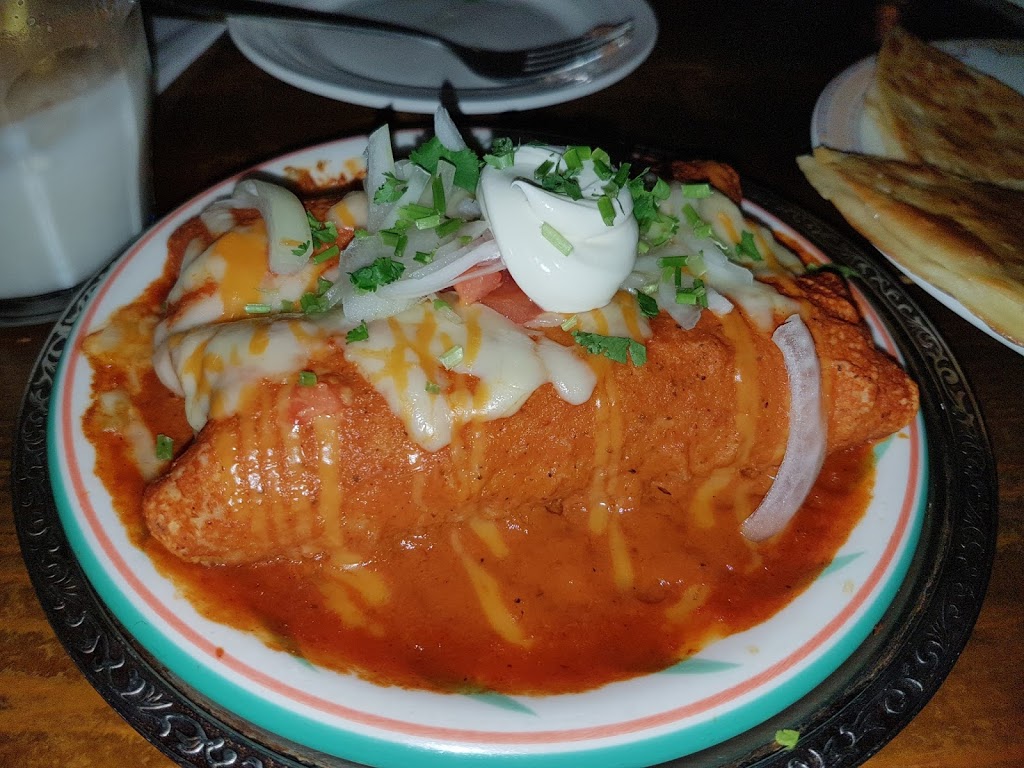 Beef burrito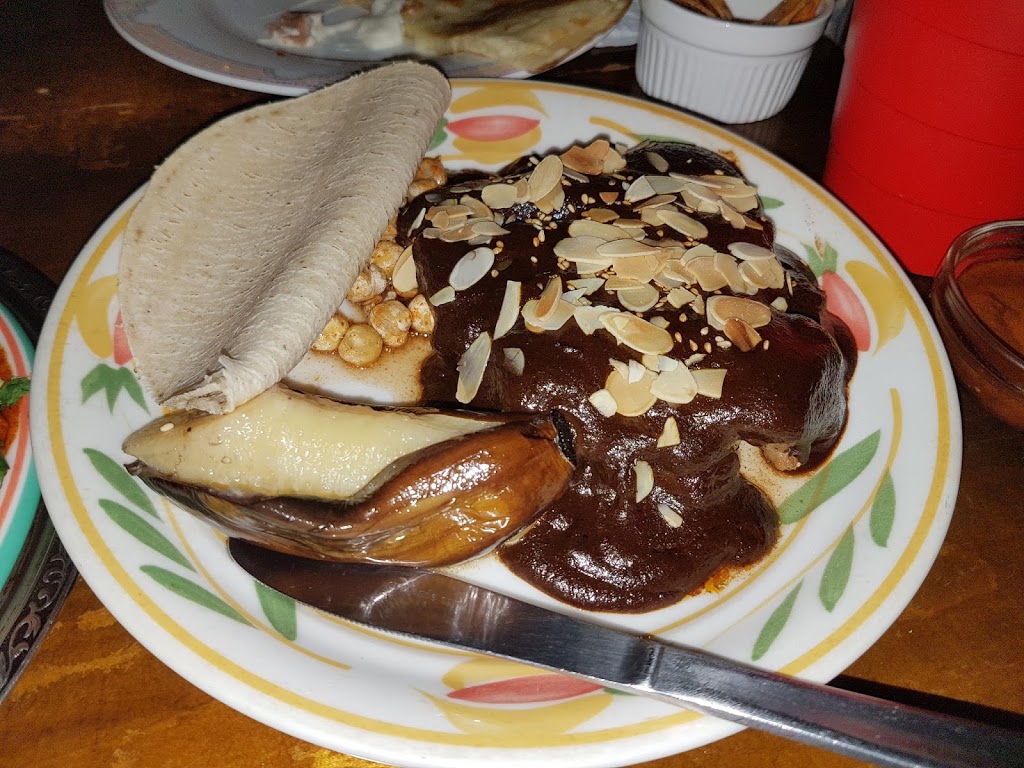 Grilled chicken with chocolate mole sauce
So, there you have it, my recommendations of ethnic food in Osaka. Of course, there are many other ethnic foods available there, but these are just my top 3 favourite ethnic cuisines along with my restaurant recommendations.