I was fortunate enough to have the chance to experience a Vietnamese cooking lesson organised by Betoaji and the participation fee was incredibly cheap! Only costs 1,500 yen per person which includes the cost for ingredients and you get to sample your own cooking. Best thing about this cooking lesson is part of your participation fee goes to charity helping to sponsor the under-privileged school kids in villages and remote areas in Vietnam.
But I digress. In this post I'm going to share with you all the recipe of making the Vietnamese savoury crepe, also known as bánh xèo in the Vietnamese language.
It is incredibly fun and easy to make as well as interactive, as it's best to eat it piping hot straight from the frying pan, one could easily cook this bánh xèo in a party and serve it right away, trust me bánh xèo makes a great party food or even to be shared amongst family members :)
Interesting fact:  The "xèo" in bánh xèo literally translates into "sizzling" which refers to the sizzling and hissing sound when the batter is cooking up in a pan.
Aren't they gorgeous? Let's get started!
Ingredients (for 8 persons):
For the batter, you will need:
9 ounces rice flour
3 ounces all-purpose wheat flour
optional: You could also use the pre-mix bánh xèo powder, if available)
Turmeric powder; 2-3 teaspoons (Note: turmeric powder is already included in the pre-mix powder)
Spring onions/scallion – 1 pack (according to your own preferences)
Ingredients for the filling:
Deshelled and deveined shrimps, 400g
Pork belly, thinly sliced 600g
2 White onions
Bean sprouts 2 packs (Approx. 30g)
Dipping sauce:
Vietnamese fish sauce 6 cups
Water 320ml
Granulated sugar 1 tablespoon
Garlic 3 cloves
Lemon
Vegetables (for wrapping, optional):
Lettuce
Coriander
Mint
Method of preparation:
1. Prepare the batter:
– Add the bánh xèo powder, turmeric, water, coconut milk and beer in a big bowl and mix everything well.
– After the batter is well-mixed through, add in the chopped spring onions/scallions and mix well.
– Let the batter rest for about 30 mins.
2. Making the dipping sauce:
– Finely chop the garlic
– Combine all the ingredients listed above (dipping sauce section) in a small bowl and mix well until the sugar dissolves.
3. Prepare the ingredients for the filling:
– Deshell and devein the shrimps and cut into halves.
– Chop onions into thin juliennes.
– Wash lettuce and bean sprouts.
bánh xèo:
– On medium-high heat, add oil and onions into frying pan, fry till fragrant.
– Add in few pieces of thinly sliced pork belly, shrimps, lightly saute until slightly browned.
– For presentation purposes, push the ingredients to one side of the pan. Pour in some batter and immediately rotate and tilt the pan so that the batter covers the entire pan evenly. If the batter wasn't enough to cover the pan, add more batter.
– Add in bean sprouts and cover the pan with a lid for about 3-4 minutes, let it steam on medium-low heat.
– Remove lid, and let it cook for a further one minute. The edges of the batter should be transparent and the batter should solidify and lightly browned for now.
– Turn off heat and fold in half. Transfer and serve on a plate.
– Best served piping hot!
How to eat it?
Cut it up in bite-sizes. You could either eat it straight away with or without dipping sauce.
Best eaten wrapped in lettuce leaves for extra crunch and fibre and dipped in dipping sauce for that extra tanginess and flavour.
Verdict
I really like making and eating this dish. Making it wasn't hard at all, but I found cooking the batter and controlling the heat to get the perfect texture requires a little bit of practice. I personally think it's a healthy and wholesome dish as you have all the greens, the vegetables, onions and proteins in a crepe; and that dipping sauce adds a refreshing flavour to it. Highly recommend this dish for parties and family gatherings.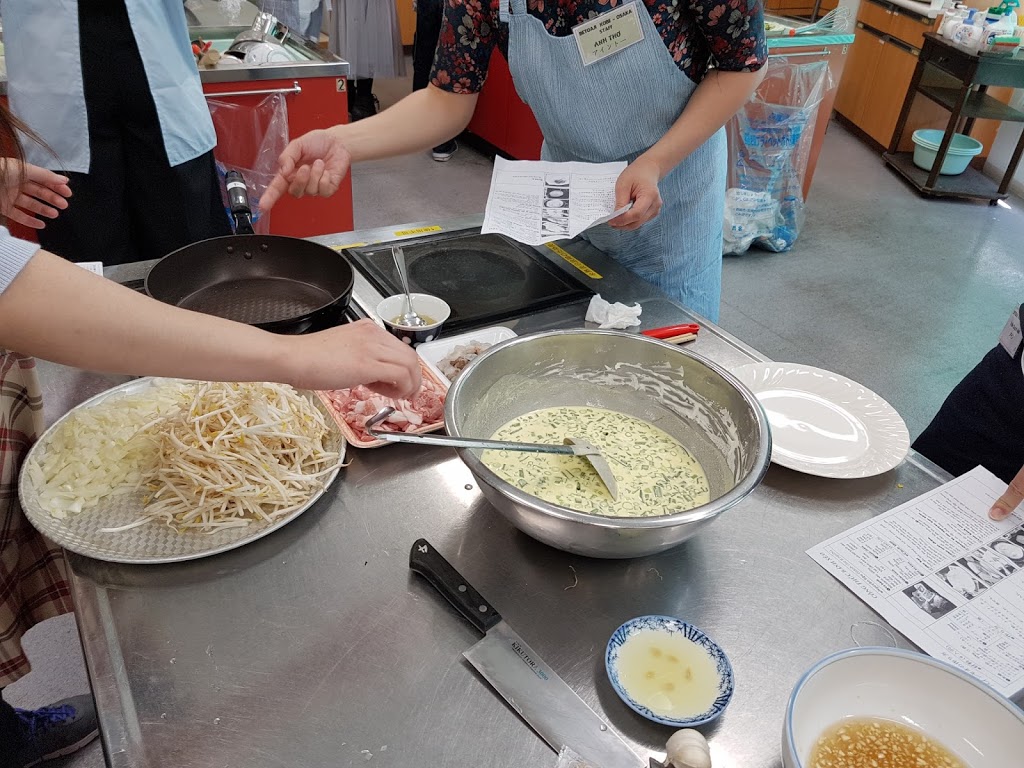 Mixing the batter
Done prepping the ingredients, time to cook the batter!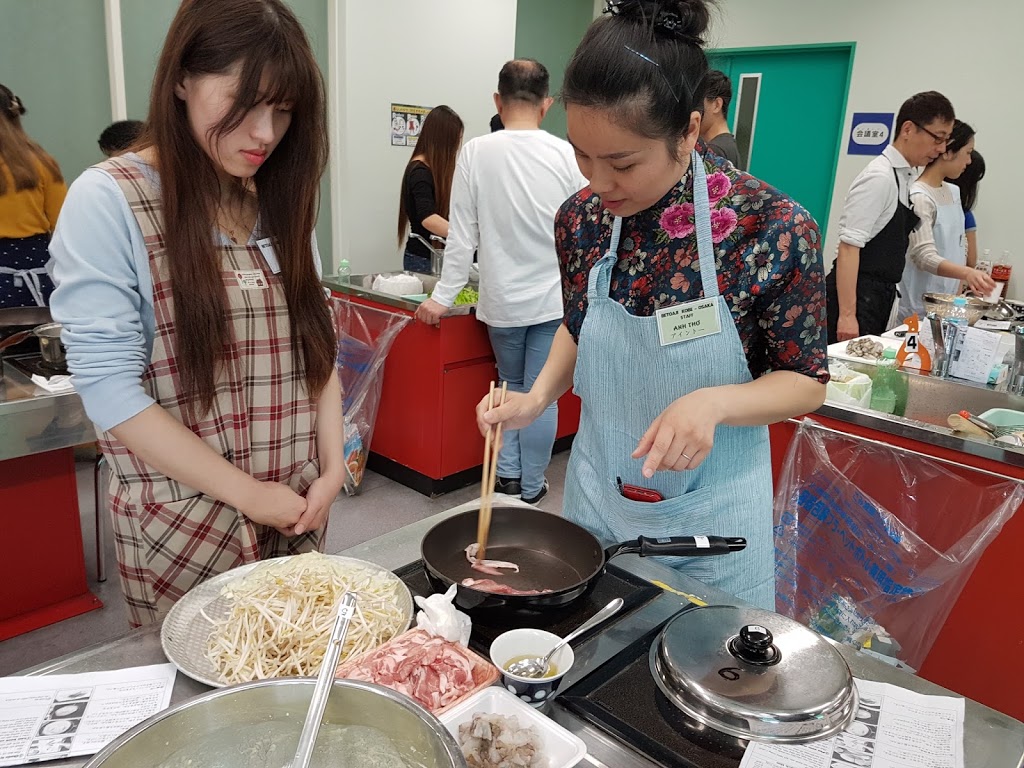 First up, frying the pork belly slices
Cooking the batter by covering the pan with a lid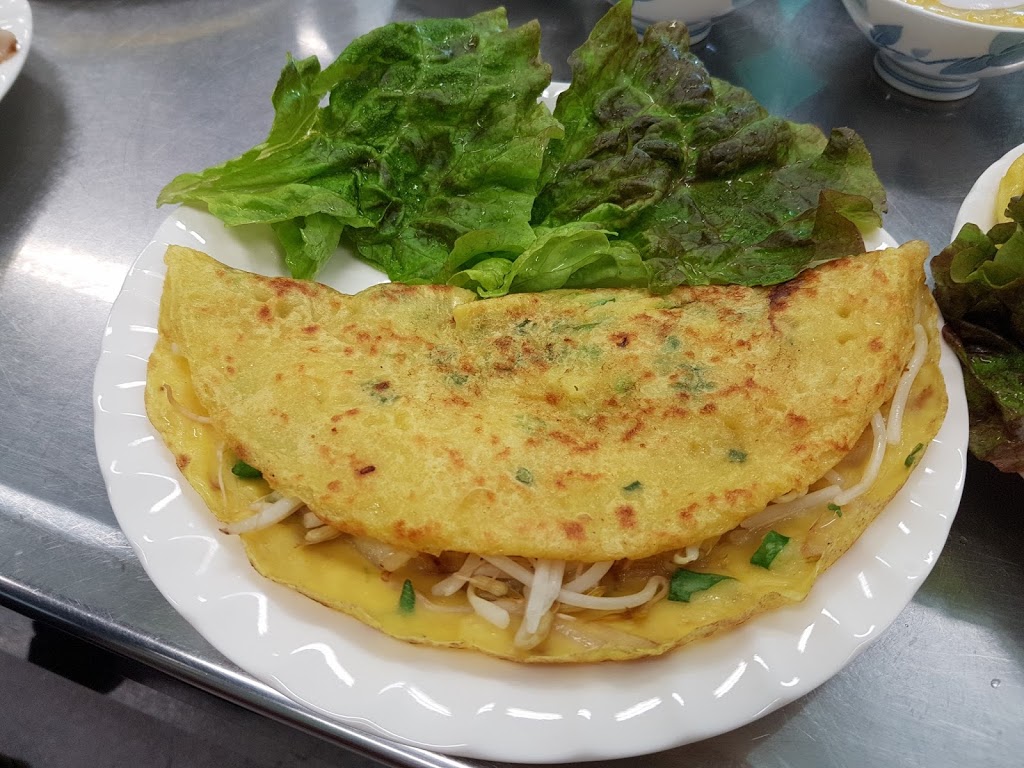 Voila!There you have it! Serve immediately for optimal taste and texture.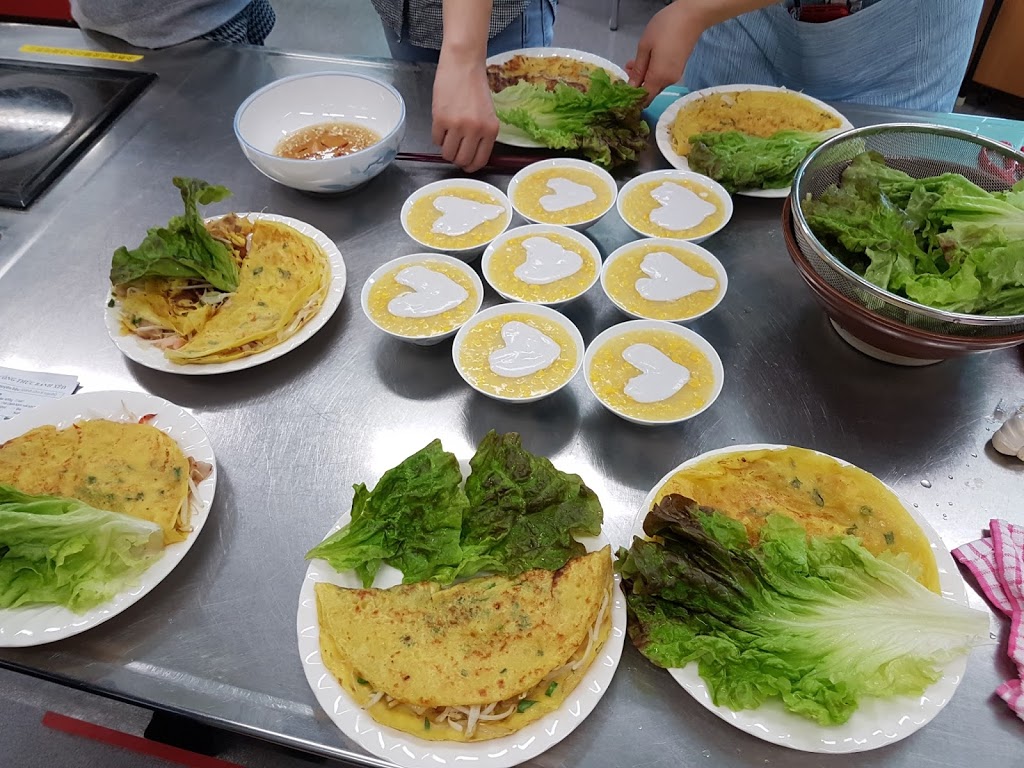 We prepared desserts as well!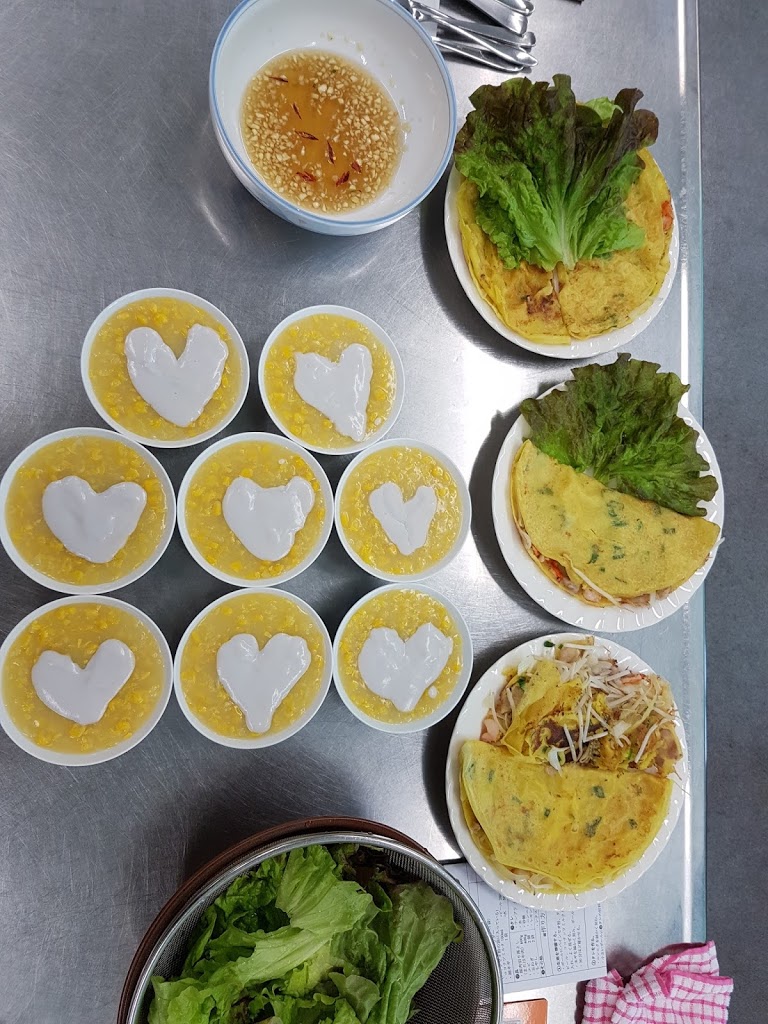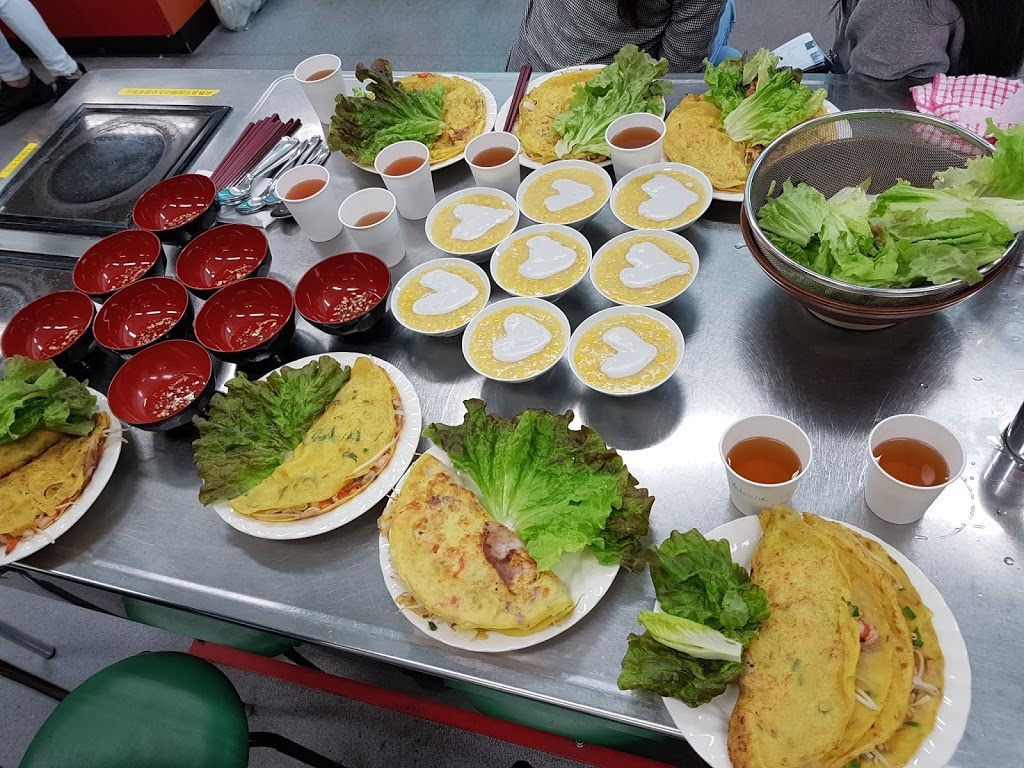 Final ensemble!