Unsurprisingly, London boasts to have some of the finest Asian eateries in Europe; and that includes Japanese food. Thin wheat noodles served in piping hot broth (usually meat and vegetable broth), topped with pork slices, bamboo shoots and perfectly cooked half-boiled egg with a creamy liquid centre (Maximum YUMZ factors!), ramen is definitely the best food to comfort the wary souls after a long and tiring day. Many food guides have enlisted 5 best ramen joints around London and I've tried 2 so far.
1. Bone Daddies
Signature dish: Tonkotsu ramen
(Apologies for the bad photo quality)
This is not your typical quaint little Japanese restaurant, Bone Daddies is hip and loud! Situated in Soho, this ramen joint consistently sees long queues come rain or shine regardless of weekdays or weekends.
Oblivious to the uncomfortably hard stool seating, the crowd seemed to be loud and happy and enjoy their food a lot. The menu only comes with 8 options, ramen that comes with a variety of flavours; Tonkotsu is probably the best known of all. Bone Daddies claimed to slow cook the pig bone marrow for up to 20 hours to obtain the bursting flavours and creamy texture.
The portion was considerably huge; it was served with a whole hard boiled egg cut into 2 halves, the egg was cooked to perfection with a creamy liquid centre. Pork slices were soft and tender, which literally melt in your mouth, the pork has also got a nice balanced spread of fat-to-meat ratio. I like the fact the broth was drizzled with black sesame oil, giving it an extra aroma and nutty flavour. Noodles were pretty alright, was cooked al dente.
Prices are a bit steep; ramen prices range from £11 onwards, excluding service charge.
All in all, Bone Daddies may not have the best ambiance (and seats) for dining, its burst-of-flavours, creamy and buttery broth is the highlight of what makes its ramen so special.
Location: 31 Peter Street, W1F 0AR
2. Ittenbari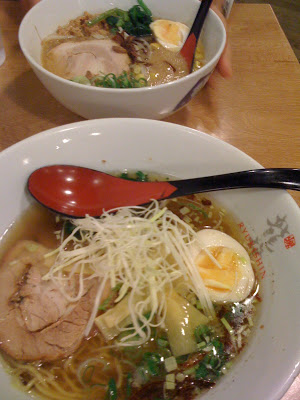 Ittenbari ramen, shoyu flavour (front); miso flavour (back).
Tucked at the backalleys near Picadilly Circus, Ittenbari is a small ramen joint which is quieter and more homely compared to Bone Daddies. Contrary to its counterparts which serve creamy (fat-laden) broths, Ittenbari serves home-style noodle soups and its broth was cooked from a concoction of seafood extract (mussels), soy and sea salt (claimed to be imported from Japan).
The broth was a tad too salty for my liking and I was left with a thirsty after-taste which I suspect the broth is laden with MSG. The noodles were cooked al-dente and the texture was alright (not too soft). The hard-boiled egg did not have liquid centre, unlike what most ramens have. The pork slices were tad too fatty, thought they are soft and tender.
The ramens here are relatively cheap compared to the ones in Soho; Ittenbari ramen: £8.90, miso ramen:£11.90. Apart from ramen, Ittenbari also offers sushis and dons.
Would I come back again? Probably not, as it did not have the wow factor and the soup made me so thirsty!
Location: 84 Brewer Street, W1F 9UB
The verdict: Bone Daddies is the clear winner!