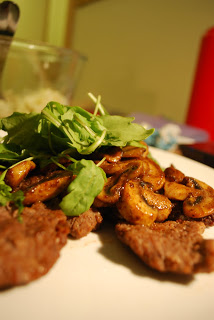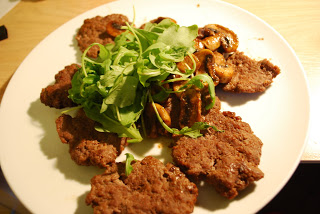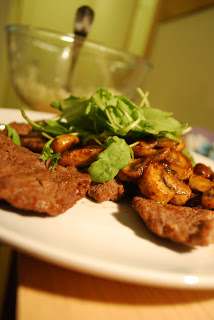 Again, time to update my dusted food blog! This time round I was out of ideas of what to cook for my dinner, not wanting to eat bland food, also I digged out a box of long forgotten beef mince from the freezer 0.0 I decided to make some meat balls topped with some mushroom sauce. It's easy and hassle-free to make! Most importantly, it tastes good!
Ingredients:
500g beef mince (or any mice will do)
Garlic (3-4 cloves, finely chopped)
Onion (amount varies with personal preferences, generally one whole onion is enough)
Mushroom (closed cup)
Butter
Starch
Seasonings:
Salt
Sugar
Rosemary (for marinade)
Black pepper (to taste)
Method
1. Add your mince, seasonings, and finely chopped garlic into a big mixing bowl. Make sure you mix everything well and thoroughly. Leave it aside for half an hour for the mince to absorb the marinade.
2. Take a spoonful of the well marinated mince (I used a spoon to estimate the amount of mince I need) and roll it into a sphere with the balls of your palms, press the meat ball with the balls of your palm on a flat surface until it is evenly spread out. Heat and oil the pan. Wait for a few minutes, till the pan is properly heated, fry the meat patties on high heat to lock the juice of the meat for 2 minutes or so. Then turn down the heat and continue frying for about 5-6 minutes. Turn the patties occassionally.
3. Set the patties aside. Do not pour away the frying oil (or if you think it's too oily, you can pour away some). Add a slice of butter and then the onions. Saute the onions till they are fragrant.
4. Stir fry the mushroom. Add in the seasonings. Lastly, dissolve the starch in some warm water, then slowly pour the dissolved starch into the pan to thicken the sauce.
5. Sprinkle the sauce and the mushroom all over the meat patties. You may add some spring onions or in my case, I used some rocket leaves as garnishing.