It is now the most hectic and stressful period of all–EXAMS are round the corner!!! Arghhh, I've been in my room studying, studying and studying!!! Especially when it comes to revisions, our brains consume lots of energy and needs exorbitant amount of food to satiate its enormous appetite(*sigh*). My friend and I went came across this Italian restaurant–Te Amo (roughly translates into I love you) that sits on the bustling streets of South Bridge and is situated right opposite Old College of the University of Edinburgh.
The restaurant is well-decorated with perfectly charming ambiance, suitable for couples and families alike. Even the waiters and waitresses there are mostly Italians, thus adds more authenticity to our Italian gourmet experience.The prices of the dishes are reasonably priced and you can hardly come across any dish that exceeds 20pounds. They have a huge array of selections of pasta dishes and pizzas and of course appetizers. After pouring over the menu for more than ten minutes (the impatient waitress came over to out table to take our orders twice! *yikes* )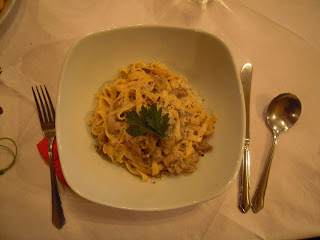 Pasta with wild mushroom sauce
I finally decided to order grilled salmon (13.85quid), as salmon is my all-time favourite fish! My friend on the other hand settled on pasta with wild mushroom and cream sauce(8.75quid).
Grilled salmon served with fries and side salad
I will start off with my dish– grilled salmon, it's definitely not the best I've ever tasted and it's definitely not the worst. I love the fact that they sprinkle some lemon cubes on  it and grill with the fish to impart more lemon-ey tanginess and zest into the meat. However, as for the fish itself, it's a wee too dry and it was not the way I like salmon to be–tender, smooth and full of fish-oil flavour. Later I found out the reason why it lacks of the usual salmon flavour, the chef has the skin removed! I love the fact that if the skin is intact and it's grilled with the fish, it would make the meat more flavourful and enhance the meat texture.I would rather to have grilled potatoes or mash potatoes to replace the fries (as it's greasy). Oh well, I guess it's one of the ways for the chef to adapt to the locals' tastebuds (The Brits love fries to their dear life!!!) And the salad was decent and I sensed a faint hint of zest and vinegar, nothing to shout about.
I scooped up a spoonful of my friend's pasta, and it tasted really good. Its strong, rich mushroom-infused creamy sauce proved to be the highlight of the dish.
Also, its generous serving of  several types of mushrooms impregnates the sapidity and aromas of the mushrooms and blends well with the pasta.Perfecto!!!
All in all, it was not the most amazing Italian fine-dining experience as it's not an high-end restaurant, but for such a reasonble price range, great ambiance and friendly and helpful waiters and waitresses, it's worhwhile checking out this restaurant if you happen to travel to Edinburgh!
Food:3/5
Service:4/5
Ambiance:4/5
Price: 4/5
Reasonable price range and great service! For a taste of Italian gourmet in the lovely city of Edinburgh, come check out Te Amo!