1. Brotzeit
"Brotzeit" literally means bread time. Native to the Bavarian cuisine, it is typically eaten in a beer garden as a snack or at home as dinner for those who are too lazy to cook a full meal. Typical ingredients or items that could be found in a "Brotzeit" include bread, butter, cheese, salami, raw and cooked ham, pickled cucumbers, Obatzda (cheese spread seasoned with paprika, located in the top right corner in the picture above), "Meerettich" (Bavarian horseradish), raw onions, pretzels and the list goes on. Germany is famous for its huge variety of breads (up to hundreds if not thousands of types of breads). Paired with various local condiments, this platter perhaps best showcases the natural flavors of German breads.
Where: Berggasthof Neureuth
2. Geschmorte Kalbszunge mit Meerrettich-Sahnesauce (veal's tongue in horseradish cream sauce)
This might come as a shocker, but yes, traditionally Bavarians do eat quite a lot of animal organs and innards. However, these traditional Bavarian dishes are often hard to find in restaurants in the big cities such as Munich. I chanced upon this dish by pure coincidence at "Klosterstüberl Fischbachau" in a small town of "Fischbachau", about 1-hour train ride from Munich.
They say don't judge the book by its cover. This saying could not be any truer when it comes to this dish. The veal tongue was slow cooked to perfection. It was soft and tender to the point that it melted in my mouth as soon as I was chewing it. To my surprise, the tongue was cleaned well and did not have any gamey, organ taste at all. The horseradish cream sauce gave the dish a pleasant kick to an otherwise bland dish in terms of flavor profile. The freshly grated horseradish adds an additional dimension to the dish as its pungent spiciness permeates my nostrils, awakening my sense of taste and smell. To those who are adventurous when it comes to food, I highly recommend this dish to you!
Where: Klosterstüberl Fischbachau
3. Wiener Schnitzel (Viennese Schnitzel)
Although originated in Vienna, Austria, this dish is one of the most popular dishes in Bavaria. There are typically three meat types that are used in schnitzel: veal, pork and turkey, however the traditional Wiener Schnitzel is typically made from veal. To cook the dish, the meat is butterflied and pounded to about 4-5 mm in thickness and then rolled in flour, beaten eggs and bread crumbs. I had a wonderful rendition of the Wiener Schnitzel at a cafe/restaurant "Preysinggarten", which was served with cranberry sauce and perfectly cooked baked potatoes. Finger-licking good!
Where: Preysinggarten
4. Tafelspitz (Boiled beef with horseradish)
Another classic dish of the Viennese cuisine, it is also a common dish in most Bavarian restaurants. The veal or beef is usually boiled or slow cooked in its own broth and served with grated horseradish or apples in some restaurants. The version of Tafelspitz that I had at "Berggasthof Neureuth" (close to Tegernsee) was served together with the broth which is fairly uncommon. I find the addition of the broth a welcoming element to the dish as it complements well with the fallen-apart-tender veal slices. The grated horseradish provides a pleasant spicy punch to the dish!
Where: Berggasthof Neureuth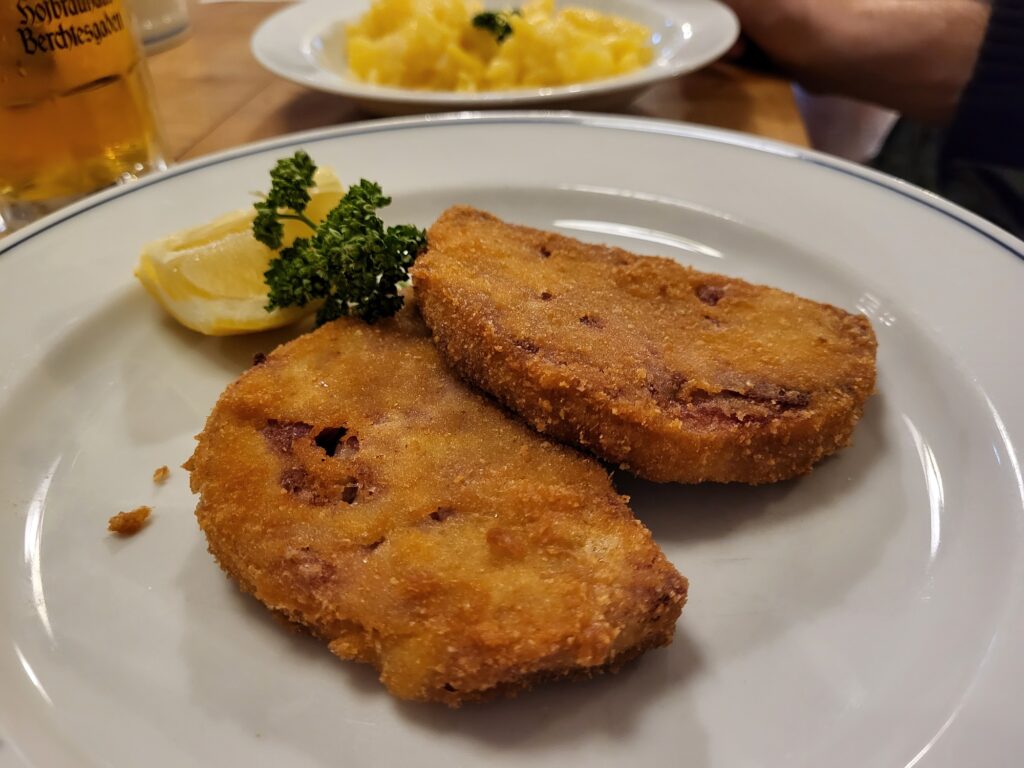 5. Gebackener Kalbskopf (Deep fried, slow cooked sliced meats from the calf's head)
To be honest, I've never seen this dish in any other restaurants other than "Bräustüberl Berchtesgaden" in Berchtesgaden. Perhaps it is a specialty dish created by the restaurant! Based on the detailed description on the menu, the meat from the calf's head is first marinated for two weeks in vinegar and then braised with some kind of special herbs, subsequently the individual pieces of meat are pressed together, breaded and deep fried. The end product of this seemingly intricate and tedious process turned out to be quite delicious! The meat was soft and tender, interspersed with some fatty bits to give it a more melt-in-your-mouth feel.
Where: Bräustüberl Berchtesgaden
6. Bierochse in dunkler Biersauce (Ox meat in dark beer sauce)
Traditionally, oxen were only eaten in celebratory occasions because raising and herding them consumed more resources compared to other types of animals. Nowadays, it may be easier than in the past to find ox-based dishes but they are available only in certain specialized restaurants.
Served with crispy pan fried bread dumplings, the braised ox meat was extremely soft and tender. The dark beer gives it a slight bitterness and deep malty flavor, adding an extra layer of taste profile to the dish.
Where: Bräustüberl Berchtesgaden.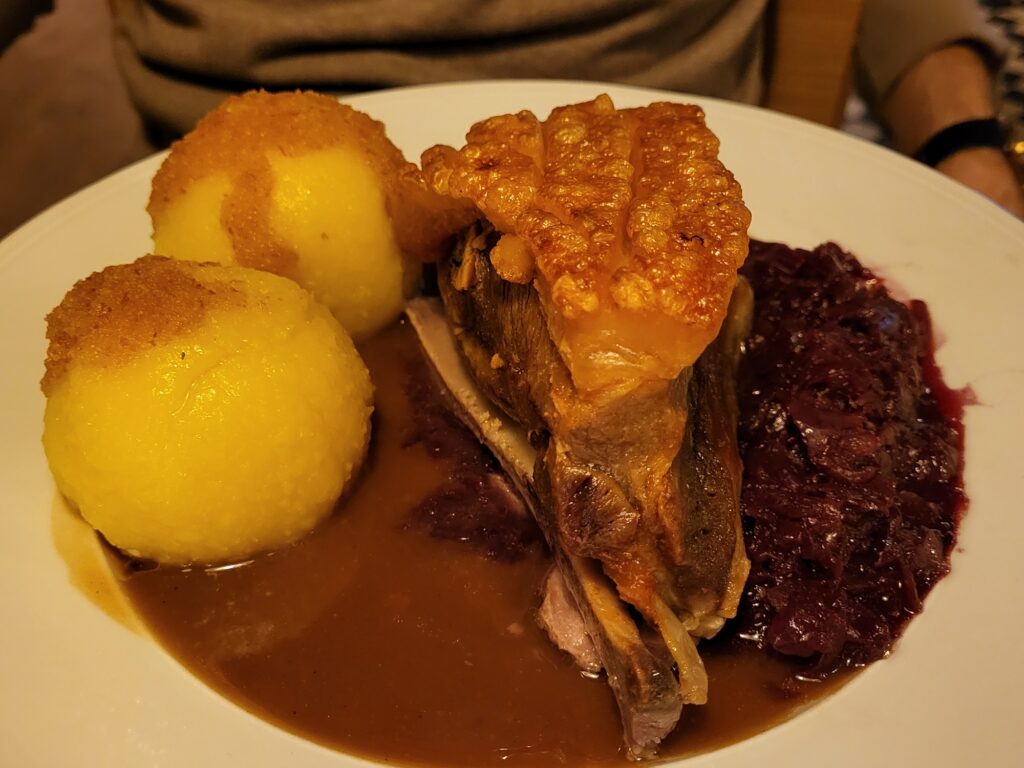 7. Schäufele (Franconian style roast pork)
Although the region Franconia is in present-day Bavaria, traditionally it was culturally very distinct and separate from Bavaria. Interestingly, the name "Schäufele" comes from Franconian dialect for shovel because the cut is derived from the meat on the shoulder blade which resembles a shovel. In terms of flavor, Schäufele actually tastes quite similar to its counterpart dish in Southern Bavaria: roast pork shoulder (Schweinebraten). However, unlike Schweinebraten, Schäufele is served with the pig's shoulder blade bone.
Schäufele is typically served in a beer sauce, along with Blaukraut (sweet slow-cooked purple cabbage with apple puree) and Kartoffelknödel (potato dumplings).
Where: Wirtshaus am Dom Würzburg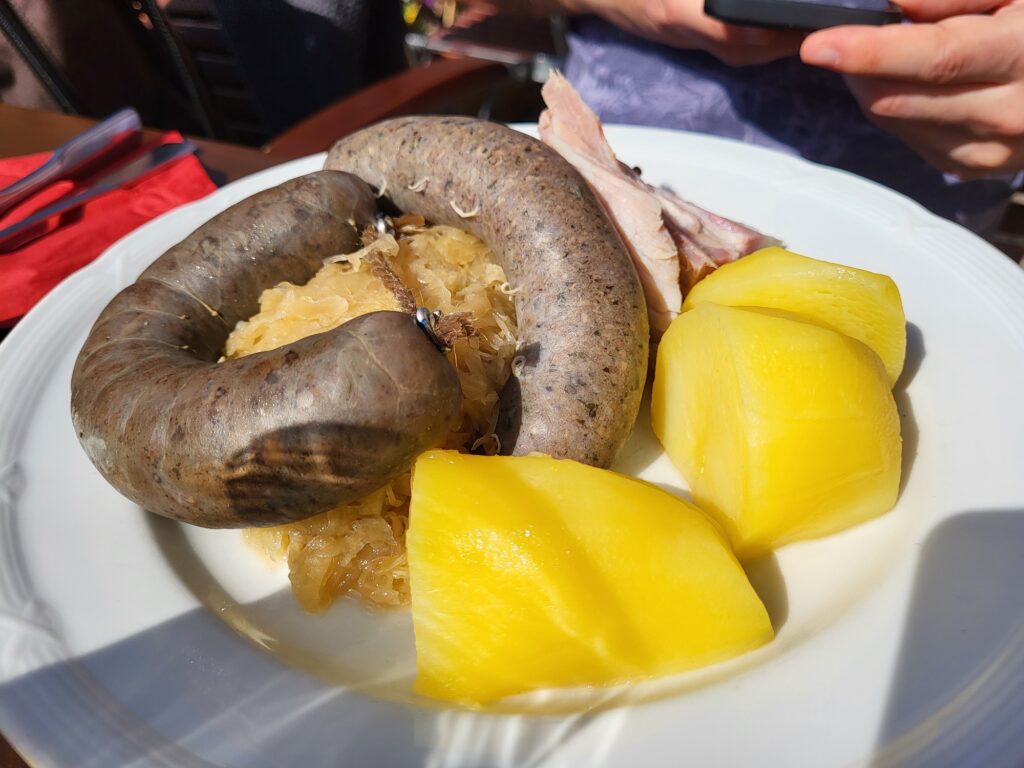 8. Fränkische Blutwurst und Leberwurst auf Sauerkraut (franconian blood and liver sausages with fermented cabbage)
This is perhaps the most unappetizing-looking dish in this list, but I have to acknowledge that the blood sausage was scrumptious! Marinated and seasoned with various herbs and spices, my guess would be marjoram, juniper, onions, pepper and perhaps apples, the blood sausage did not have any gaminess or bloody taste to it. In fact, as opposed to the typical solid meat sausages, this type of blood sausages actually had a soft and creamy texture, which was quite unique for a sausage!
The liver sausage, on the other hand, was too livery to my liking.
Where: Restaurant Gasthaus zur Schranne in Rotherburg ob der Tauber.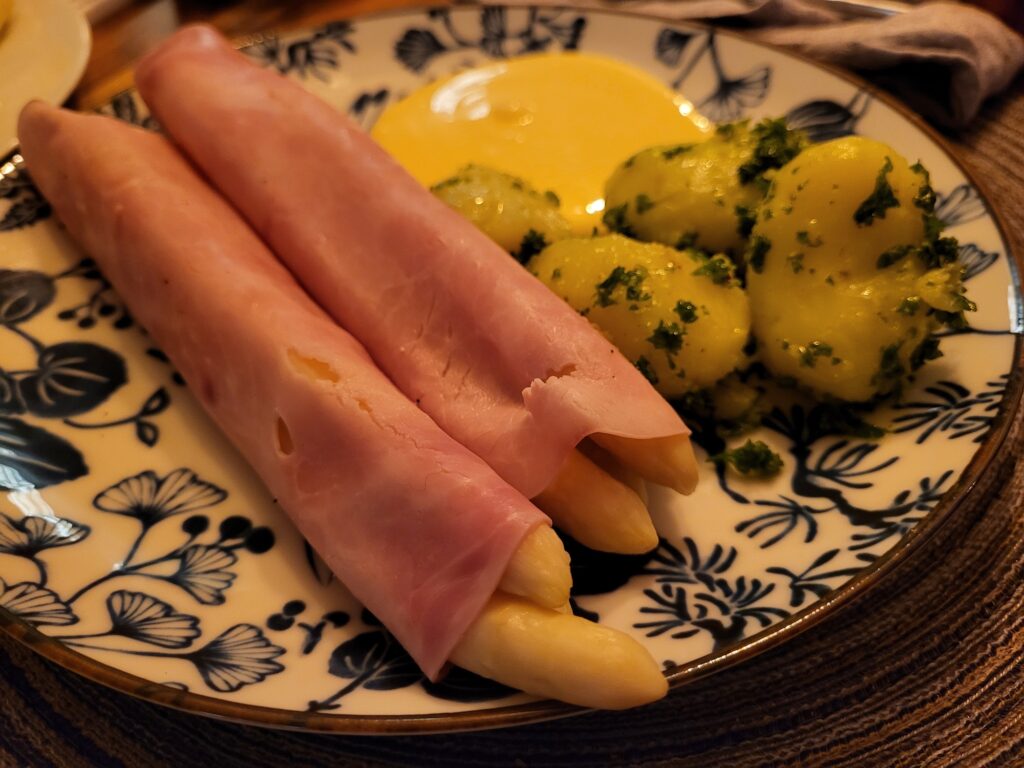 9. Weißer Spargel (white asparagus)
April to June is the season for asparagus, especially white asparagus. Even the restaurants would have a special menu featuring white asparagus as the main ingredient! To be honest, before I came to Germany, I've never seen the white variant. So, when my boyfriend introduced me to it, I felt like I found a whole new world. The subtle sweetness and earthiness which slightly resembles Ginseng pleasantly surprised me.
The way the Germans eat white asparagus is boiling them in a pot of water seasoned with salt, lemon, butter and honey. Once cooked, they are eaten with Hollandaise sauce and boiled potatoes, optionally wrapped in ham (pictured above). However, don't throw away the asparagus water! It is full of flavors and the Germans would use it to make soup with the asparagus peel and unwanted bits.