Doesn't that just look gorgeous? Bun Cha rocks!
I really enjoyed myself at the previous Vietnamese cooking lesson that I actually signed up for a second session!
You could read up on my experience at the previous Vietnamese cooking lesson where I learnt how to make Banh Xeo at the link below:
https://theultimatefoodieadeline.blogspot.jp/2017/04/recipe-for-vietnamese-savoury-crepe.html
So in this cooking session, I learnt how to make one of my favourite Vietnamese dishes: Bun Cha. It basically consists of char-grilled pork belly cutlets and pork patties served in a dipping sauce made of sweet savoury fish sauce, and it is usually eaten with fresh herbs and vegetables over a plate of plain white rice noodles or vermicelli. Bun Cha is thought to be originated from Hanoi or the northern regions of Vietnam but has since spread to all over the country and even the world due to its popularity!
Sounds delicious, doesn't it? Let's get started!
Ingredients (serves 8):
Pork belly (600g)
Minced pork (500g)
Red shallots (6 pcs)
Lemon grass (3 stalks, finely chopped)
Garlic (3-4 cloves)
Cucumber (2)
Carrots (2)
Fish sauce (Approx. 30ml or 2 tablespoons) – for marinating the meat
Vietnamese/Chinese rice vermicelli (Approx. 600g)
Seasoning:

Black pepper (adjust according to taste)
Sugar (2 tablespoons)
Salt (2 teaspoons)
Cooking oil (2 teaspoons)
Dipping Sauce:
Fish sauce (100ml)
Water (650ml)
Lemon juice (130ml)
Sugar (130g)
Garlic (3 cloves)
Red chillies (Optional, according to taste)
Method of Preparation:
1. Chop the red shallots, lemongrass stalks and garlic into fine pieces.
2. Cut the pork belly into smaller chunks/pieces of about 3×7 cm.
3. Add in the finely chopped shallots, lemongrass and garlic, black pepper, salt, sugar, cooking oil and the pork belly cutlets in a big bowl. Mix everything well and set aside for about 30 minutes.
4. Do the same for the pork mince.
5. After the meat is well marinated for about half an hour, roll the pork mince into meat balls of about 3 cm in diameter.
6. Next up, it's time to grill the meat! Since we were indoors, we could only fry the meat and the patties on a pan. If you have the luxury to have access to a grill, opt for the grill to give it a smoky and charred flavour.
7. Pan fry the meat and patties until golden brown and slightly charred on the both sides.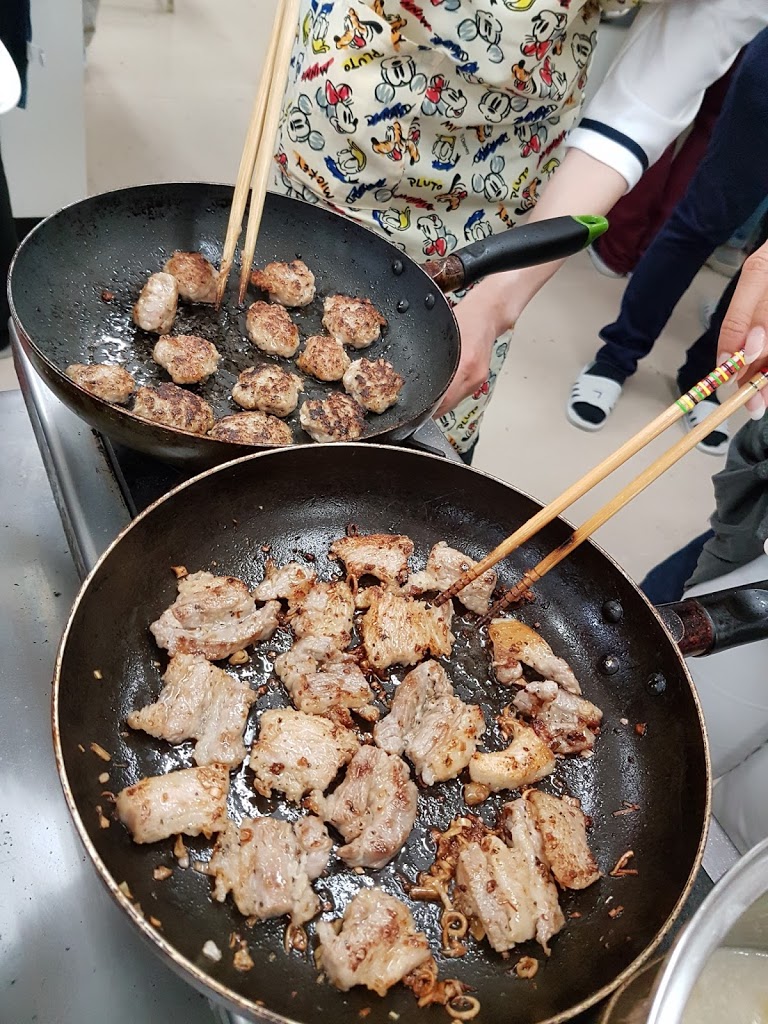 Pan frying the pork cutlets and patties on pans
8. Now for the dipping sauce, add in all the ingredients listed above in a big bowl and mix well. Add in thinly sliced carrots and cucumber into the dipping sauce; and set aside.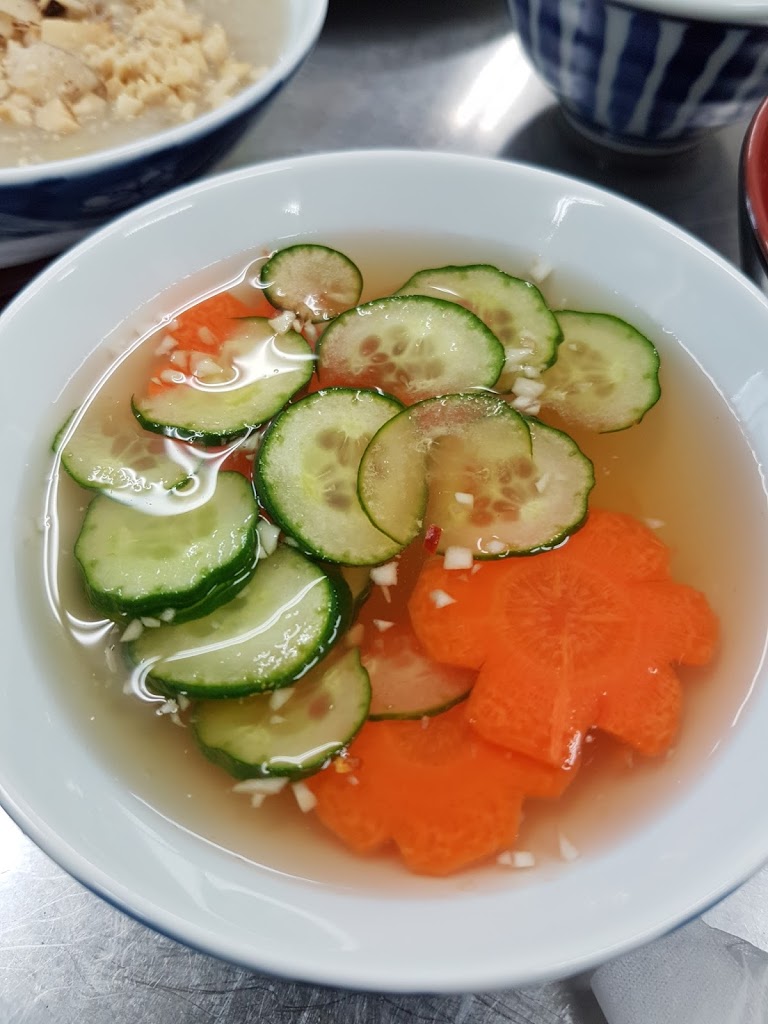 Dipping sauce with sliced carrots and cucumbers. Don't they look like pickles?
9. And now the (second) final step, add in the rice noodles/vermicelli into a pot of boiling water and wait until the noodles are cooked through.
10. Phew, we have finally come to the final step of assembling the dish! Serve the noodles and meat on a plate, dipping sauce in a separate bowl together with the sliced cucumbers and carrots. Alternatively, you could serve the meat and patties in the dipping sauce. Voila, there you have it, Bun Cha!
Finally, we were done cooking and it's time to eat!
Assembling the dish and adding the final touches.
How to eat it:

Grab some rice noodles, meat patties and veges/herbs and dip them into the sauce and shove it all to your mouth in one go! And eat to your hearts' content.
The Verdict:
I personally think it's not too complicated to prepare this dish, it is only the marinating part that takes up most of the prep time, but then you could spend that time doing other stuff while waiting for the marinade to get done.
Like most Vietnamese dishes, I like how it is eaten with lots of greens and herbs so that balances out the greasiness and fattiness of the grilled pork. I would highly recommend this dish to everyone to try it out for themselves, it is a fun and interactive dish for friends and family to spend some quality time together and bond over food :)