Are you planning for a trip to Danang soon? Or you are just a fan of Vietnamese cuisine in general (like me)?
Danang is the fifth largest city in Vietnam and boasts a long coastline facing the East Sea, known for its pristine sandy white beaches. Overshadowed by the more popular and well-known cities such as Ho Chi Minh and Hanoi, Danang is an up and rising star in Vietnamese tourism, not only in terms of places of attraction, but also in food.
(If you are also interested to know more about food and eateries in Hoi An, please read https://foodieadie.com/foodieadies-quintessential-vietnamese-food-guide-hoi-an-central-vietnam/)
1. Bún Bò Bà Gái (Beef Rice Vermicelli)
A small, unassuming street food stall, it is located right across our hotel "Dai A Hotel". Packed with hungry customers hovering around the stall placing their orders and patrons who were furiously slurping away their piping hot beef noodles over tiny stainless steel stools.
Given how good the business is at the stall every morning, we knew right away we got to try their food out. Figuring out what is written on the menu was pretty challenging as everything was written in Vietnamese and none of the staff spoke a word of English. But we simply observed what the others are having and pointed at their bowls.
I also noticed that the most of the local male customers like to have their beef noodles with a side serving of Vietnamese baguette. That's something new to me. Baguette and beef noodles seem like an odd combination. I suppose men in general need that extra boost of carbohydrates and the baguette acts like a sponge soaking up the flavourful broth.
The broth was clear yet flavourful. From what I observed from the humongous pot, I think the broth is made from tomatoes, pineapples, onions, leeks, pig's and cow's bones and perhaps some turmeric. We specifically asked for the tendon part of the beef ('coz we love collagen). The chunks of beef were fallen apart tender and they come together with small chunks of fat that are attached to the beef tendon, they simply melt in my mouth.
Throw in sprigs of fresh greens and herbs and squeeze in some lime or calamansi, and you are good to go digging into this heavenly bowl of beef noodles.
Where: 540/2 Hoàng Diệu,  Quận Hải Châu, Đà Nẵng
How much: 30,000-40,000VND depending on the cut of the meat
2. La Bicicleta Coffee (Vietnamese Egg Coffee)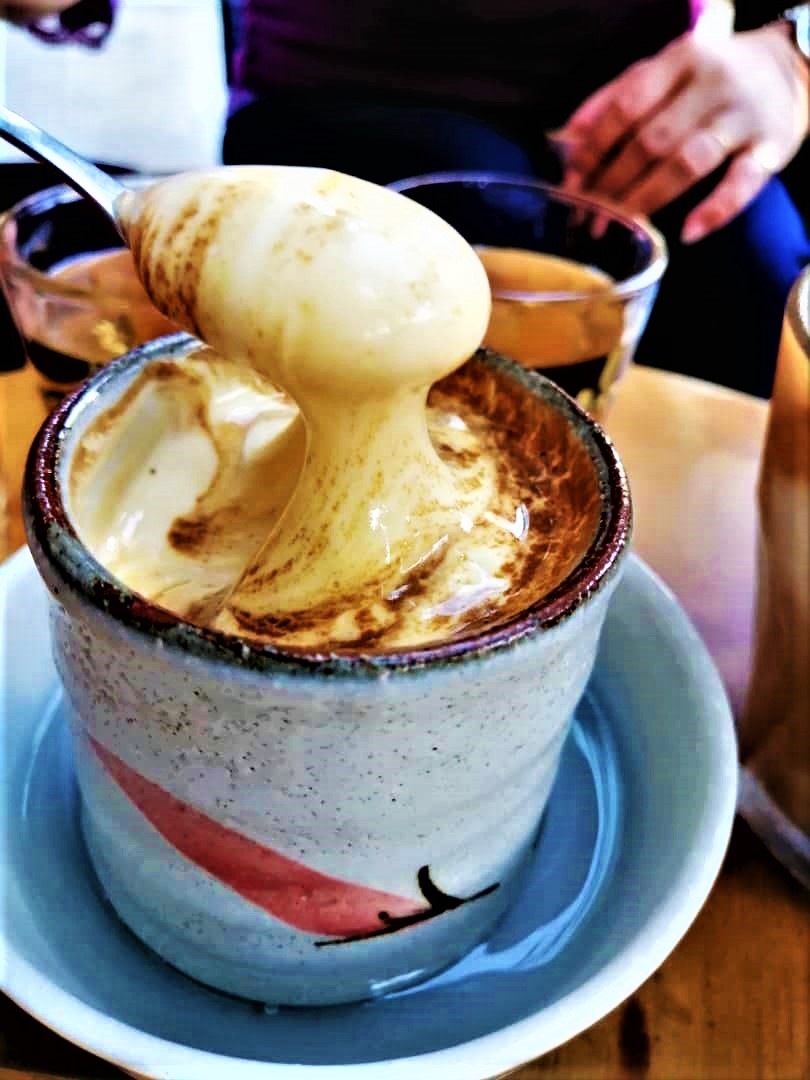 Topped with egg-y, smooth and creamy froth and a shot of espresso shot at the bottom, Vietnamese egg coffee captured my heart even for a non-coffee drinker. Originated in Hanoi, the use of egg yolk served as a replacement when milk was scarce during the 1940's.
Nowadays, the egg coffee comprises of whisked egg yolks, coffee, condensed milk, and is served in a bowl of hot water for the coffee to retain its temperature.
Before you have a sip of it, make sure to stir it well to mix the espresso shot at the bottom with the eggy froth on top.
Apart from egg coffee, La Bicicleta Cafe also serves coconut coffee. But the coconut coffee was quite underwhelming because they used canned coconut cream instead of fresh coconut milk. Overall I don't think the whisked coconut froth goes well with the coffee.
3. Nam Danh Seafood (Hải sản Năm Đảnh)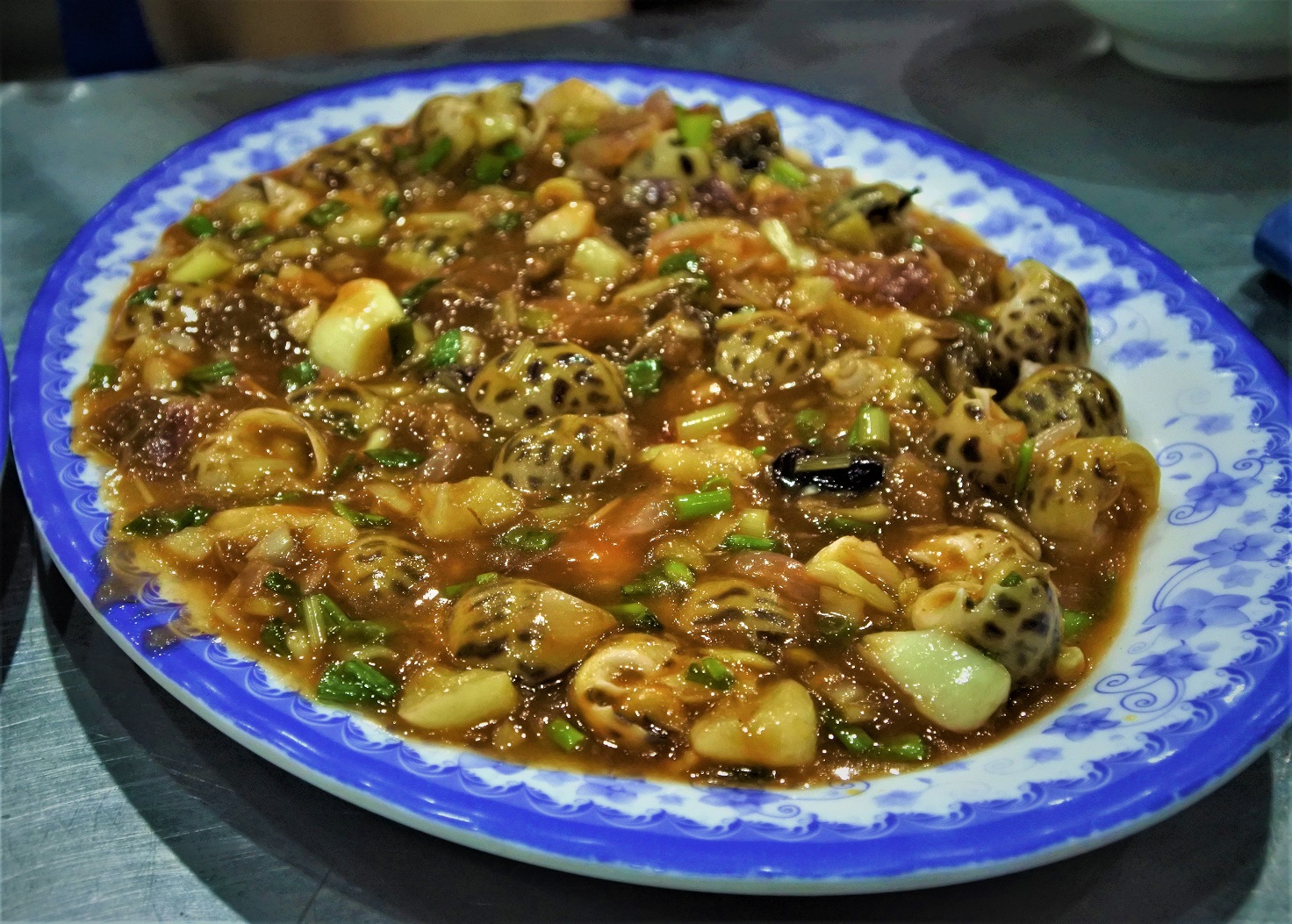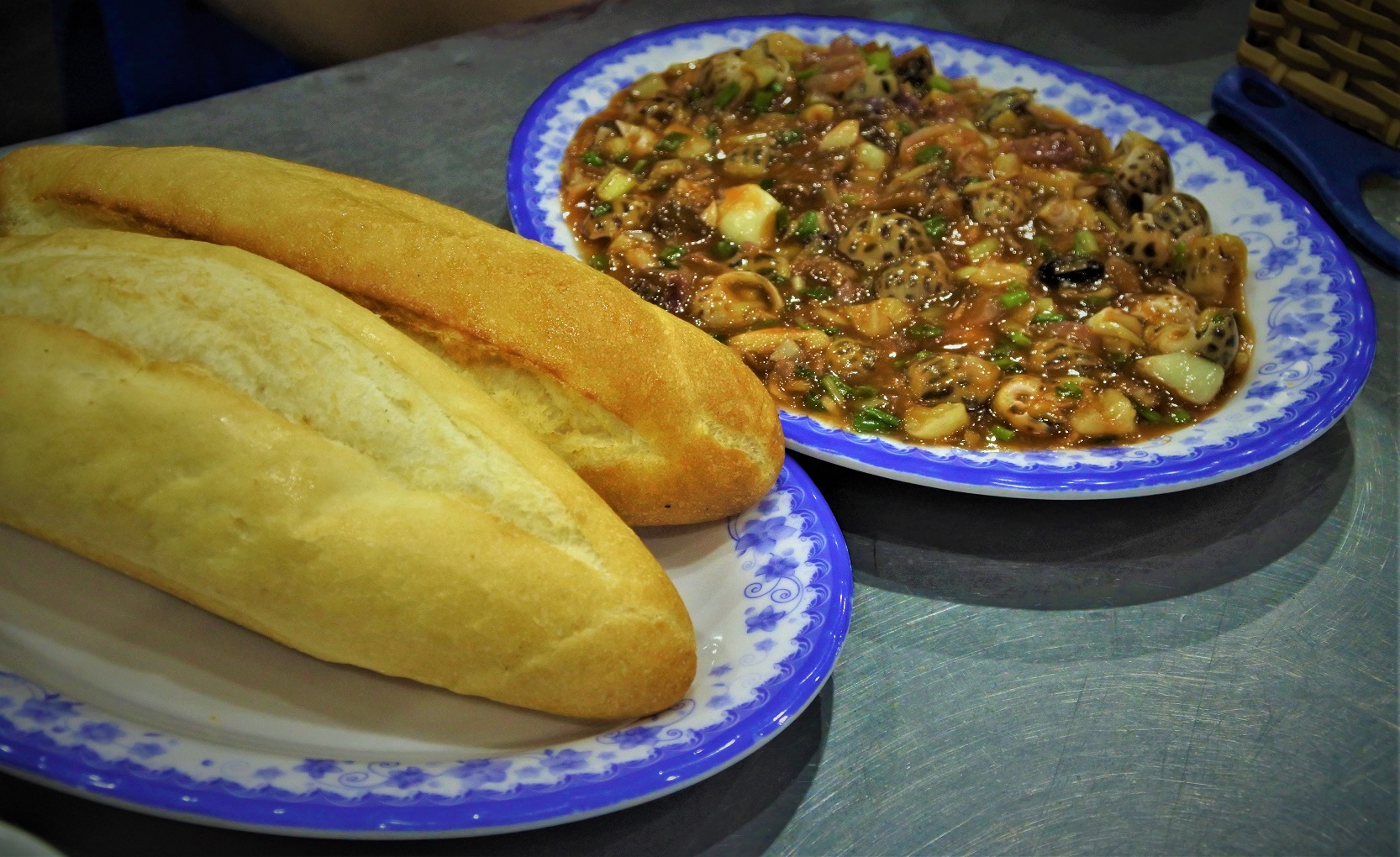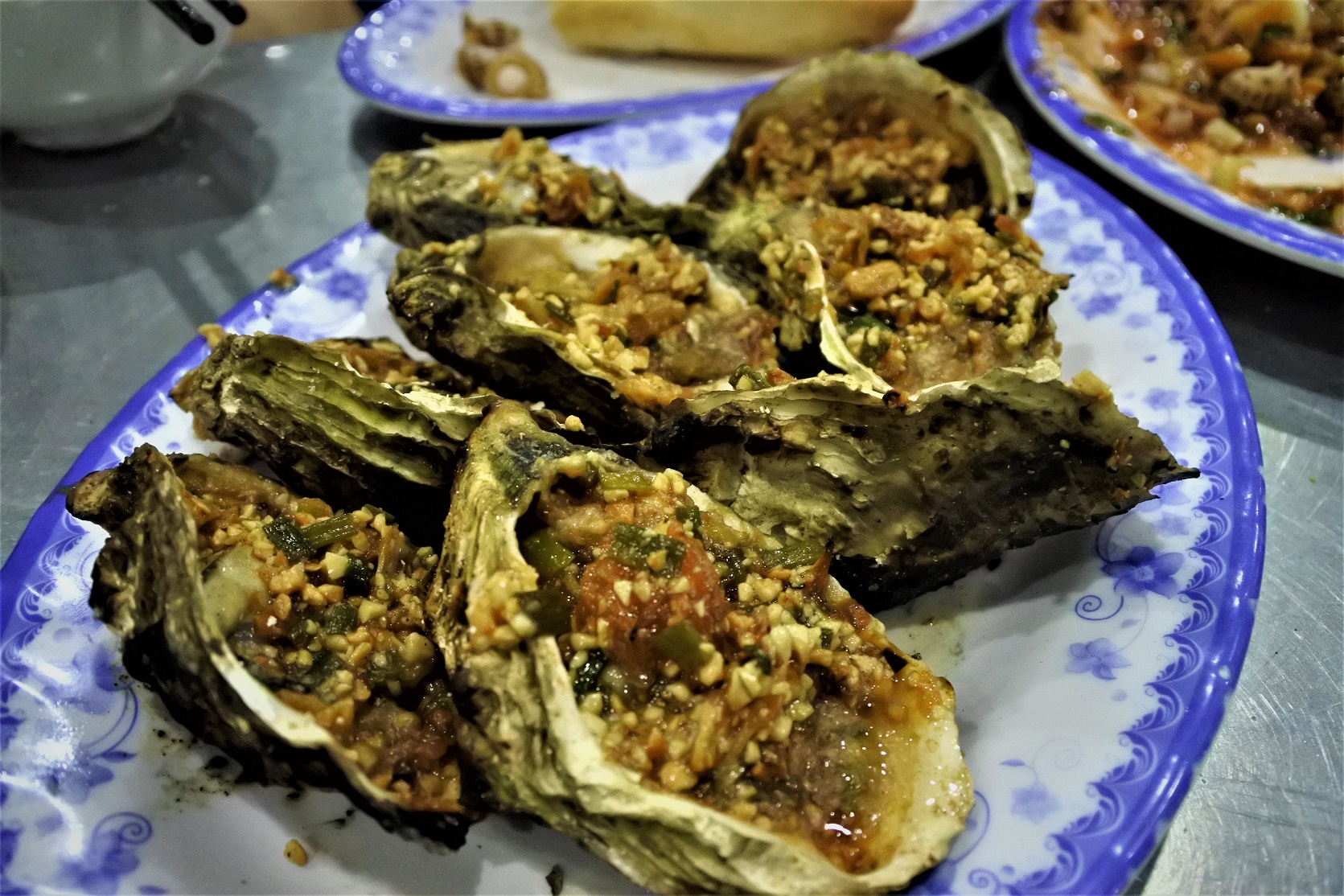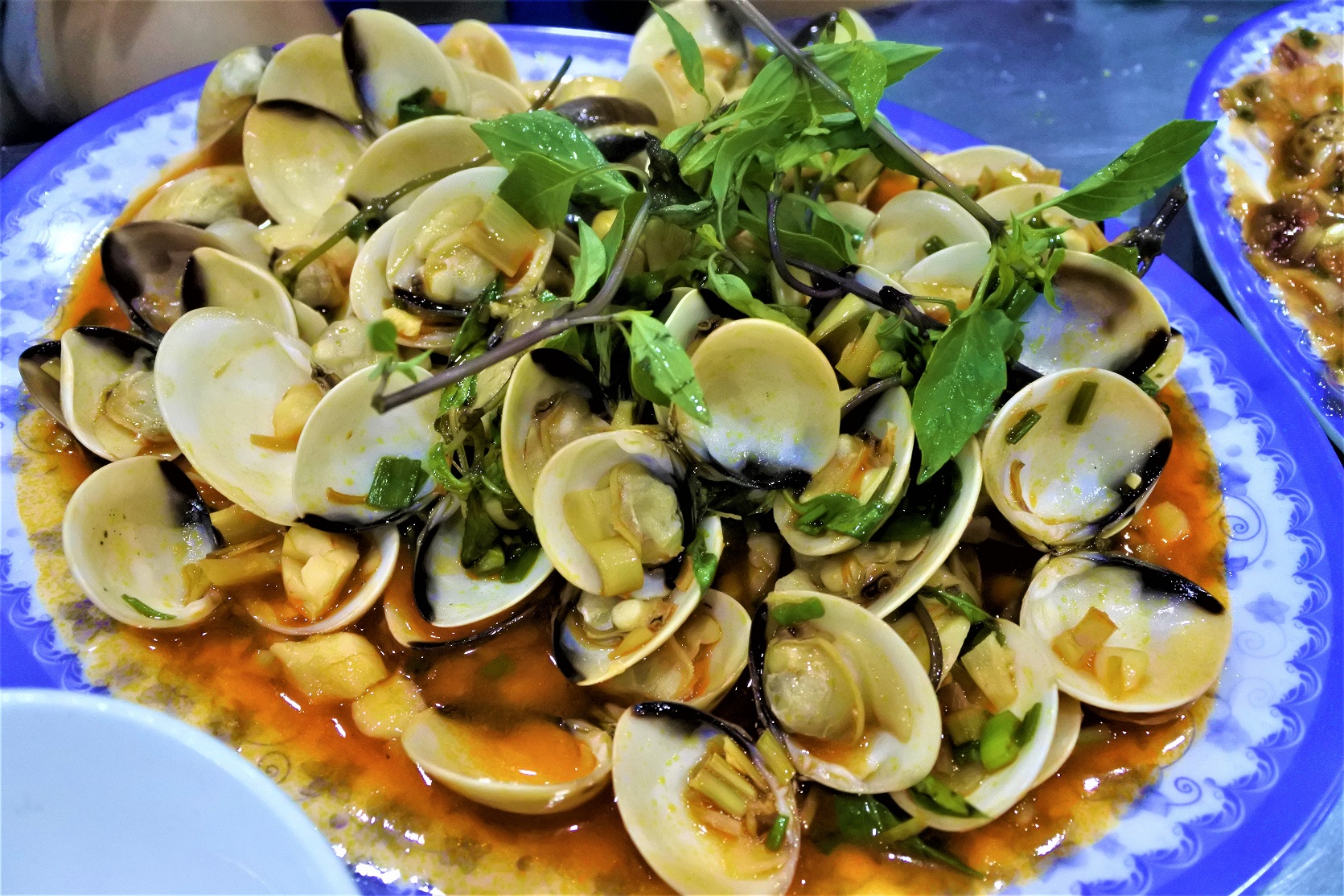 We chanced upon this amazing seafood restaurant on Google Maps. It was our last day in Danang and our Vietnamese driver told us that we have to try the seafood in Danang as they are famous for fresh seafood.
Tucked away in a labyrinth of narrow alleyways and located deep inside a local residential area, this restaurant is only accessible by motorcycles or on foot since cars can't drive through the narrow alley walkways within the residential area, which is typical in most cities across Vietnam.
Guided by Google Maps and several signboards which were plastered to the lamp posts that read "Năm Đảnh", we managed to navigate our way to the restaurant through the maze-like neighbourhood.
Being close to the sea, Danang offers a great variety of fresh seafood. Especially in this restaurant "Năm Đảnh" whereby nearly 90% of the dishes (see pictures above) only cost about 50,000-60,000VND per plate/serving, including the 8 plump and juicy grilled oysters!!!! I mean where else can you find seafood at this kind of affordable price point? Not even in Malaysia.
The seafood dishes were very flavourful, bursting with hints of aromas of lemongrass, spring onion, garlic, sweet basil cooked in their secret-recipe sweet, savoury, tangy and slightly spicy sauce. The result? The light use of spices, resulting in a dish that is not too spicy and not too overpowering, retaining the sweetness of the seafood itself.
If I had to pick a least favourite dish, it would be the grilled oysters, I thought the crushed peanuts, tomatoes, garlic, basil were too overpowering that their flavours outshine the taste of the oysters themselves.
My favourite has got to be the escargot in sweet and tangy sauce, it was so tasty and appetising that we finished the whole dish within minutes after it was served to our table. We literally "cleaned up" the whole plate by "wiping" up all the sauces off the plate with the baguette.
I would even lick the plate if I could! Big thumbs up!
Where: 139/59/38, 10 Trần Quang Khải, Thọ Quang, Sơn Trà, Đà Nẵng, Vietnam
How much: 50,000-200,000VND per dish depending on the type of seafood
4. Mì Quảng Bà Được (Noodles originated from Quang Nam Province)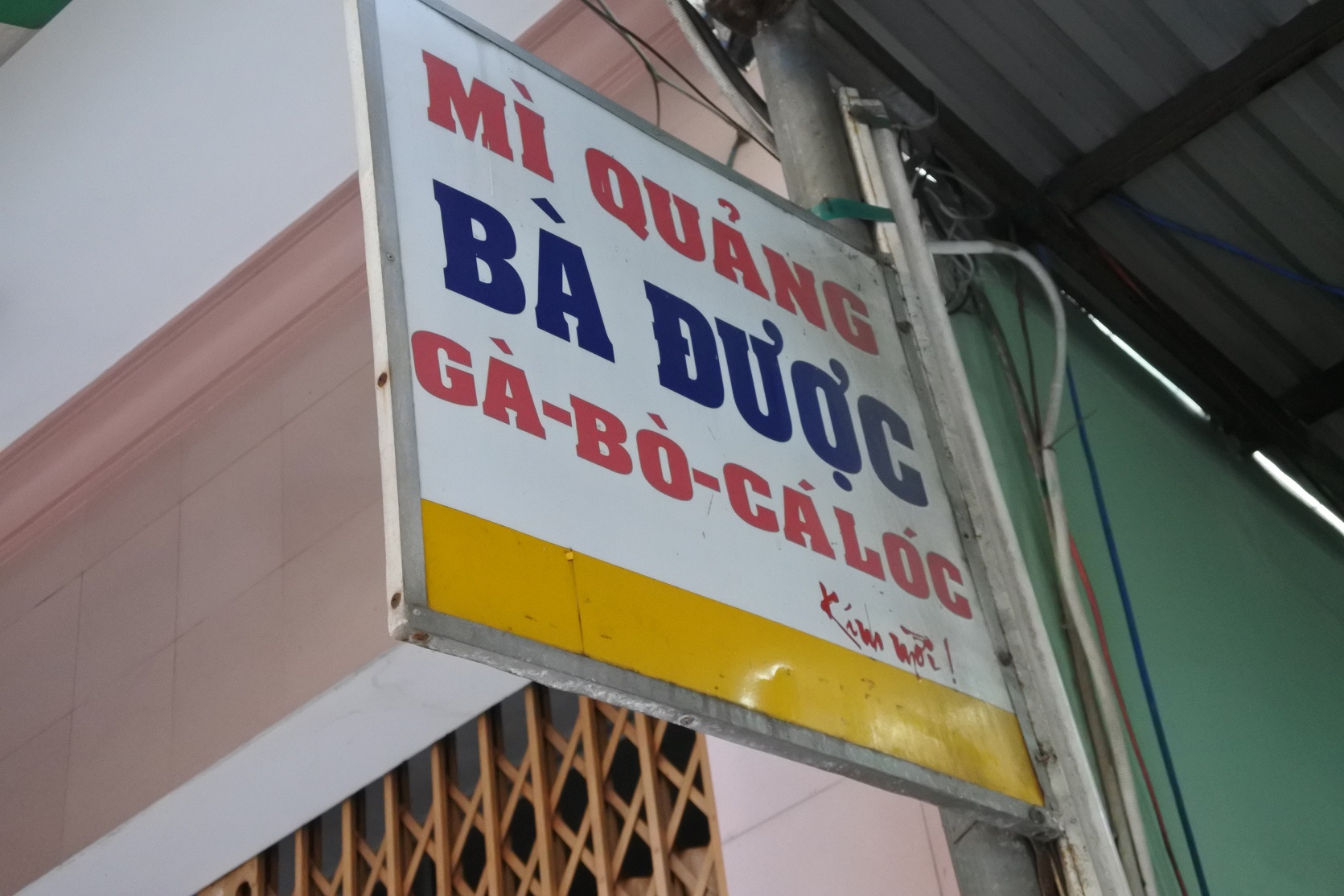 My first time trying out fish Mi Quang. First impressions, it contained too much turmeric powder, which totally overpowered the fish. There's even a slight hint of bitterness from adding too much turmeric powder in the broth.
On the other hand, the beef Mi Quang was much more palatable. Sweetness which comes from the meat and bones and tanginess coming from the abundant use of tomatoes and pineapples in the broth.
For more background story on Mi Quang, please check out my other post on Hoi An food: https://foodieadie.com/foodieadies-quintessential-vietnamese-food-guide-hoi-an-central-vietnam/
Where: 67 Yên Bái, Phước Ninh, Hải Châu, Đà Nẵng 550000, Vietnam
How much: 30,000-40,000VND
5. BÈO NẬM LỌC HƯƠNG CAU (Hue delicacies)
This restaurant is actually in Hue, not in Danang. But I thought I should include it here in this Danang post since most travellers may make a one-day trip (or longer) from Danang to Hue.
In my case, I booked a driver from Klook who drove us from Danang to Hue, around Hue city and back to Danang for 12 hours in a day. Although it was a rushed trip, we wanted to make the most out of our limited time there.
With the help of Google translate, this restaurant "Huong Cau" was recommended by our driver who spoke little to no English. This restaurant serves and specialises in Hue cuisine which is famous for its delicate, dainty and sophisticated appearance.
I highly recommend Banh Beo which are tiny rice cakes. Topped with minced shrimp, crispy rice crackers and diced mushroom, lastly drizzled and served with sweet and tangy fish sauce. Banh Beo proved to be a very addictive snack/appetiser!
Banh Khoai literally means "happy pancake" in Vietnamese. It reminded me of Banh Xeo, which is bigger and thinner. This rendition of Banh Khoai is slightly greasy, crispy on the outside, soft and moist on the inside. The dipping sauce somewhat elevated and enhanced the taste profile of the dish. I believe it's made from crushed peanuts, minced garlic, some chillies, fish sauce, sugar, and calamansi/lime juice.
Where: 4 Nguyễn Bỉnh Khiêm, Phú Cát, Thành phố Huế, Thừa Thiên Huế, Vietnam
How much: 25,000-70,000VND (depending on dish – see picture of menu above)
6. Cơm gà A.Hải (Danang fried chicken with rice)
We were wandering around the Hải Châu area close to our hotel and chanced upon this chicken rice shop.
This restaurant specialises in fried chicken and their aromatic fiery red glutinous rice. This dish is slightly different from the usual Vietnamese chicken rice (Com Ga) which usually comes with steamed or boiled "white" chicken and served with normal rice.
The glutinous rice is the highlight of the dish. Packed with so much flavours, it is cooked with shallots, ginger, garlic and chicken broth and coloured red using food dye. The chicken broth also packed a punch, you could tell that they are very generous with the use of chicken bones in making the soup.
However, when it comes to the fried chicken, I didn't find anything special about it. While the outer skin is crispy, I find the meat itself is slightly on the dry side, not as moist as I would like it to be. The side dish Kim Chi helped to cut through the greasiness of the chicken.
Nevertheless, it was a very filling lunch and almost all of us managed to finish the huge serving of glutinous rice, because it was so tasty and flavourful even on its own without any sauces.
Come and experience it yourself if you happen to visit Danang!
Where:100 Thái Phiên, Phước Ninh, Hải Châu, Đà Nẵng 550000, Vietnam
How much: Starting from 54,000VND (single serving) to 200,000VND (whole chicken)
Afterthought
This concludes the 2-part blog series which entails my gastronomic adventure around the Quang Nam region, i.e., Hoi An, Danang and Hue.
Please click here for the first part of the blog series on Hoi An food: https://foodieadie.com/foodieadies-quintessential-vietnamese-food-guide-hoi-an-central-vietnam/
Hoi An stood out for its amazing plethora of local food delicacies and scenic world-heritage sights and attractions. While Danang pales in comparison in this department, it boasts a huge variety of fresh, delicious seafood.
I can't say much for Hue as I did not fully explore the food scene there, but my first impression of Hue cuisine is that the dishes are more delicate and sophisticated, which require immaculate techniques and skills.
From the North, Central and to the South of Vietnam, Vietnamese cuisines vary according to its respective regions and provinces.
Nevertheless, I am fascinated by its ubiquitous use of fresh greens and herbs in Vietnamese cooking. It uses simple ingredients yet yields complex yet tasty taste profiles.
The abundant use of fish sauce and fermented shrimp paste in Vietnamese cooking reflects the importance and emphasis of extracting the natural sweetness of seafood and imparting such flavours into their every day cooking. The use of such sauces further elevates the natural taste profile of the ingredients and enhances the "umami" flavour of the dish as a whole.
Trying out local cuisines is always one of the best ways to experience local way of life. Travel local, eat local :)