*Update* As of August 2020, this establishment no longer exists in Teluk Cempedak.
The stall is well-received by the locals and foreign tourists
Nasi Lemak with see-hum
Last Sunday My family and I decided to head to Teluk Chempedak (the famous beach in Kuantan) to try out this "so-called" best nasi lemak in town. This stall is situated at the strategic location in TC where it's just located right opposite to McDonalds Drive Thru and KFC, and on the junction to the Hyatt Hotel, so that explains the presence of large numbers of mat sallehs there.
There are two types of nasi lemak available: one is pre-packed and the other type is buffet style- which you can take as much as you want! However, I found out that the pre-packed nasi lemak tasted much better as the rice is much more aromatic and its see-hum sambal was heavenly delicious!!! It's not too spicy, the spiciness is just moderate and the see-hum was of generous amount! It's not too pricy either! It cost me RM 2.20 for the see-hum nasi lemak, RM 2 for the normal one.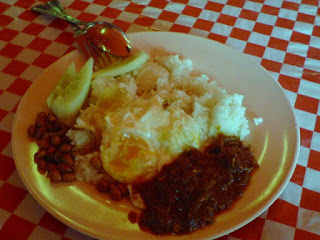 The buffet-style nasi lemak
Besides nasi lemak, i found that the roti canal there was equally well-known as the nasi lemak, in fact almost everyone there ordered at least a plate of roti canai! It's not too oily, not too crispy and rich in textures, and the dhal was not too sweet either. To me, it's considered one of the best roti canai in town. However, the roti canai was a bit over-priced to me, it cost RM 1.30 per piece.