Owing to its former glorious days during colonialism, especially the Great Navigations, the Portuguese had adopted a diverse range of ingredients in their cuisine. Ranging from coriander, ginger, black pepper to sugar cane, these foreign influences had a great impact on Portuguese cuisine, injecting new flavours and aromas. I was surprised to find out that Portugal is perhaps the only European country that ubiquitously sprinkles coriander (or cilantro) on their dishes as garnishing, unlike most other European countries which use parsley.
Here are some of my favourites:
1. Pastéis de Belém, Lisbon
A sweet pastry that was born out of leftover egg yolks in the monasteries in the 17-18th century, it went on to be one of the most well-known desserts in the world, particularly Western Europe, Asia and former Portuguese colonies.
You may find it hard to believe if I tell you that the first Portuguese egg tart I had was from a local bakery in my hometown in Malaysia. In fact, these egg tarts are so common in Malaysia and Asia in general that I was under the impression that it's a Malaysian sweet when I was younger.
The Portuguese love their desserts sweet, which can sometimes be overbearing to my liking. If you are looking for egg tarts that are not so sweet, Pastéis de Belém is the place to go. The egg custards are soft, warm, eggy, gooey yet not runny, with a slightly charred caramelized coating. The crust is distinctively different from the Asian version. The Portuguese version has a crispier and flakier crust, while the Asian version is not so crispy and is more crumbly. To each its own.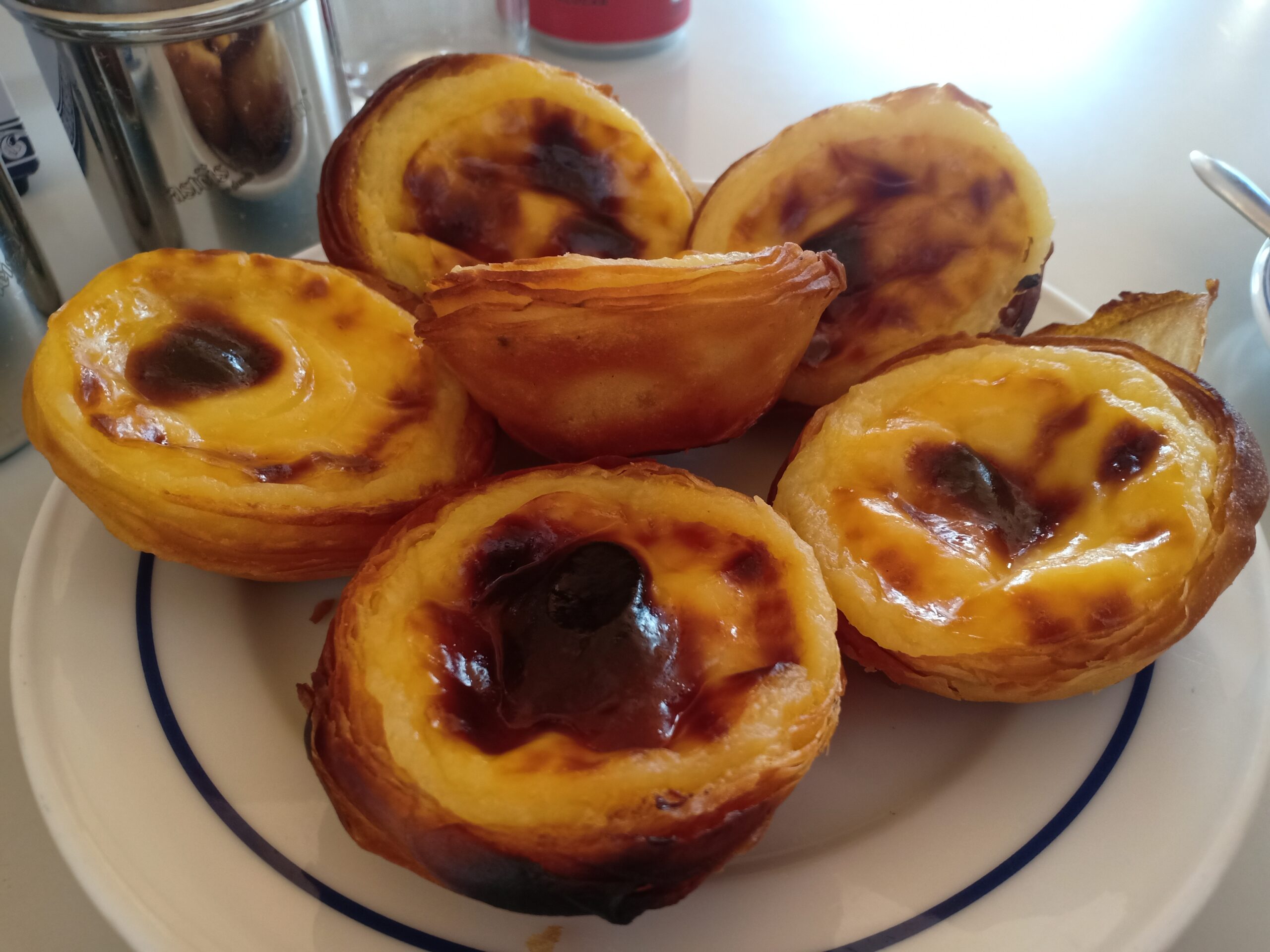 2. Cervejaria Ramiro, Lisbon
This place is known for its fresh seafood dishes. The amount of people dining at this place is ridiculous, it's best to make a reservation in advance (via email or telephone) to avoid disappointment.
The "crab without peel" dish consisted of shredded crab meat seasoned with (what I believe) mayonnaise and crab roe, served in its shell. It was a non-fuss dish for people who are too lazy to get their hands dirty when de-shelling crabs.
The clams were cooked in white wine, olive oil, lots of garlic and garnished with coriander. The warm, soft, crusty butter buns complimented the seafood dishes really well, best used to soak up all the juices from the clams. Simple yet delicious.
3. Ourives Petisqueira
A former jewelry shop, it has completely transformed itself into one of Lisbon's best restaurants. Remnants of its former glory are still evident from the drawings and tools  displayed on the walls, which injects a healthy amount of 50-60s nostalgic atmosphere to the restaurant.
The restaurant prides itself for being innovative with Portuguese dishes while staying true to their roots. Their attention to detail is what differentiates them from the other competitors.
The best dish we have tried of the night, in my opinion, was the lamb chops. The meat itself was grilled to perfection, slightly charred fatty bits, tender and juicy on the inside. It came with a side serving of dipping sauce, consisting of red wine vinegar, onions, rosemary and cilantro. The slight acidity really elevated the flavour profile and cut through the greasiness of the meat. Really good stuff.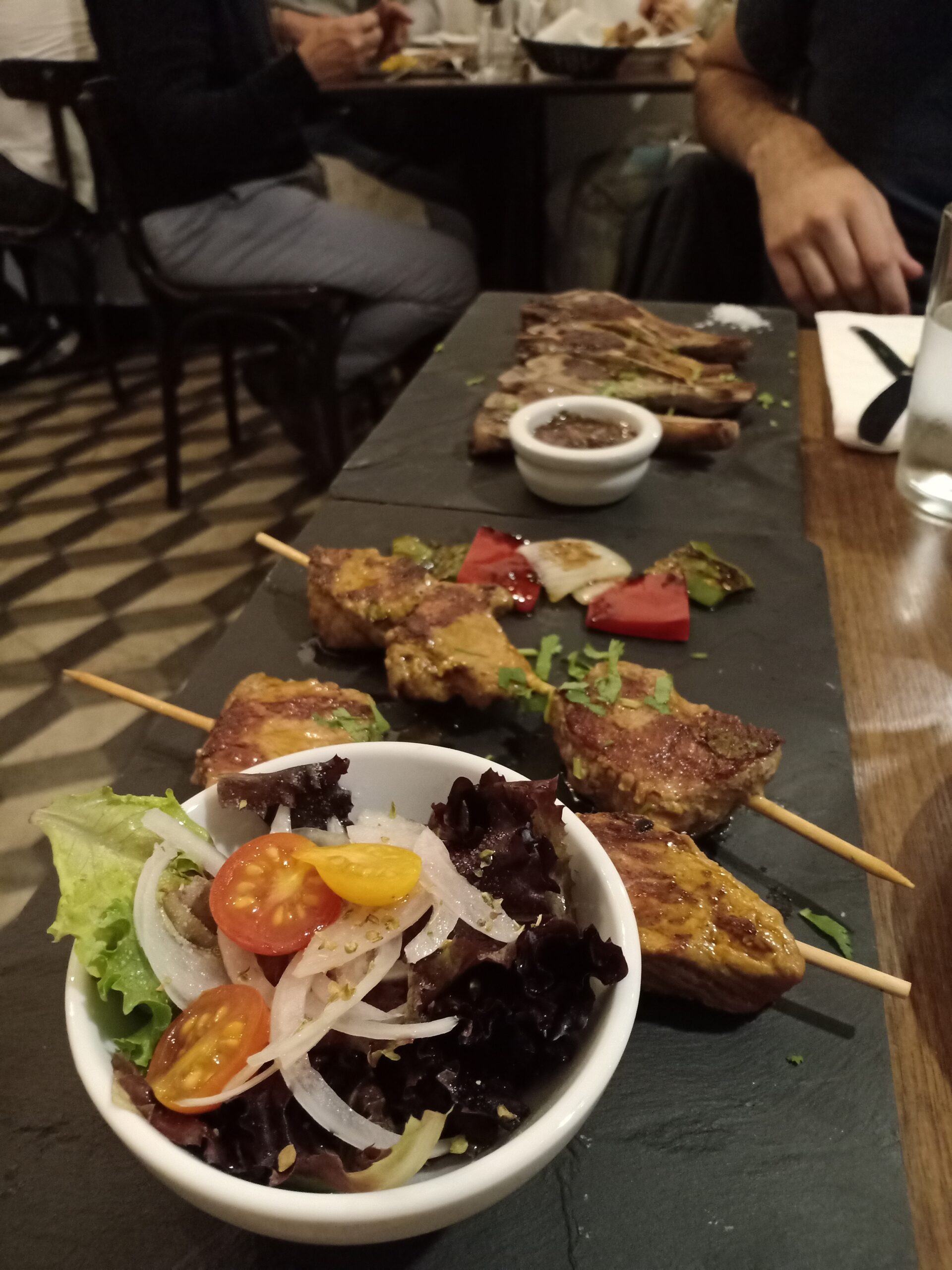 4. Santa Maria Petiscaria, Faro
From the first glance, one may think it's some fancy, expensive restaurant at the waterfront of Faro. But we were pleasantly surprised by the quality of the dishes and how affordable the pricing was.
For starters, we ordered the thinly sliced octopus garnished with a generous amount of olive oil and pimenton (Spanish smoked paprika). The octopus was really well-cooked – soft and tender. Paired with the richness of the olive oil and slight smokiness and spiciness from the paprika, it was the perfect combination.
But the best part of the meal was the pork cheek stew! I dare say, it was by far the best dish I've had in Portugal, I was blown away. The pork cheeks were cooked until they are fallen-apart tender. Topped with chicarron, it gave the dish an extra crunch and flavor. The dish came with a side of green apple and mustard relish, which really made the dish even more appetizing!
5. Villa 6, Sintra
Stumbled upon this restaurant by chance after our initial restaurant of choice kept flaking on us (refusing to accept us despite being open).
This restaurant had some interesting dishes on their menu, a good change of scenery after days of eating seafood :)
However, Limpets are no ordinary seafood. It's not something you see in most restaurants. The waiter actually warned us that not everyone would like it as the texture is a tad bit hard and rubbery. But we went ahead anyway. Boy oh boy, we were in for a treat! The Limpets were cooked wonderfully, served in a very flavorful, buttery, garlicky mushroom sauce, complimenting the sweetness of the Limpets. It was really delicious, I mean finger-licking delicious.
Next up was Pica Pau, which literally means woodpecker. But fret not, no real woodpeckers are involved! It's pork pieces cooked in a concoction of beer, mustard, vinegar and garlic. It was surprisingly addictive, despite the fact that I'm not a big fan of acidic foods.
Have you tried Portuguese food or dessert and which is your favorite?