After we bade our farewells to Antalya, we embraced ourselves for a grueling 9-10-hour long bus ride to the world famous UNESCO Heritage Site — Cappadocia via Konya (for a 45-minute stop). The bus itself was alright – air-conditioned, cushioned seats and all; and they even provided us with snacks and drinks, just like on a flight! (How cool is that huh :D) The downside was the horrible state of the roads (I wouldn't call them highways as they are quite narrow which look more like country roads to me); the roads were mainly poorly maintained and pothole-ridden.
Around 11pm, we were welcomed by the sight of fairy chimneys and exotic rock formations illuminated by artificial lighting, it was truly breathtaking! We checked into our en-suite bedroom at Traveller's Cave Pension which overlooks the beautiful panoramic view of the unique rock formations only found in Cappadocia.
In contrast to most misconception that Cappadocia is a place or a town, Cappadocia covers a huge region in Central Turkey in Nevşehir Province. To discover the region, most hotels and guest houses offer several forms of day trip packages to tailor suit your preferences; or you could hire a taxi driver to bring you around, though this could cost you more money. Alternatively, for those who are more adventurous, you could simply hire a bicycle and cycle around ( though not advisable for those who are inexperienced in mountain-biking as terrains in some parts of the roads are quite treacherous) or hire a car and drive yourself around. My friends and I chose to go with the easy way – to sign up for a tour. There are two major tours that you can choose from, namely Red Tour and Green Tour. As its name suggests, the Red Tour includes a trip to the Red Valley, and also to other main attractions like the Pasabag and the Urgup fairy chimneys. Green Tour, on the other hand, covers a trail of greater distance (about 200km) which includes trips to the Derinkuyu underground city, Goreme panorama, Ilhara Valley, Selime Rock Monastery, etc. Personally, I would highly recommend the Green Tour as it covers more places and places which are difficult to reach with your own transport.
The tour started at around 9.30am, our guide was a local young boy, fresh graduate, and speaks a smattering of English. The driver is a 50-60 year-old middle aged Turkish man named Mehmed, who is really friendly though speaks limited English. My friend and I were seated next to Mehmed and he cheekily gave us Turkish names: Fatimeh and Sofia. We managed to pull out simple conversions with Mehmed despite the language barrier, hand gestures aside, laughter is indeed the universal language.
The Green Tour is more physically demanding than the Red Tour as you would need to wander about in the dark, labyrinthine tunnels of the Derinkuyu Underground City; a 2-hour hike through the Ilhara Valley; and a steep hike up to the Selime Rock Monastery. Amongst the places mentioned, Selime Rock Monastery proved to be the toughest as there are no built trail going up to the monastery. One has to walk (or rather climb) along the water channels (a form of drainage system used in ancient times), and with the help from the friendly tour guide, anyone regardless of their fitness level would be able to make it to the top. Once you got to the top, you will be rewarded with one of the most breathtaking, jaw-dropping sceneries. According to our guide, some of the scenes seen in the Star Wars movie were not actually shot in Cappadocia but was filmed in Tunisia. Due to some permit problem at the time of shooting, the director and the producers were refused the permission to shoot the movie there; however, they took lots of photos of the landscape and superimpose these shots with the ones filmed in Tunisia.
At the end of the tour, Mehmed dropped us off at the Goreme bus station, and we were greeted by the hordes of spectators, locals and tourists alike; blaring trumpet horns and drum beats and people dressed in traditional Turkish costumes. We were utterly thrilled! It turned out to be their annual traditional dance competition. It was truly a rare sight to take in, and we were really lucky to be able to witness such occasion.
As we are leaving Goreme the next day, we wasted no time and quickly approached the nearest taxi stand and asked to be driven to the famed Red Valley in the hope to see the sun set. When we got there, the place was packed with hordes of elderly Japanese tourists. Some even brought along foldable stools and chairs just to wait for the sun to set. As it was early summer, the sun only sets around 8pm; we were there too early for the view :( Nevertheless, we wasted no time as we walked around the place in search of a good angle for shots. As the sun slowly sets beyond the horizon, it sets the sky ablaze with a wonderful combination of fiery red and orange, further magnifying the redness of the valley. The Japanese elders were curiously pointing at and admiring our harem pants, though I do not understand Japanese, but I could make out they were saying "Kawaii". I thanked them for their compliment by saying "arigato" and they were pleasantly surprised. These simple exchanges of words and gestures made my day. Sometimes, it is surprising that something so simple and infinitesimal, could brighten up one's day.
The panoramic view from the Goreme Panorama Point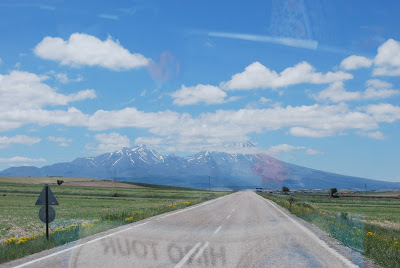 Second tallest mountain in Turkey – Mount Hasan
Ilhara Valley
Selime Rock Monastery
Local performers dancing about at a traditional dance and music competition at Goreme
                                  The Derinkuyu Underground City which serves as a hiding place for Christian soldiers
Japanese tourists at Rose Valley
Sunset at Rose Valley