Where else can you go for a quick weekend trip for those living on the west coast of Malaysia, besides the usual touristy destination such as Malacca, Penang, Ipoh, etc?
If you love nature, are into hiking, have a bit of sense of adventure, why not consider a 2D1N hiking+camping trip in Gunung Silipat, Yala Province in Thailand? Imagine camping under the starry night sky and waking up to a magnificent sun rise and cloud carpet…
We departed from KL at 5 am, entering Perak before reaching Pengkalan Hulu which is near the Malaysian-Thai border. The journey from KL to Pengkalan Hulu took approximately 6 hours before we had to get down from the bus to get our passports checked at the Malaysian customs. We then boarded the bus again and headed for the Thai customs building. Long lines ensued as the passports were inspected and stamped manually, and also the fact that the Thai immigration staff worked at a snail-slow speed didn't help to speed up the process. After queuing up and waiting in line for an hour and half or so, all of us managed to get through the Thai customs safe and sound.
It was another 20 mins or so drive from the Thai custom checkpoint before we arrived at a row of guesthouses beside the main road. Not far across the road lies a huge banner that says "Gunung Silipat 5 km" (see picture below) which would be the starting point of the hike.
As this is a "luxury" hiking trip, we only had to carry our day packs for the hike :) all of our bags were loaded onto a truck and were delivered to the campsite for our comfort and convenience. How thoughtful the tour agency is. Those who think they are not fit enough to complete the 5km-hike, or were simply too lazy, they were given an option to hop on a motorcycle for the first 3km and complete the remaining 2km of the leg on their own. Wow, I was really impressed by their 5-star service!
Before we set off for our mini adventure, we were given the full Thai initiation – Thai Basil Chicken with fried egg and rice (pad kra pao gai) which came with a packet of sambal chilli sauce. It was a delicious and filling meal. With a full and happy tummy, we began our quest to conquer Mt. Silipat.
Our yummy Thai lunch
The first 3 km-trail was pretty easy but we had to watch out for cars, trucks and motorcycles that share the same muddy trail. The trail brought us through some rubber plantation estates and jungles which provide respite from the burgeoning afternoon sun. It was a gentle uphill slope for the first few kilometres until we reached a gate and a fence, from there onward the last 2 km-steep incline would bring you straight to the campsite.
Perhaps I ate too much during lunch time, perhaps I was dehydrated, or perhaps the weather was simply too hot (after all it was mid-afternoon), I felt a lack of energy, dizzy and even one of my calves was cramping. I quickly stopped and took a break and re-hydrated myself with plenty of fluids.
Some of the scenery and vegetation I captured on camera along the hike
Finally, after about an hour and 45 mins since I started my hike, I arrived at the campsite around 5pm. There was a tiny convenience store where soft drinks and beverages as well as snacks are available for the desperate hikers, obviously sold at exorbitantly marked up prices.
There is also a toilet on the campsite, proper squatting toilets with flushing systems. But you would need to pay 10 Baht for each entry. So, remember to prepare some Thai currency before you come. And there is no shower facility, so bring along wet wipes and loads of tissues to clean up yourself after the sweaty hike.
When it came to tent allocation, that's when the confusion and chaos began. At first, the guides told us there were not enough tents to be shared among 80+ of us, so some tents had to be shared among 4-5 people. I was unfortunately one of the unlucky ones who had to squeeze in a normal-sized tent with 4 other girls. While some late comers were able to occupy an entire tent to herself. How could they allow this to happen??
Anyway, I digress.
Around 6 pm, we were gathered around and given briefing about the itinerary and timelines. We then set off for a short sun set hike up to the peak of Mt. Silipat. The path from the campsite to the peak was pretty steep, treacherous and rocky. Luckily ropes were put in place as support to clamber up those steep, slippery sections! It really was not for the faint-hearted, especially those with the fear for heights. But I kept telling myself not to look down and just focus on my footing and take each step at a time, with some initial struggle, I managed to reach the peak in about 10-15 mins.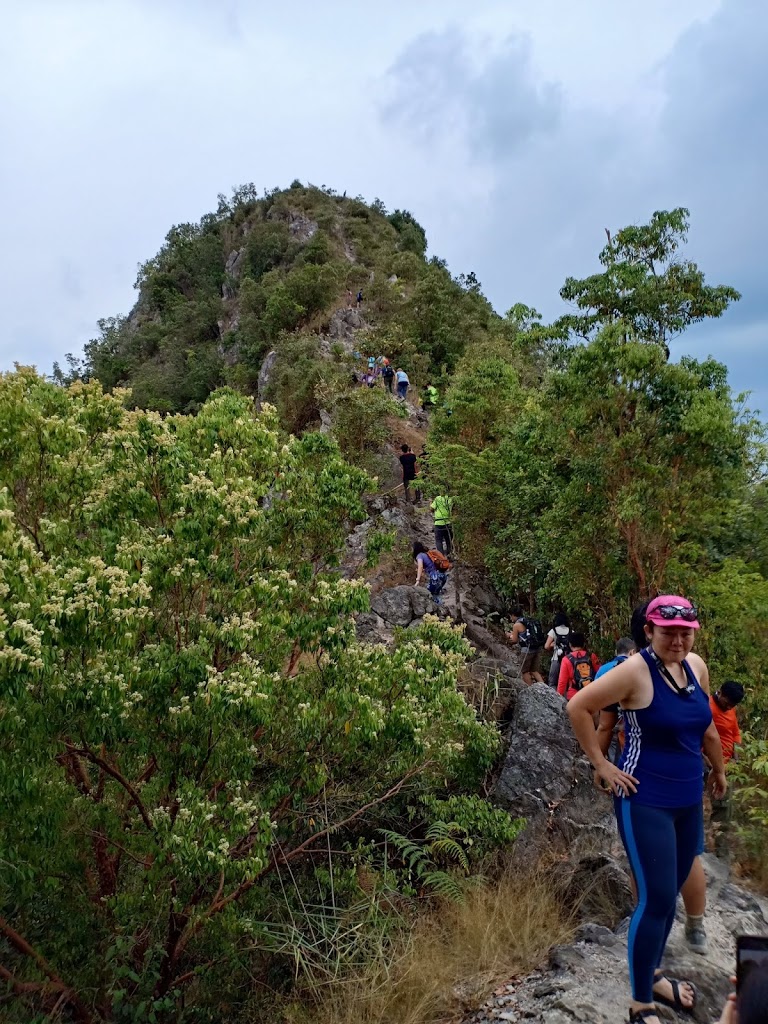 Traffic congestion on the way to the peak!
The views from the peak were truly magnificent. We were rewarded with a 360-degree panoramic view of the surrounding hilly landscapes and greenery. But in times like these, I wish I could have the view all to myself but unfortunately had to share it with a hundred strong crowd. But sharing is caring, afterall XD
Both Malaysian and Thai flags were provided for both nationalities, what about people from other countries xD?
Rolling hills as far as the eyes could see…
Top of the world! I mean Mt. Silipat!
Living life on the edge
Before the sky turned dark, it was time for us to get down the rocky hill using the same path. Going down proved to be more difficult than going up as the rocky and sandy trail was extremely slippery with loose rocks. So the best way to go down safely is to walk on your heel backwards on the steep slopes while holding onto the rope tightly (this is because the heel of most of the hiking shoes provide the strongest grip). Again, I was a newbie when it comes to rope sections on rocks or boulders, naturally I got cold feet. But under the guidance of a few more experienced members, I managed to go down the hill in one piece :)