When one talks about Hoi An in Vietnam, images of ancient colonial houses along the river banks teeming with wooden boats immediately come to mind. But what else is there to see and do beyond the touristy Old Town of Hoi An?
If you want to catch a glimpse of rural life in Vietnam, what better way is there to experience it other than getting out of the Old Town and off the beaten track by cycling through the Hoi An countryside.
Just a fair warning, traffic on the road can be chaotic and hectic, cycling on a busy street could be a daunting experience for beginner cyclists.
Thanks to the "Authentic Hoi An by Bicycle" Airbnb experience which we signed up for, we managed to navigate through the maze-like alleyways and cycled alongside hordes of motorcycles on dusty country roads.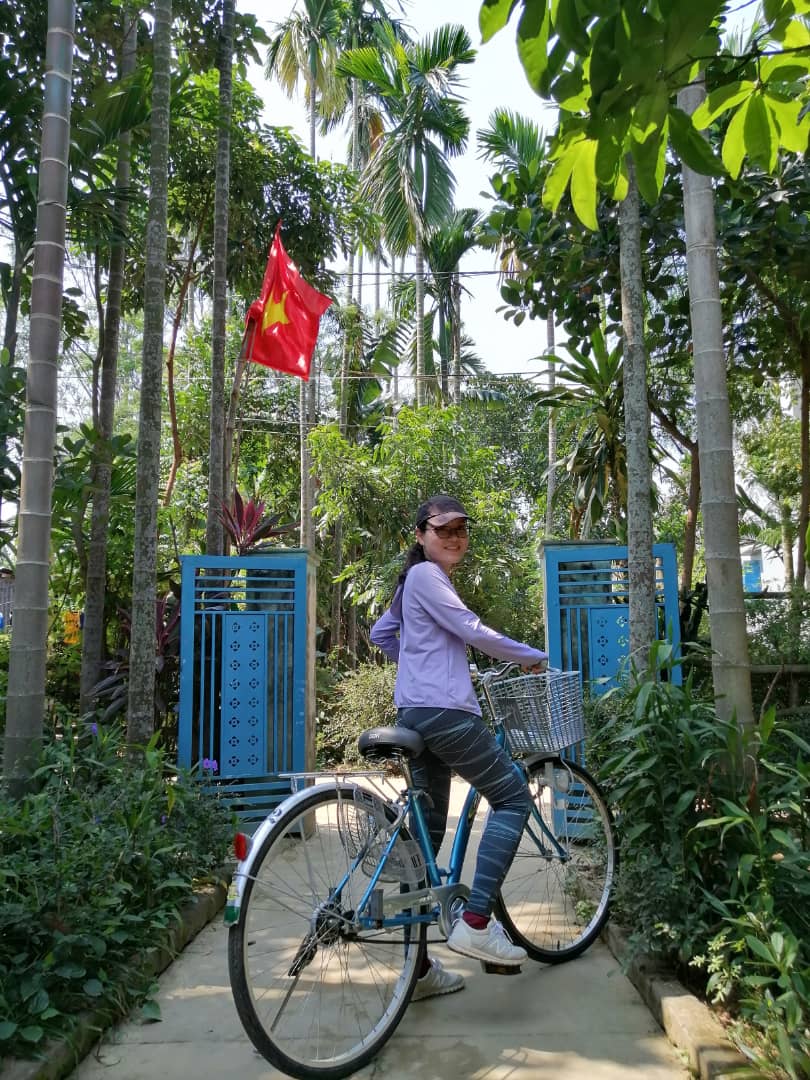 Calm Before the Storm
We met up with our tour guide Jack in the outskirts of Hoi An before testing out on our bikes and adjusting the height of the seats. Honestly it had been awhile since I last cycled, so I quickly familiarised myself on the bike before heading off to the streets.
When I signed up for this cycling tour, what I had in mind was merely cycling leisurely on quiet country roads. Before I knew it and to my horror, we had to cycle on busy roads teeming with hordes of fast and furious motorcycles. We were headed for the Old Town area (Minh An) before crossing few big steel bridges to get across to the other side of Hoi An – Cam Kim. It was approximately 5 km from the starting point to the island of Cam Kim, so being beginner cyclists, we struggled with cycling under the blaring hot sun while having to look out for crazy traffic.
Jack advised us to get off our bikes and walk our bikes across the steel bridge. The incessant sounding of horns from the impatient motorcyclists and thundering clatter of the bikes on the metal bridge as they zoomed past us, escalated my fear of being knocked over and falling off the bridge.
After battling through hectic traffic, dusty roads and metal bridges, we arrived on the other side of Hoi An – Cam Kim. Cam Kim is comparably much quieter and peaceful, we could finally breathed a sigh of relief and cycled at leisurely pace. The picturesque views of the surrounding greenery and the calm waters of the Thu Bon River provided the much needed respite from the hectic traffic.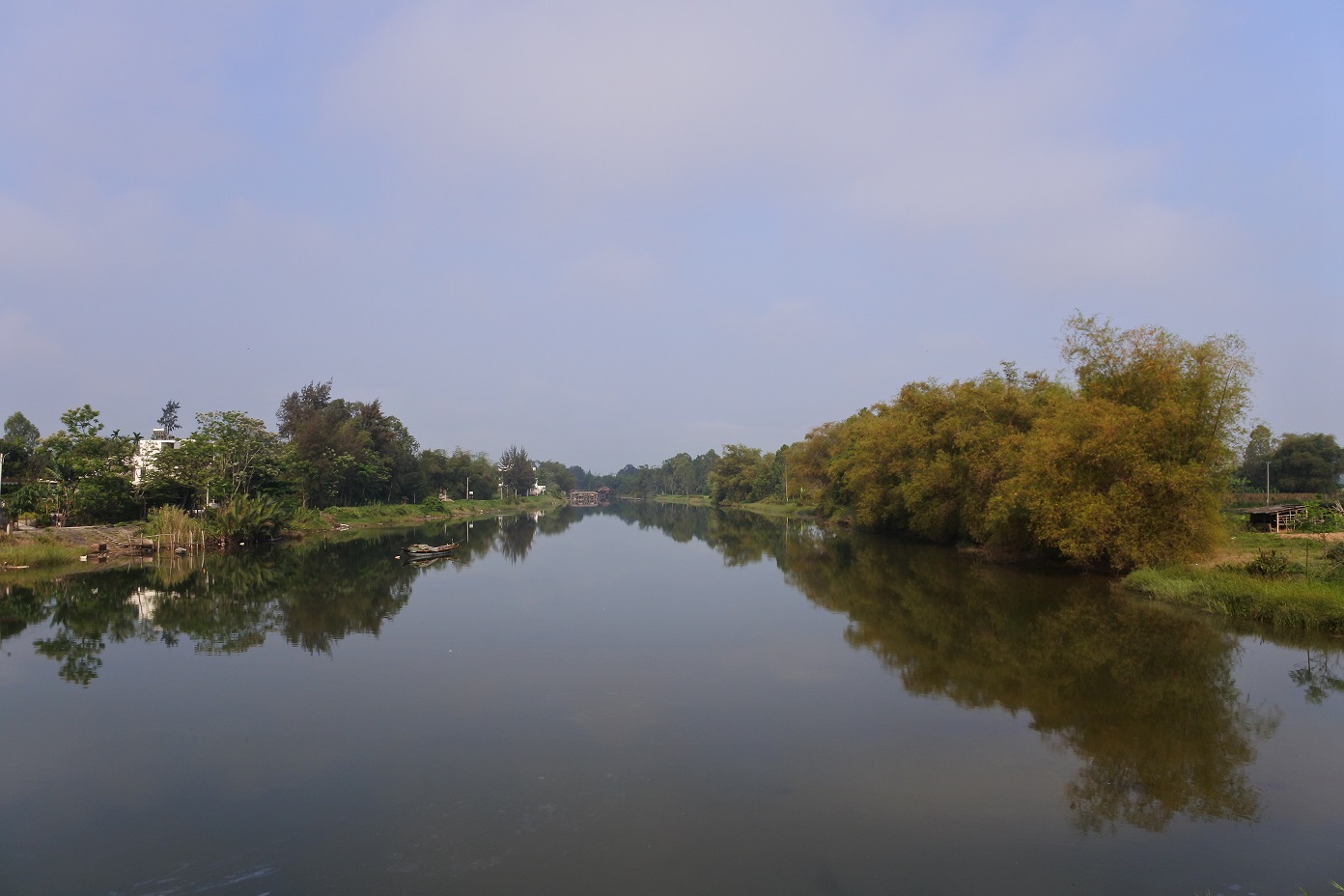 Rice Noodles
We cycled to a local home where the family makes rice noodles – a daily staple in the Vietnamese diet especially in the Central part of Vietnam. These are the noodles used in "Mi Quang"- a rice noodle dish originated from the "Quang Nam", a typical breakfast dish for many locals.
It's no wonder the local Vietnamese appear so lean and healthy as "Mi Quang" consists of loads of rice noodles, lean meat, greens, herbs and a hearty broth.
First, the rice grains are ground into rice milk (with thick, starchy consistency) which is  then steamed on steamers lined with silk fabric. A scoop of the rice milk is poured onto the fabric and let to steam for 1-2 minutes covered in a lid. Next, a second scoop of rice milk is then poured on top of the first layer of steamed rice sheet and is allowed to steam for a couple of minutes. The double-layered steamed rice sheet is then lifted up with a bamboo stick and let dry on a bamboo rack.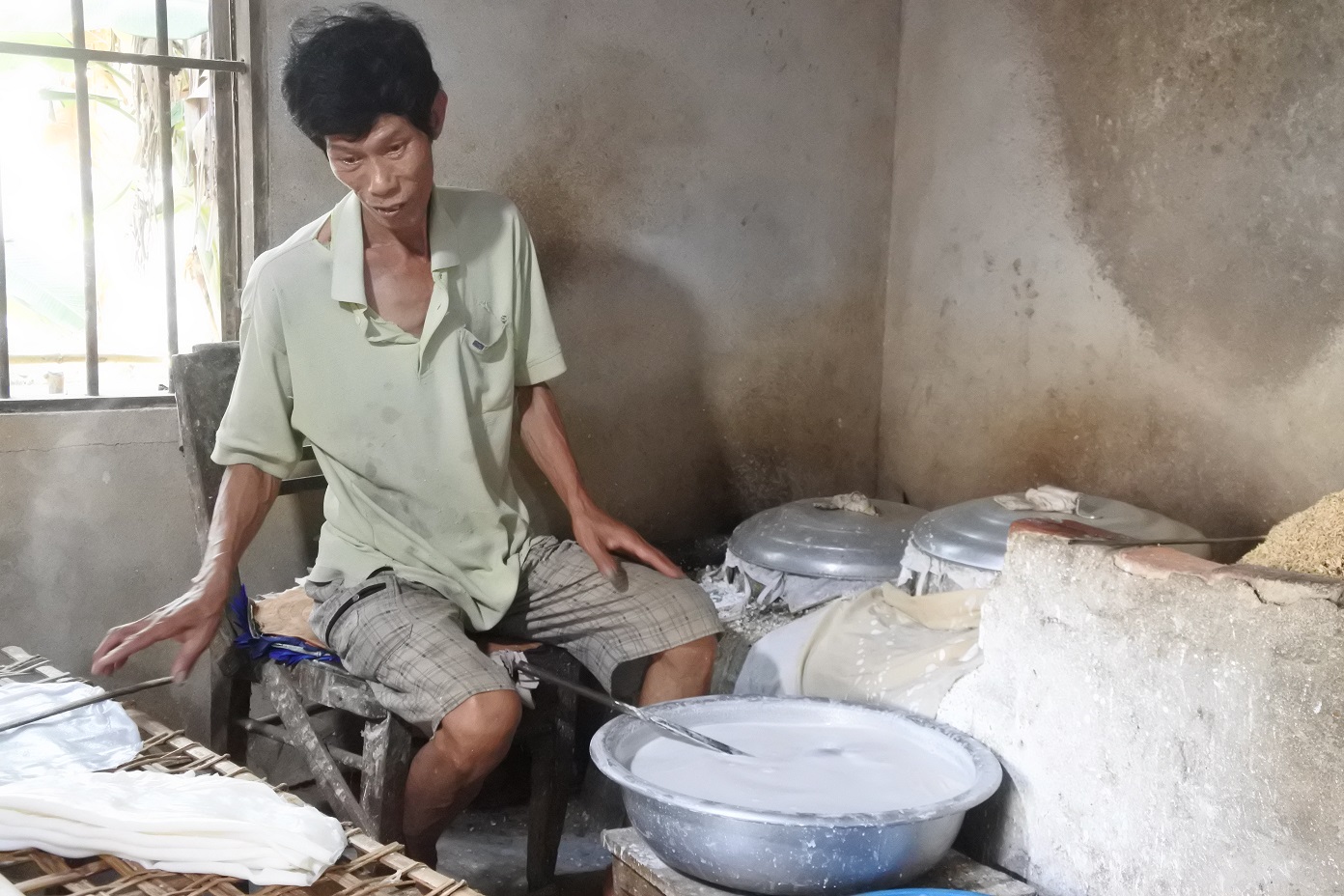 We got to try our hands on making the steamed rice sheets ourselves, albeit under the careful supervision of the hosts. It took 1-2 rounds of practices before I got it right without tearing up the fragile steamed rice sheets!
The final step is to cut the rice sheets into strands of noodles – either by hand or by machine.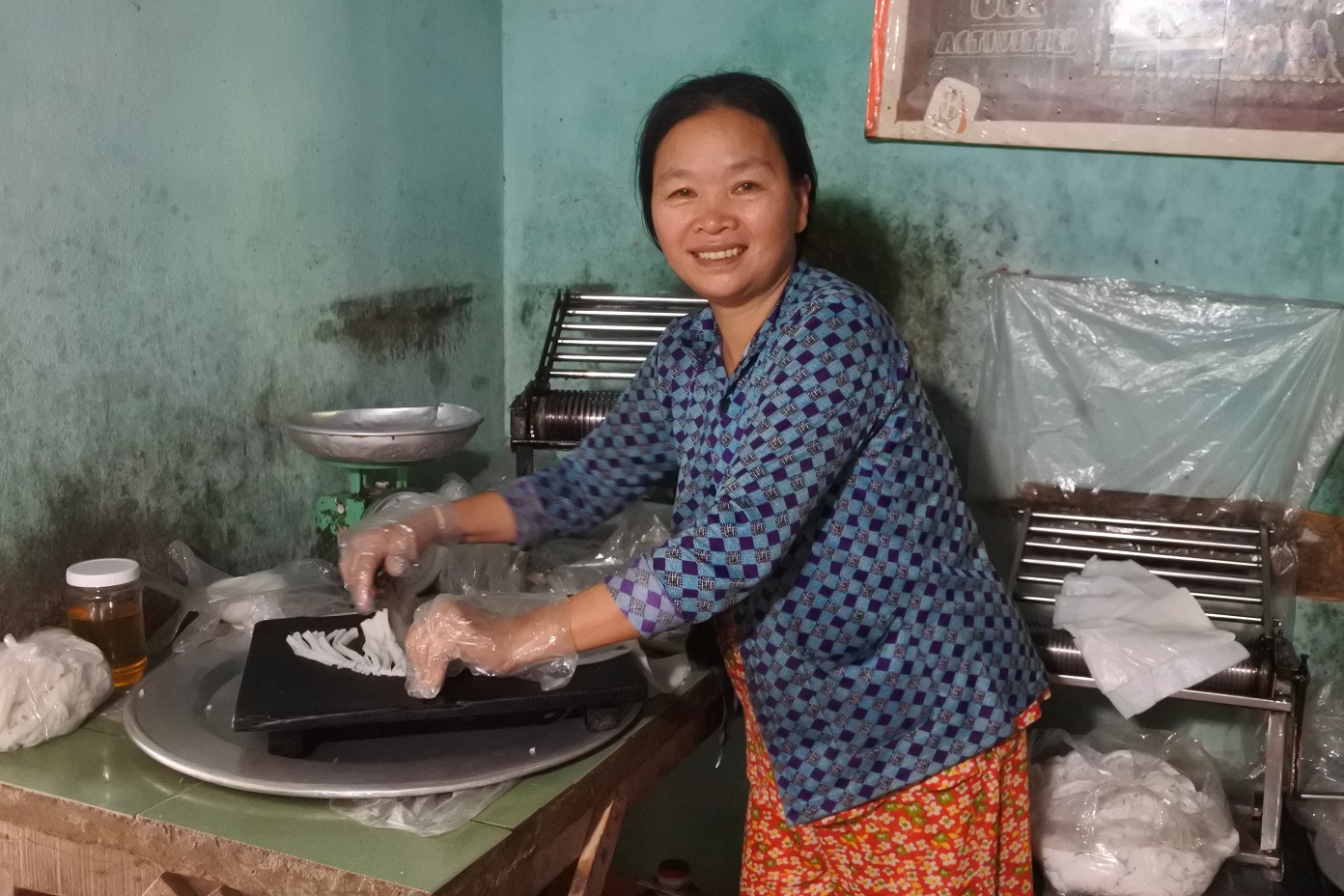 After learning how to make rice noodles from this humble family, we were treated to some local snacks – grilled and steamed rice paper sandwich dipped in soy sauce. The steamed rice sheet is sandwiched in between two sheets of grilled rice papers, creating a very contrasting and interesting texture. Simple yet delicious.
Boat Building Workshop
Next off, we cycled to another village whose famous for boat building since the 15th century. We were shown how the wooden boats are made by the skillful workers whose skills were passed down from generation to generation.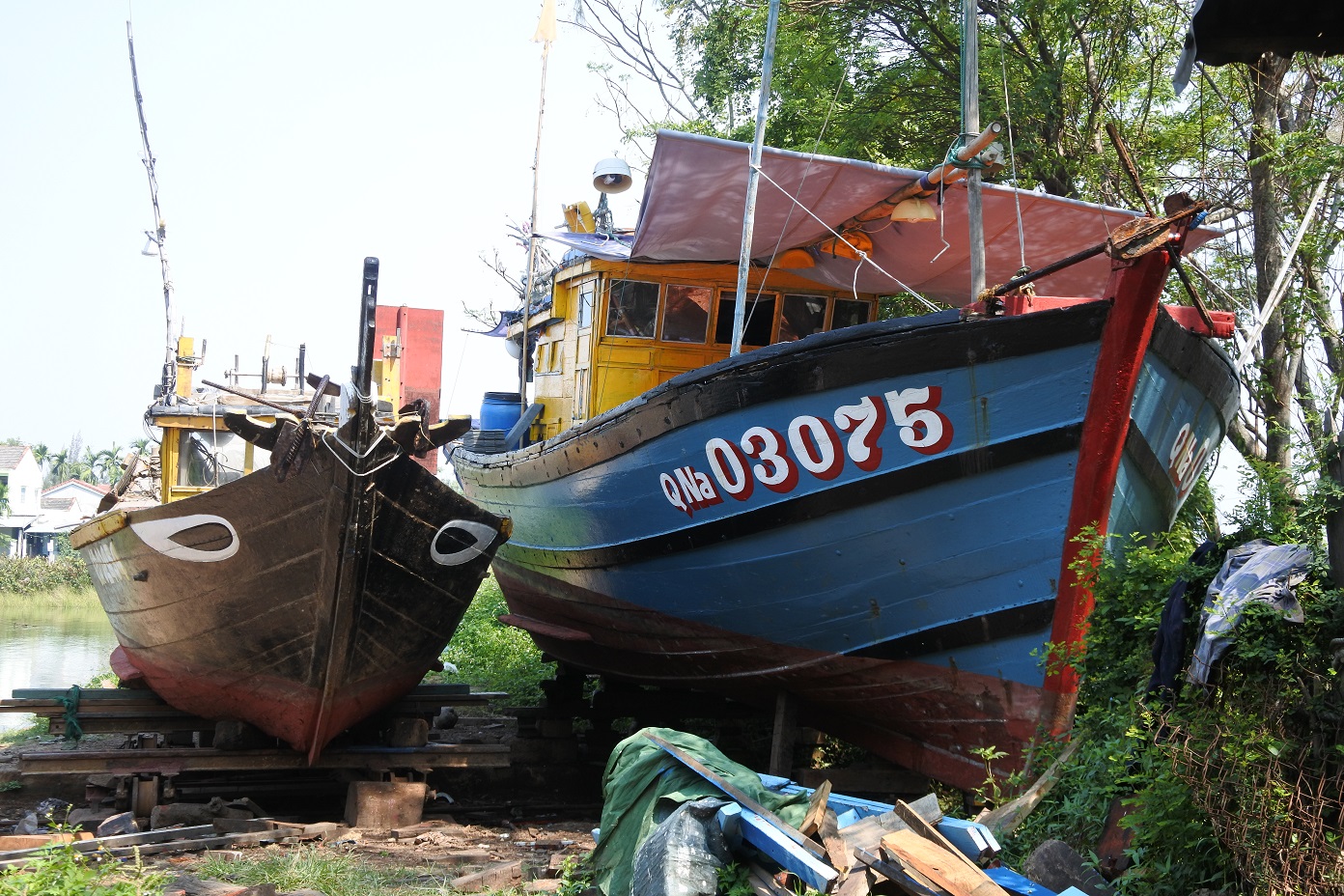 Interestingly, most of the boats manufactured here are painted with two "eyes" on the frontal part of the boat. This practice is believed to ward off evils spirits and "monsters" when the fishermen are out on the rough seas.
Boats here cost approximately USD 10,000-20,000 per boat and this price range is typically beyond the means of most Vietnamese people especially in the countryside. So, few families would usually chip in money to purchase a boat and the returns from the catch would be split amongst the families depending on amount chipped in for the boat.
Visiting A Sleeping Mat Making Family Home
Cycling to our next destination to visit a local home specialising in making sleeping mats, we came across lush paddy fields and in the midst of it – a grandiose, imposing oriental-styled temple. It was a sight to behold. I couldn't resist stopping by the paddy fields to take in the magnificent views.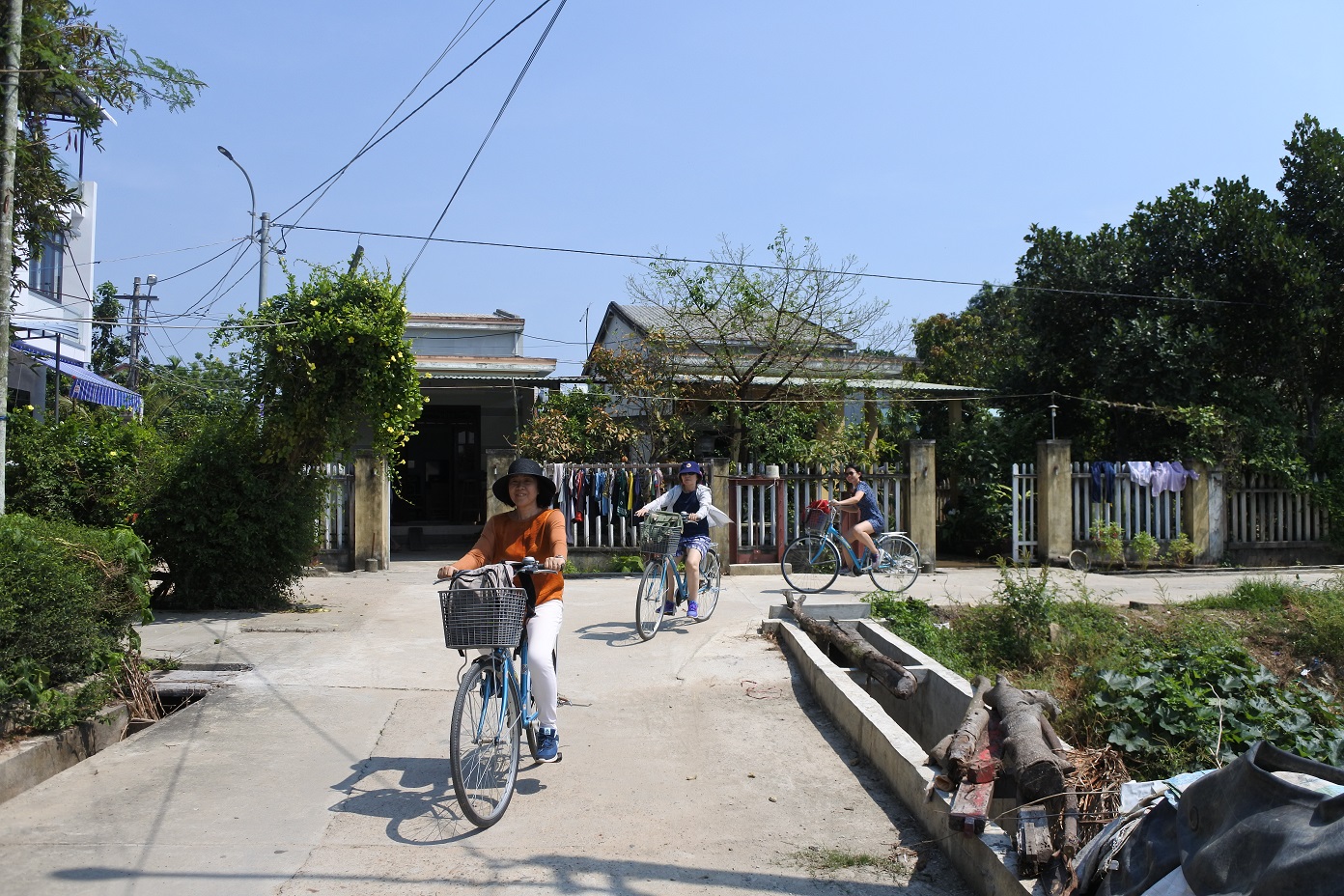 Arriving at Mrs. Le's sleeping mat weaving site, we were greeted to her lush home garden and her spacious porch filled with vegetation. After parking our bikes, we were served refreshments consisting of Vietnamese black bean tea and rice crackers.
Grasses are harvested from river banks and allowed to be sun dried for a few days, before dyeing them into different colours depending on the desired patterns of the mats.
It only takes these two ladies less than an hour to weave a small-sized mat, approximately 4 hours to complete a large-sized mat.
These sleeping mats are cheap and are used extensively by the Vietnamese for sleeping or napping on cool concrete floors especially during hot afternoons.
Ancestral House
Finally, we went to an ancestral house built specifically for the "Huynh" clan or people with the last name "Huynh".
This tradition of honouring ancestors originated from Mainland China, especially the Southern part of China, as ancestral houses based on family names or clans is a prominent part of the Chinese culture. An ancestral map which maps out all of the family lineages within the clan is usually displayed in ancestral houses. The "Huynh" ancestral house is no exception.
I was impressed to observe the many cultural similarities shared between the Vietnamese and the Chinese, which did not come as a surprise given the close geographic proximity and cultural exchanges due to trade between the two countries.
Inside the compound of the ancestral home, houses the cemetery and altars for several prominent and important figures in the "Huynh" clan.
As of now, the "Huynh" ancestral home is being taken care of by a frail old man of 94 years of age who lives alone in a small makeshift home next to the hall of worship.
Jack explained to us that the old man remains single to this day and chose to live alone to safe guard the ancestral house, as he sees this as his lifelong career. The old man lives a very simple life with no TV nor access to the internet, neither is there a mattress for him to sleep on, only a thin sleeping mat on hard, cold concrete surface.
Out of sympathy, we donated small sum of money to the old man despite the language barrier, he appeared reluctant to accept the money at first, but gladly accepted it in the end at our insistence.
Last But Not Least
With that, we concluded the 4-hour cycling trip across Hoi An's countryside.
It was definitely an eye-opening experience for my family and I to cycle through Hoi An while learning the livelihood and the simple way of life led by these local people. It was a humbling experience to get to know these strong and resilient individuals who make an honest living while preserving their culture and heritage.
Special thanks to Airbnb Experience "Authentic Hoi An by Bicycle".
Disclaimer: I am a paying customer to this Airbnb Experience and in no way affiliated with the tour agency in promoting the activity. This entry was written solely based on my personal experience, having participated in and thoroughly enjoyed the cycling tour.